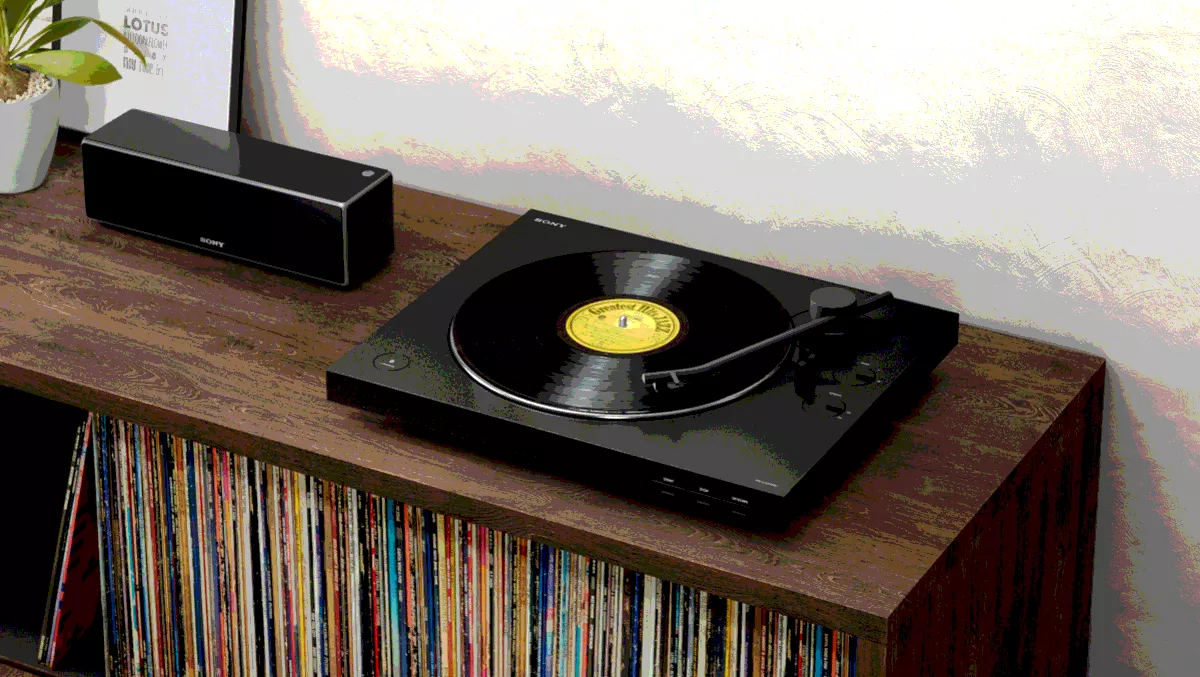 Sony's latest Bluetooth-enabled turntable is out
FYI, this story is more than a year old
Sony's latest turntables have embraced the trend towards portable speakers, with its latest version sporting a Bluetooth transmitter.
The Sony PS-LX310BT turntable allows audiophiles to pair their turntable with their favourite Bluetooth-enabled sound system.
But it's not leaving old traditions behind just yet – it's fitted with an internal phono pre-amp and a line level connection for wired amplifiers.
With these options available on a turntable it may well just turn more music lovers back towards vinyl – because now it can sound even better.
In Sony's words, "Whether you are revisiting your old records or building up your collection with new releases, transport your vinyl into the present day. Sony fuses the much-loved vinyl sound quality with the convenience and flexibility of connecting to a wired or wireless device, perfect for enjoying vinyl in today's connected world.
The Sony PS-LX310 turntable features at a glance:
Original vinyl sound, new wireless freedom: Rediscover the timeless vinyl experience with the built-in wireless Bluetooth transmitter giving you the freedom to connect to any wireless speaker, soundbar or headphones, while also having phono and line outputs thanks to built-in Phono EQ
Looks as good as it sounds: Whether set up for solo listening in your bedroom or taking pride of place in the living room, the turntable's clean, minimal design will fit effortlessly with your space and put vinyl at the heart of your home
Quality build and superior sound: Delivers balanced and clear sound, plus a thick and sturdy dust cover to muffle acoustic pressure and lessen distortion, while a newly designed tone arm boosts traceability for stable playback, rich, clear sound and powerful bass
One-step auto playback: The turntable will automatically lower the tone arm, find the groove and get the music flowing from the paired Bluetooth device. When the record ends, just sit back as the tone arm automatically returns to its resting position.
The Sony PS-LX310 Bluetooth-enabled turntable will also be released on December 3. It is available for $399.
Earlier this year Sony released the PS-LX310BT turntable.
The dedicated Bluetooth button enables quick pairing access; and an auto play function instantly plays music from the last paired device when users press play.
The turntable also allows for different gain selects, which means different playback systems offer wider vinyl compatibility and Bluetooth connections for volume adjustment.
Sony designed the turntable to feature a 'stylish and premium look and feel', which includes direct buttons on the body for intuitive operation, including the direct Bluetooth button allowing users to easily start, stop and pair their device.
Sony adds, "The sound technology and build quality has been upgraded to make your vinyl sound better than ever. The LX310BT boasts an aluminium die cast platter for superb sound balance and a newly-designed tone arm for sound stability. Paired with a thick and sturdy dust cover to resist resonance, there is no better way to enjoy vinyl.