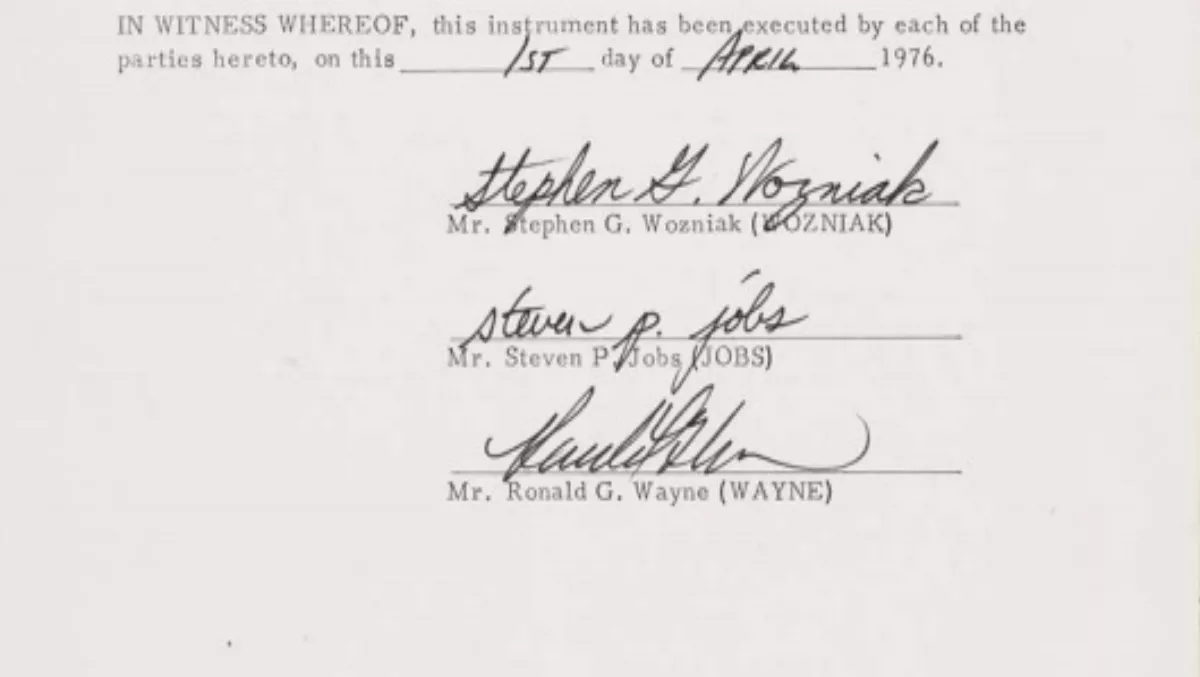 Sotheby's to auction founding Apple document - Updated
14 Dec 2011
FYI, this story is more than a year old
Auction house Sotheby's New York has announced it is to auction off the founding partnership agreement of the Apple Computer Company, calling it 'the first chapter in the story of one of America's most important companies'.
The 1976 document once belonged to Apple co-founder Ron Wayne. It bears his signature, as well as those of the other two co-founders, Steve Jobs and Steve Wozniak. It was signed on April 1.
The contract, along with the agreement documenting Wayne's withdrawal from the company eleven days later for US$800, will be auctioned as a single lot in Sotheby's Fine Books and Manuscripts sale on December 13, and is expected to fetch between US$100,000 and US$150,000.
View the full auction listing here.
Update: The document establishing the Apple Computer Company has sold for a massive US$1.35 million.
According to a report on CNN Money, the bidding began at US$70,000 but shot to over US$1 million in under 10 minutes. The buyer was bidding by phone, and has not been identified.
Update 2: Typo in final price amended to US$1.35 million from US$1.35 billion, which would have been enough to pay for New Zealand's Ultra Fast Broadband initiative (with change left over from the currency conversion).