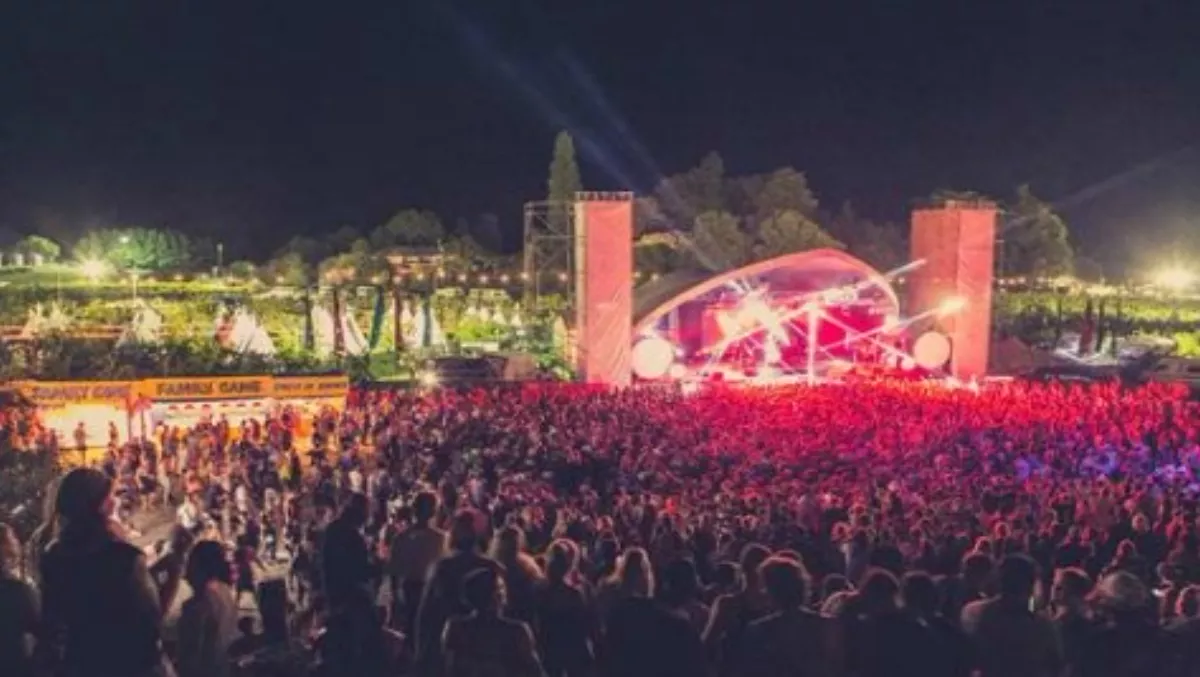 Spark and Spotify bring technology to NZ summer music festivals
FYI, this story is more than a year old
Festival-goers heading to New Zealand's summer music events, Rhythm & Vines and Rhythm & Alps, will have access to a radio-frequency identification wristband, which will allow them to connect, collect and share their festival experience, as part of a partnership with Spark and Spotify.
Spark and Spotify teamed up in February this year, to provide free Spotify Premium on a multitude of Spark packs and plans.
The initiative, #MyFestivalStory, is a New Zealand first.
Spark GM of Home, Mobile & Business Jason Paris says #MyFestivalStory was inspired by a similar campaign implemented by Spotify at Coachella earlier this year, which proved a huge success.
"Using the same RFID technology, My Festival Story takes it up a few notches, providing an interactive digital snapshot of your unique festival journey – the places you visited, photos, bespoke playlists and acts you saw, the number of steps you took – to share with your friends on social, and re-live years later, all thanks to Spark and Spotify", says Paris.
Rhythm Group festivals and live events around the world have used RFID for some time; providing festival-goers with a seamless, cashless experience and shorter queues.
Kieran Spillane, Rhythm Group CEO, says the company has a long history of leading the way in festival technology and creating new experiences for festival-goers.
"By connecting with on-site check-in points, the campaign will allow our audiences to listen to set lists from the artists on stage and build a detailed map of where they were during the festival", he says.
"We are delighted to be working with innovative companies like Spark and Spotify on this ground-breaking technology to provide an exciting new element to attendees at both R&V and R&A."
Creating a unique #MyFestivalStory will be easy and free for festival-goers. Those wanting to take part just need to sync their wristband to their Spotify account before the festival, or at Spark Hang Out on-site.
The technology is embedded in the wristbands attendees receive upon entry to both festivals. Festival-goers can use their wristbands to check in at a number of locations, collect Spotify playlists at stages, follow their favourite acts on Spotify, and have their photo snapped along the way. All that information is then aggregated into a personal festival story.
Post-festival, participants receive an email with a link to their #MyFestivalStory, where they'll be given the option to share their story with their friends on Facebook.
Kate Vale, Spotify's Managing Director Australia & New Zealand, says "festival experiences are inherently memorable, extremely personal, and very shareable."
"We believe My Festival Story has the power to enhance the traditional festival experience by letting you engage with music in new ways, taking your real-world experience into the digital space, seamlessly. We're proud to be able to bring this technology to R&V and R&A in partnership with our good friends at Spark."
Related stories
Top stories