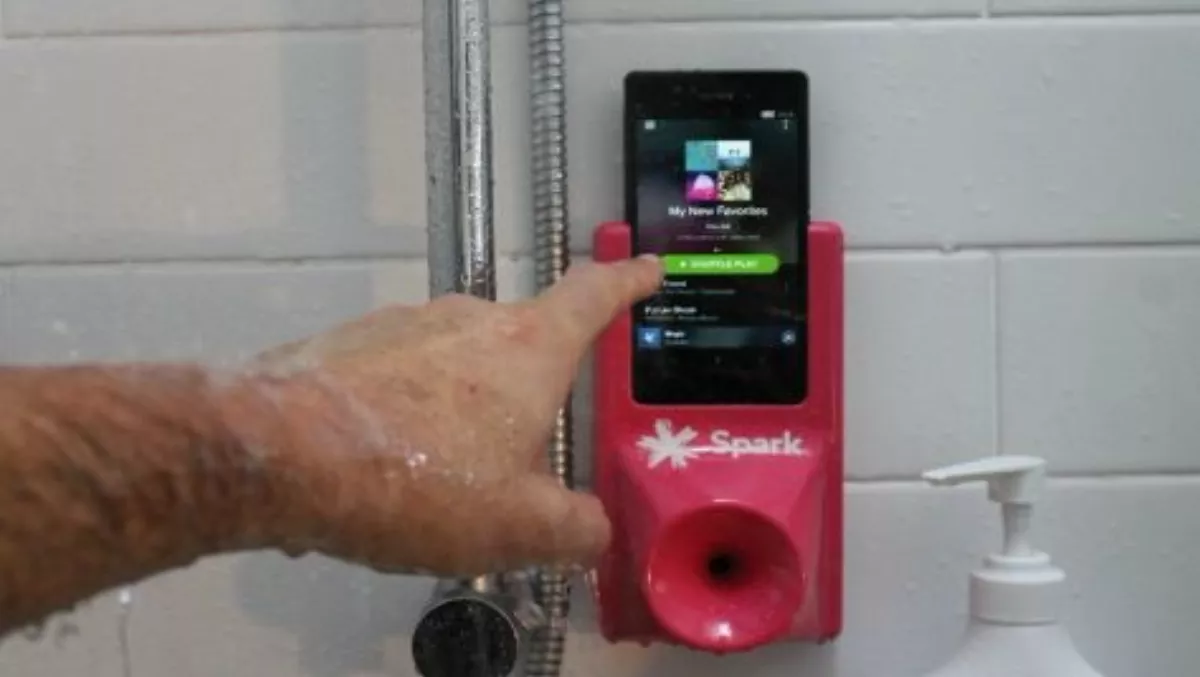 Spark launches waterproof phone dock
By Shannon Williams,
16 Jul 2015
FYI, this story is more than a year old
People are becoming so attached to their mobile devices, they're even taking them into the shower.
Spark New Zealand is trialling a shower dock that allows people to take their smartphones with them in the shower.
"More and more people are feeling the need to stay connected throughout the day," says Nikora Walters, a marketing manager at Spark.
"Research shows that people reach for their phones an average of 221 times a day,including when they're in the bathroom, and even while on the toilet."
Following the Bluetooth earpiece, then the hands-free kit for cars, now there's a shower dock.
"Spark is looking for ways to respond to growing demand for products that enable smartphone users to keep their device with them all the time," Walters explains.
For those less inclined to digital addiction, the shower might have seemed like one of the last sanctuaries of disconnection. But studies have shown that one in eight people do admit to using their phone in the shower.
The dock is designed to work with Sony's new Xperia M4 Aqua – one of a deepening pool of waterproof smartphones available in New Zealand. Walters says that demand for waterproof smartphones is on the rise.
"It's not all about narcissism and risqué selfies," Walters says. "Anecdotally we've found that one of the biggest uses of smartphones in the shower is for listening to music, podcasts, or news.
"There's also a big market of shower-singers out there."
Spark's shower dock prototypes have been designed with a built in speaker that naturally amplifies the sound from the Xperia's speakers. This helps keeps the audio clear above the sound of the shower.
"The dock is great for listening to Spotify in the shower," says Walters. "It takes singing in the shower to a whole new acoustic level."