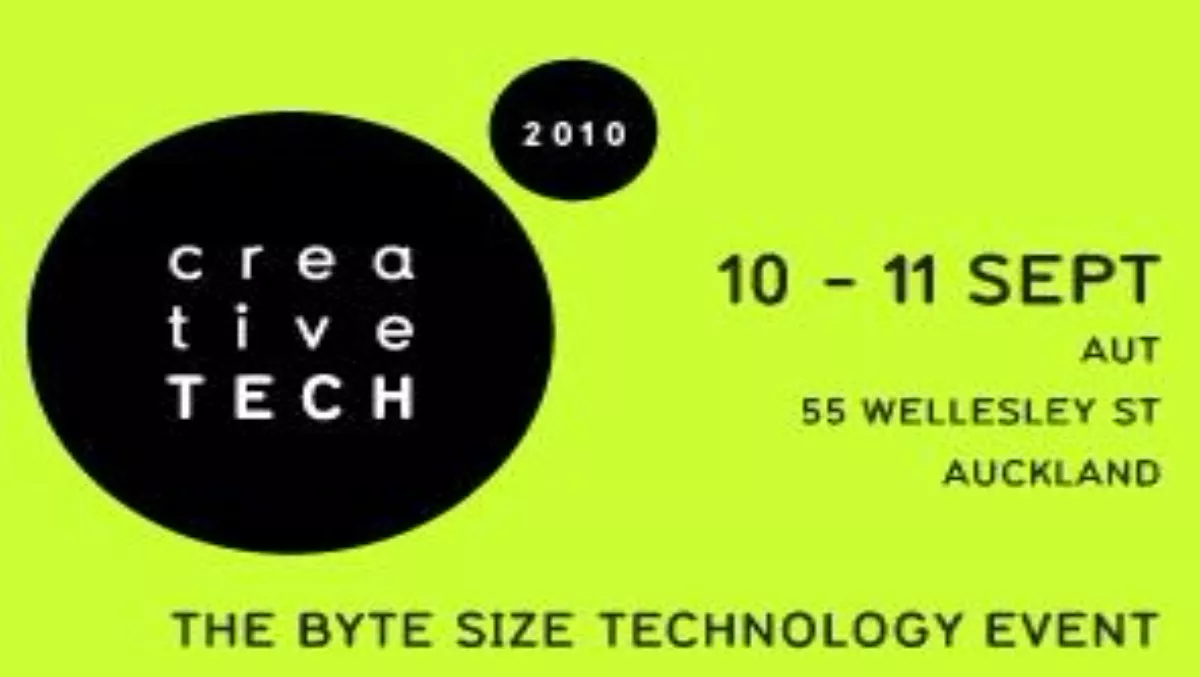 Speakers revealed for Auckland Apple event - CreativeTech
Tue 17 Aug 10
FYI, this story is more than a year old
As previously reported, CreativeTech (September 10th and 11th at AUT's Central Auckland campus, 55 Wellesley St) is an event that features talks and seminars related to Apple technology.
From those wanting to start developing for iPhone and for those already developing, or for those moving into heavy-duty film editing, CreativeTech features experts drawn from across New Zealand and Australia. Most of the more professional offerings take place on Friday, September 10th.
But Saturday is different. It starts with a keynote on the future of Apple with MacTheMag editor Matthew Powell from Sydney (former editor of Australian Macworld) and finishes with an event showcasing six diverse New Zealand Apple users from a varied spectrum.
But CreativeTech Director Mark Webster, former editor of New Zealand Macguide magazine and the man responsible for www.mac-nz.com and the Mac Planet column in the New Zealand Herald online, points out that the rest of CreativeTech on Saturday is geared to beginner, home, small business and enthusiast Mac users.
There are 16 sessions to choose from on Saturday 11th, and a ticket gets you access to your choice of any seven. Whether it's Microsoft Office: Mac tips you want, or to learn more about the Apple iLife suite (iPhoto, GarageBand, iTunes, iMovie, iWeb etc) that's on every Mac, or you'd like to see a band get recorded in GarageBand and then the project evolved into Apple Logic, learning tips along the way, or Adobe Elements for Mac, or learn how to build Flash animations, or you'd like to see where Final Cut picks up after iMovie, this is the place.
For small business owners, iWork contains Keynote, Pages and Numbers covering presentations, page layout and word processing, plus spreadsheets with MagnumMac's expert Lee Herbet. Online accounting with New Zealand firm Xero may pique your interest - it's used worldwide - and FileMaker's simple, powerful, visual Bento database software for Mac (also for iPad, iPhone) will be demonstrated by FileMaker Engineer David Head.
Meanwhile the Creative Technologies department of AUT will be hosting robotics building in the CT Lounge and flying blimps around, controlled by iPhones. The CT Lounge will be where paid attendees relax between sessions and chat to the speakers and other New Zealand Apple fans.
If you're new to Mac, or a home user who wants renowned Mac tipster Miraz Jordan's 50 Mac Tips to turbocharge your Mac use, or you're looking at tertiary options - or you'd just like to browse the trade display offerings in the atrium (free access) - do check out the program. There's lots going on - for everyone.
Hit this link to purchase any of the seven of 16 available sessions for just $120.