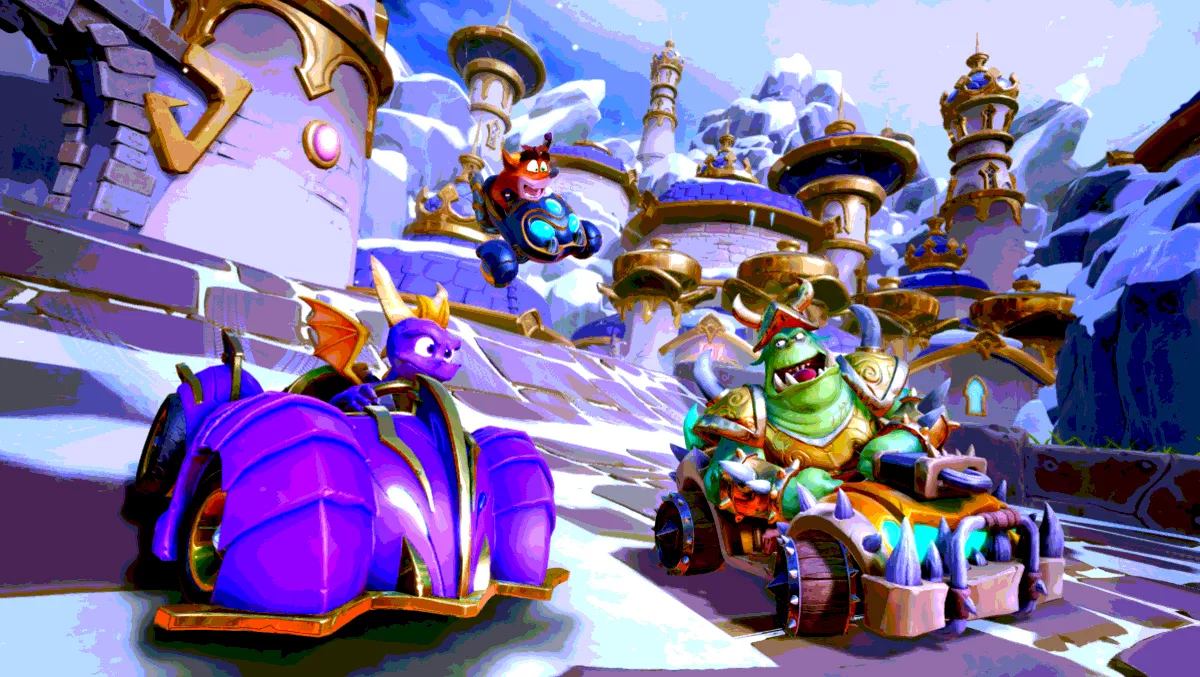 Spyro's launch on PC & Switch comes with a surprise 'Crash'
FYI, this story is more than a year old
September 3 marks the day that the Spyro Reignited Trilogy is available worldwide for PC and Nintendo Switch.
While other console players have had plenty time to play the revamped classics (here's looking at you, PlayStation and Xbox players), PC and Switch players were made to sat on the sidelines. Not any more.
Today Spyro the Dragon, Spyro 2: Ripto's Rage! and Spyro: Year of the Dragon are all available for those who prefer the PC and Switch experience.
The remastered trilogy also gives players on PC via Steam something to look forward to this year with the ability to play with up to 4K graphics and uncapped framerate capability on supporting systems.
What's more, Spyro is making an appearance in Crash Team Racing Nitro-Fueled's Spyro & Friends Grand Prix.
Available for no additional charge to those who have purchased the main game, the Spyro & Friends Grand Prix is giving the iconic purple dragon a licence to crash the CTR party for the first time.
This from Activision:
"In the Spyro & Friends Grand Prix, players can burn rubber and cruise through "Spyro Circuit," the all-new Spyro-themed track while collecting gems, dodging firework bundles and (of course) flying by sheep. Spyrowon't be venturing into this alone, the purple speedster will be joined by Hunter and Gnasty Gnorc as playable characters with Sparx joining in the fun as a protection mask akin to Aku Aku on the Spyro Circuit track."
"The Spyro & Friends Grand Prix will also come packed with other hot content that players can earn when connected to the internet, such as fresh new rides with the Spyromobile, Gnasty Ride and Dragonfly, as well as other new Pit Stop items including the amazing new Gem Paint Jobs and element-themed wheels, the Viking Polar Skin, the Orc Big Norm skin and more!"
To celebrate Spyro's 21 years of saving the Dragon Realms with a remastered twist, lead developer Toys for Bob is inviting fans to tune in to a special live stream on Game's Done Quick's Twitch Channel at 5 a.m. NZST on September 4.
During the stream, fans will get a dragon's-eye view into how the studio is commemorating the launch of the game on these two platforms and how players can join in on the fun.
Spyro Reignited Trilogy is firing up on new platforms: Nintendo Switch (Toys for Bob) and PC (Iron Galaxy) via Steam. Beenox's Crash Team Racing Nitro-Fueled and Crash Team Racing Nitro-Fueled - Nitros Oxide Edition (digital deluxe) are now available on PlayStation 4, Xbox One, and Nintendo Switch worldwide.
Related stories
Top stories