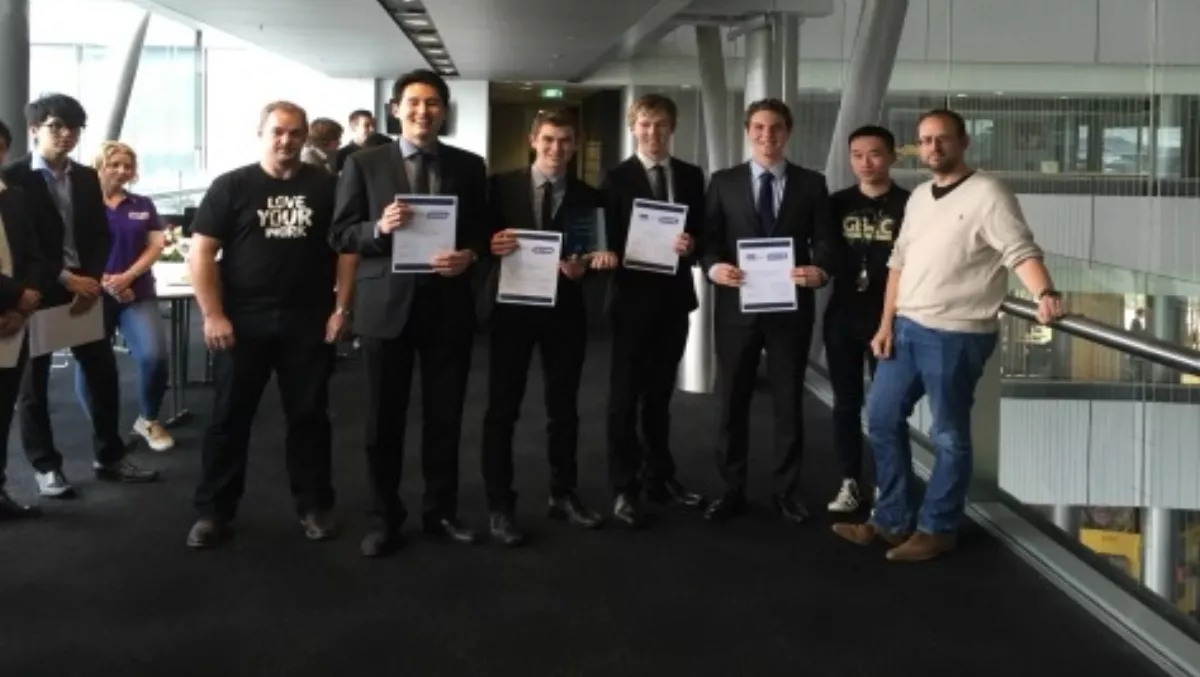 Students work to make business life easier for SMEs
Thu 19 Nov 15
FYI, this story is more than a year old
A shift swap application, customisable online store and mobile reporting were just some of the solutions University of Auckland students recently developed when tasked to make business life easier for small to medium sized business. The challenge set by MYOB, gave students 5 days to come up with an IT solution to assist SME operators with their business.
MYOB Product Development Manager Trevor Leybourne says the challenge, organised in conjunction with the university's Management Consulting Club, provided students with a real business perspective to their studies.
"At MYOB we run on LEAN and Agile principles, which aim to deliver more value for customers on fewer resources and in shorter timeframes. By bringing something to fruition in a short amount of time the students can experience innovative business approaches such as these, which they can use in their future careers," he says.
Rhea Sampoornanand, 2016 Co-President of the Management Consulting Club and organiser of the MYOB IT Challenge says it was the perfect merger of business and IT.
"The challenge gave our members the opportunity to develop and connect with the real world of IT and inspired them to push their limits to expand their conceptual and technical skills," she says.
Mr Leybourne says the criteria for the challenge was deliberately left open to allow the students the freedom to explore new concepts. Any programming language and operating system could be used, and the final product could either be a standalone product or integrate with an existing MYOB solution.
A 5-page written report was initially submitted, containing a prototype of the developed software and any supporting documentation. The finalists were then required to pitch their ideas in a ten minute presentation, followed by questions and answers.
The winners of the challenge, team 'I Still Love Vista, Baby', developed an application that allows employees to easily swap their work shifts with colleagues. Through a calendar interface, employees can log in, view their roster and negotiate shift swaps. The application allows managers special admin rights to post rosters and 'lock' the shifts that cannot be swapped. All of the information can be seamlessly integrated into MYOB's payroll systems.
Roman Amor, key developer on I Still Love Vista, Baby, says the challenge really opened his eyes to business IT.
"I loved the freedom that the challenge offered us, and the chance to innovate," he says.
"We were looking for creative solutions that align with our MYOB values," says Mr Leybourne. "We like to see best practice being used when it comes to development, a product that is intuitively easy to use and will deliver real value to business owners. The application developed by Roman and his team ticked all those boxes for us.
"The MYOB IT Challenge was a great project to be involved in. Not only can we encourage more young minds in their IT studies, we have also seen some fantastic ideas to truly help make business life easier."
For MYOB product information, research results, business tips, discussions, client service and more visit the MYOB website, or its blog, LinkedIn, Twitter, Facebook, Instagram and YouTube sites.