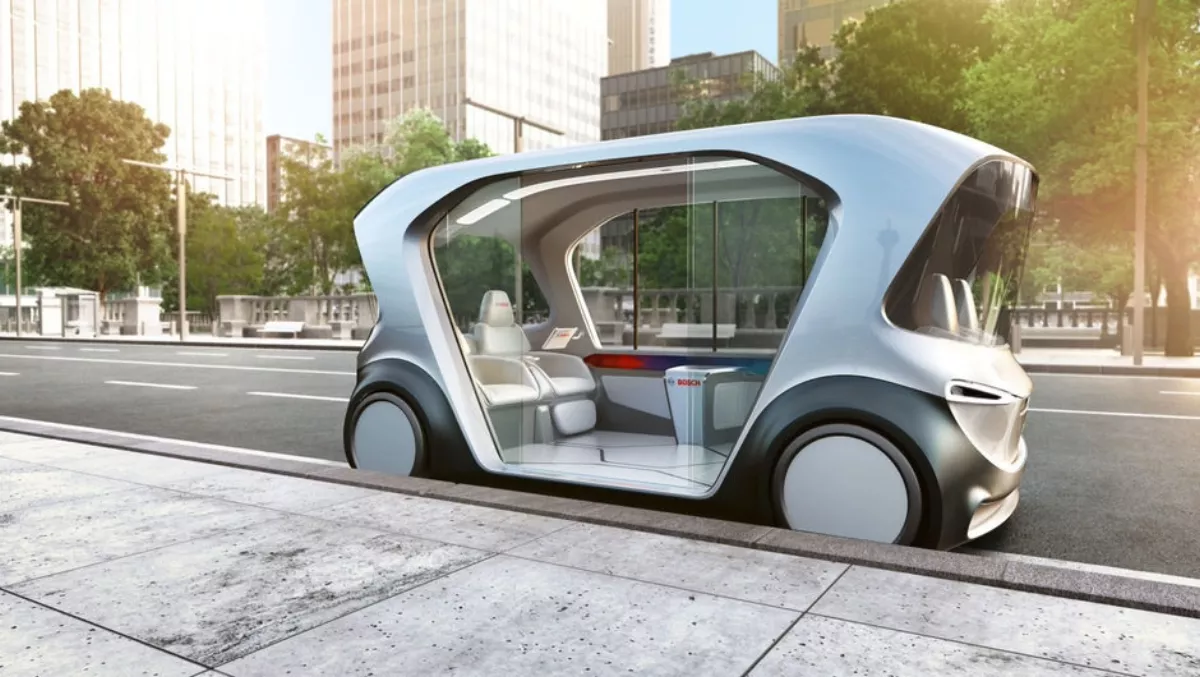 This could be the future of ridesharing
FYI, this story is more than a year old
When you hear the words 'driverless vehicle technology', the company Bosch may not immediately spring to mind. But according to that very company itself, it wants to be in every vehicle on the road.
This week Bosch gave the world a glimpse of its new concept shuttle, which is essentially a minimalistic vehicle with display screens, glass, and a four seats inside.
These driverless electric shuttles will apparently glide almost silently through the streets and provide a connected environment for goods and people.
That connected environment will include booking, sharing, and networking platforms, parking and charging services, and software solutions for managing and maintaining the vehicles, as well as infotainment during the journey.
Bosch is pursuing the driverless and autonomous vehicle market because it believes countries like China, the United States, and Europe are driving demand for ridesharing services.
"Bosch is developing a unique package of hardware, software, and mobility services for shuttle mobility of the future," says Robert Bosch board of management member Dr. Markus Heyn.
The company took that ridesharing concept to heart and decked out its concept shuttle. It features electric powertrains and 360-degree surround sensors to connectivity management and vehicle computers. Yet these components and systems go only part of the way towards shuttle mobility.
To make on-demand vehicles suitable for flexible everyday use, they must be connected to mobility services.
These services allow users to book vehicles, share rides with other passengers, and pay for the journey. Bosch is concentrating its booking process through a smartphone app.Users book the service, and an algorithm then finds other users who are travelling to similar destinations. When they get in the shuttle, they have to use their smartphone as a 'digital fingerprint' to identify themselves.
"Every passenger always gets the seat that they reserved," says Bosch.
Bosch says the shuttles will be fitted with onboard Wifi and can integrate with the infotainment system. Users then pay after the shuttle has arrived via Bosch's e-payment service.
Bosch says the shuttles will be programmed to locate battery charging stations and when they were last charged.
It should be no surrpise that the company that Bosch has developed and made its own equipment such as radar, video and ultrasonic sensors, braking control and power steering services.
"Bosch predictive road-condition services let automated vehicles know in advance what environmental conditions to expect. They can thus adapt their driving style as needed so as to ensure maximum safety throughout the journey. The Bosch road signature is a map-based localisation service with which automated vehicles can accurately determine their position in the lane down to a few centimetres – another crucial prerequisite for the safety of automated shuttles.
Charging, repairing, and maintaining the vehicles, plus route planning and administrative activities, also call for services that Bosch will offer shuttle fleet operators in a seamlessly connected ecosystem.
If users have forgotten their phone or belongings at the end of a journey – the shuttle's camera in the vehicle interior with spot the item and let the user know directly via smartphone.
The cameras can also detect gum on the seat or an overturned coffee cup – in other words, whether the shuttle needs cleaning – and can make the necessary arrangements immediately. This is so every passenger can start their journey in a clean shuttle, according to the company.
"In the future, every vehicle on the road will make use of Bosch digital services," Heyn says.
With the autonomous vehicle market heating up, time will tell if Bosch takes the lead.