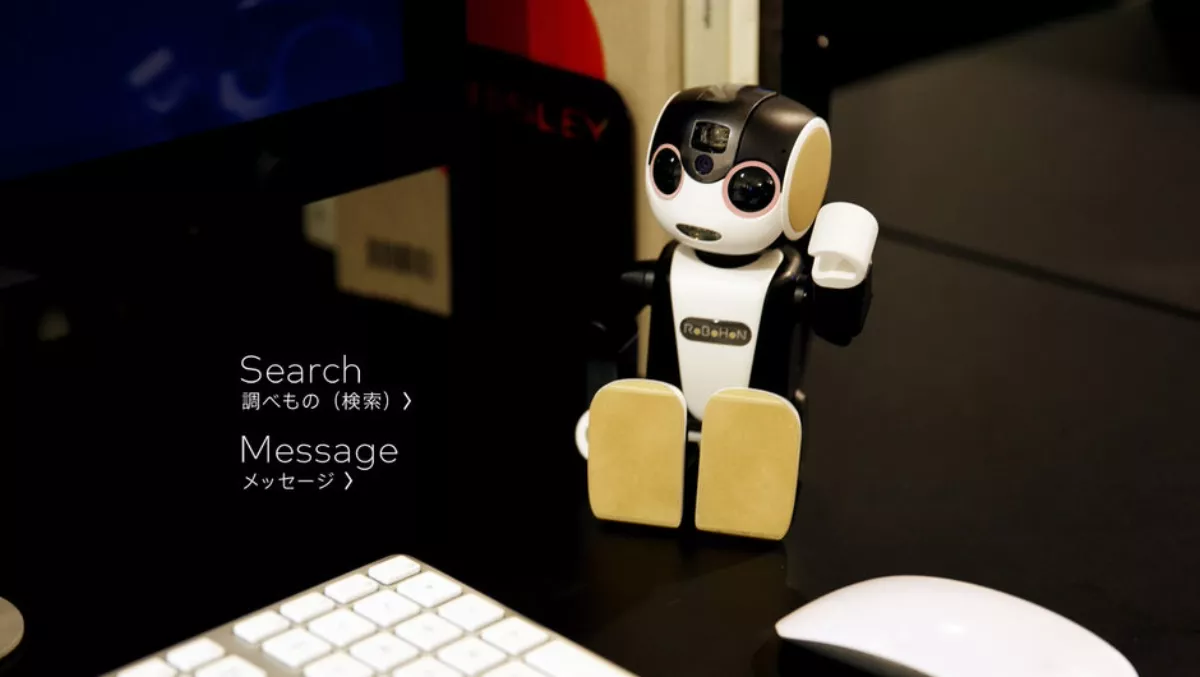 Top 10 facts about RoBoHoN, Sharp's new robot phone
FYI, this story is more than a year old
Hello world, meet RoBoHoN, Sharp's robot phone that's currently trapped in Japan.
The tiny 19.5cm robot phone is a humanoid that can talk and walk on his two small legs, and it has a lot to offer including LTE and 3G networks and cloud access.
But there's a catch – RoBoHoN is only available to consumers in Japan, and will only work with Japan networks.
"RoBoHoN is for use in Japan only. RoBoHon is activated through a cloud service which only residents of Japan can subscribe," says a message on RoBoHoN's website.
Despite the fact that this little robot can't escape Japan's clutches just yet, there's still a lot of impressive technology that makes it worth a look.
Sharp put together the top 10 facts you need to know about RoBoHon (and we note that Sharp has chosen 'he' as the gender here…)
Fact #1: RoBoHoN was developed in collaboration with Tomotaka Takahashi, Project Associate Professor at the University of Tokyo's Research Centre for Advanced Science and Technology and CEO of robot development company Robo Garage Co.
Fact #2: Sharp believes RoBoHoN is the world's first hybrid of robot and mobile phone telephony. Along with basic phone functions he supports LTE and 3G networks (Japan only), as well as email and other online services, such as Cloud access, built into the device.
Fact #3: The smartphone is based around the Android 5.0 operating system and accessed using the 2-inch touchscreen. The phone is powered by a 1.2GHz quad-core Qualcomm Snapdragon 400 processor with 2GB of RAM, making it a quick and responsive phone.
Fact #4: Alongside the telephony features, RoBoHoN has been designed to learn, so the more a person uses the robotic phone, the more it will learn about the user and about the ways people use the phone and the additional functions. To this end, face recognition as well as voice recognition software is an integral part of RoBoHoN.
Fact #5: There is also voice activity detection software built into RoBoHoN, so he'll be able to identify where a person is in the room and move to them, as opposed to the person having to always look for their phone.
Fact #6: In order to find his way around, RoBoHoN has nine different sensors tucked away inside him. With three axis accelerometers, three axis geo-magnetometers, three-axis gyroscope, as well as a light sensor, he can manipulate his environment with ease, making it easy for him to walk and know his exact location.
Fact #7: The phone has been designed to evolve over time with the development of the RoBoHoN Store. The store provides dedicated apps to give RoBoHoN new functions and services.
Fact #8: RoBoHoN can be used for a presentations. There is an HD projector built-in to the miniature robot, offering focus-free playback at a resolution of 1280 x 720 pixels – ideal for showing photos and videos like a certain other famous robot from a galaxy far, far away.
Fact #9: Right now, RoBoHoN is only available, and only works, in Japan.
Fact #10: If you need to know even more about this diminutive wonder, then check out the video (it's in Japanese so make sure subtitles are active).
Related stories
Top stories