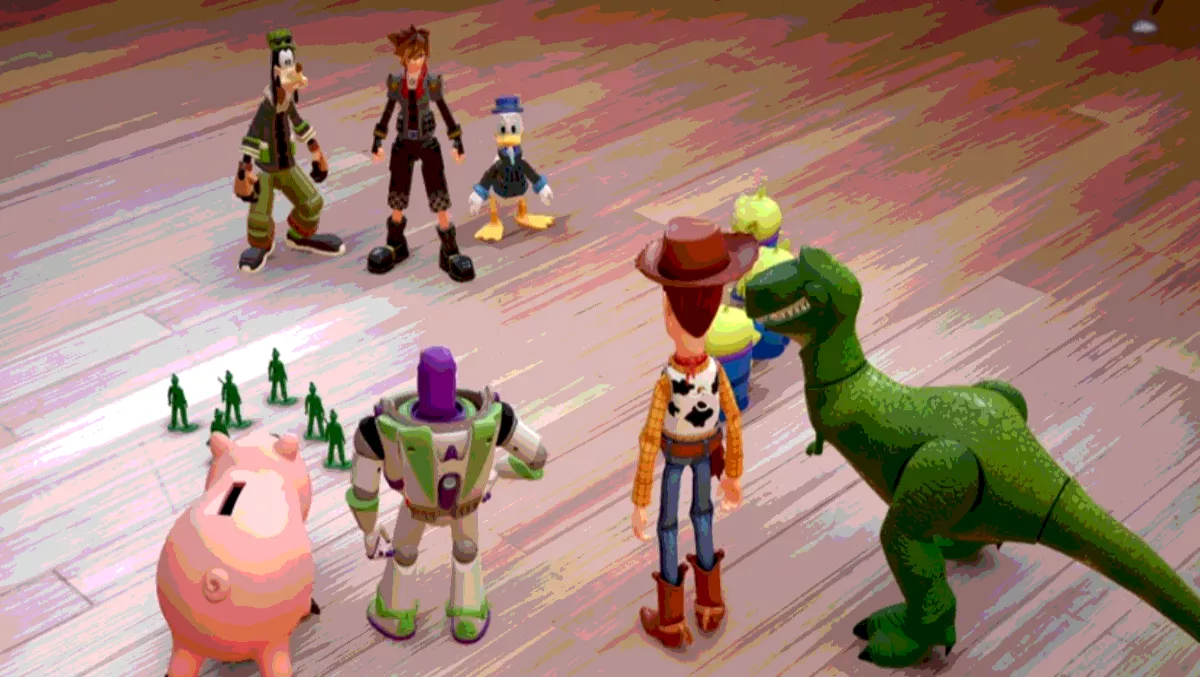 Toy Story is being brought to life in Kingdom Hearts III
By Jacques-Pierre (JP) Dumas,
Mon 17 Jul 2017
FYI, this story is more than a year old
Fans of Toy Story now get to experience a brand new chapter for Woody and friends in Kingdom Hearts III.
Disney has unveiled a new trailer for the game which shines a spotlight on the first world players will adventure through, based on the beloved Disney/Pixar film, Toy Story.
The new trailer follows Sora, Donald Duck and Goofy to Andy's room as they join Woody, Buzz Lightyear, Hamm, Rex and Sarge.
Together they start an investigation into the disappearance of their fellow toys and Andy, as well as the emergence of the Heartless enemies in their world.
Featuring an original storyline, fans will get a first look at the dynamic trio's Toy Story themed looks, all-new toys, such as the Gigas, and special Keyblades that transform and give Sora unique attacks to unleash on Heartless enemies.
Tetsuya Nomura, Kingdom Hearts director says, "At long last, we are excited to open up the Kingdom Hearts universe to include the world of Disney/Pixar's Toy Story.
"I'm sure fans have been anticipating the inclusion of this world for many years."
"The narrative will be an original story exclusive to Kingdom Hearts III, and the gameplay will feel characteristic of the Toy Story style and aesthetic."
The game promises to feature a brand new storyline that brings together beloved Toy Story friends with the heroes of Kingdom Hearts.
Developers promise that the Toy Story world in Kingdom Hearts III successfully mirrors the level of quality they achieve in the Pixar films.
Jason Katz, Pixar story supervisor says, "Kingdom Hearts III will undoubtedly be an experience that fans will not want to miss."
Kingdom Hearts is a series of role-playing games created through the collaboration of Disney Interactive and Square Enix.
Since the first Kingdom Hearts was released in March 2002 for the PlayStation 2, the series has expanded with several additional entries.
The series celebrated its 15th anniversary in March 2017 and has sold over 24 million units worldwide.
In Kingdom Hearts III, players will continue their magical adventures across beloved Disney worlds, like the futuristic San Fransokyo from Big Hero 6, the Kingdom of Corona from Tangled and Olympus from Hercules.
Kingdom Hearts III will be available for the Xbox One, and PlayStation 4 in 2018.
You can watch the latest trailer here: