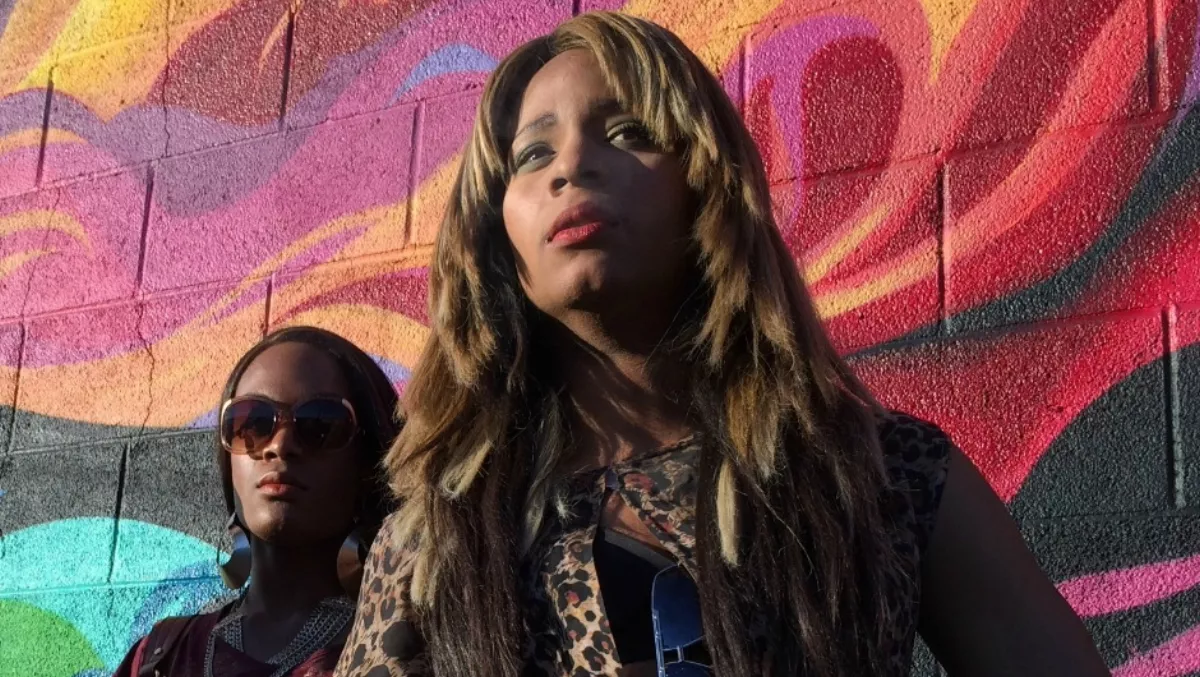 Transgender prostitutes, iPhones and bitches: Tangerine film review
FYI, this story is more than a year old
Tangerine is unlike any film I've seen before. It introduces you to two transgender prostitutes and an Armenian man and proceeds to lead you into the fringes of West Hollywood until you're swallowed up entirely.
It didn't immediately grip me. In fact, I nearly didn't go at all. Hearing that it was about sex workers and shot entirely on iPhones, I assumed it would be a grainy indie film that glorified the LGBT community, but got away with it because it was making a statement. How wrong I was.
Tangerine takes place over the course of a single day, following Sin-Dee (Kitana Kiki Rodriguez) and Alexandra (Mya Taylor), two transgender sex workers, and occasionally jumping into the taxi of Razmik (Karren Karagulian), an Armenian immigrant making a life in LA.
At first, I contemplated walking out. After Sin-Dee said 'bitch' for the 137th time and the camera came to a halt behind them on yet another sparse LA street, I came to the conclusion that the movie wasn't going anywhere fast. But it proved me wrong once again, and slowly but surely won me over.
It was a combination of the characters, pacing, music and cinematography that culminated in damn good storytelling.
Following Sin-Dee and Alexandra as they traipsed through the city, their golden jewellery and knock-off sunglasses glinting in the sun, I got to know their corner of West Hollywood. The neon lit food chains, shadowy bars, grimy motel rooms, cracked pavement and public transport came alive under a tangerine glow, occasionally spliced through by a lens flare or revelled in with a swooping pan.
Punctuating the scenes was a blasting soundtrack. Edgy, electronic and grounded by heavy bass, the slew of beats merged with the dialogue and drew in all of the different strands of the story. It cut through the noise, helped to weave the scenes together, and pumped the whole thing with a hearty dose of energy.
Throughout it all - when Razmik goes down on a prostitute in a car wash, another LA-goer climbs into the back of his taxi, two women light up in a dingy bathroom, or Alexandra gives her wig to Sin-Dee in a laundromat (my favourite scene in the whole film) - you feel so close to the characters. The film treats them not as caricatures but as people, and as a result keeps you invested even when you might want to wash your hands of this world.
The fact that Tangerine spans so many colours of life, often diving into the seedier parts of LA, and manages to be both unflinching and full of heart is quite the feat.
I forgot the film was 'about transgender prostitutes' and I forgot it was shot on iPhones. The shoestring budget wasn't a hindrance like I originally thought, instead helping the filmmakers get right up close and personal to the subject matter, and tell the story in an entirely non-showy way.
It isn't grand or trying to make some big statement, hasn't been chopped and sliced a hundred times in a bid to garner feeling and rake in millions, it was just a film about people doing their best to get by in amongst the hustle, and a friendship so genuine it outshone the bleaker moments. If this is where movie-making is headed, I am more than okay with it.
Raw, unabashed, heavy, bright, loud, in-your-face: this isn't the film for everyone. It's very possible you could go and see it, only to say, "Really Catherine, you like this movie about a two women roaming through the city, swapping money for sex and yelling at anything that moves?" Well yes, yes I do.
3.8/5