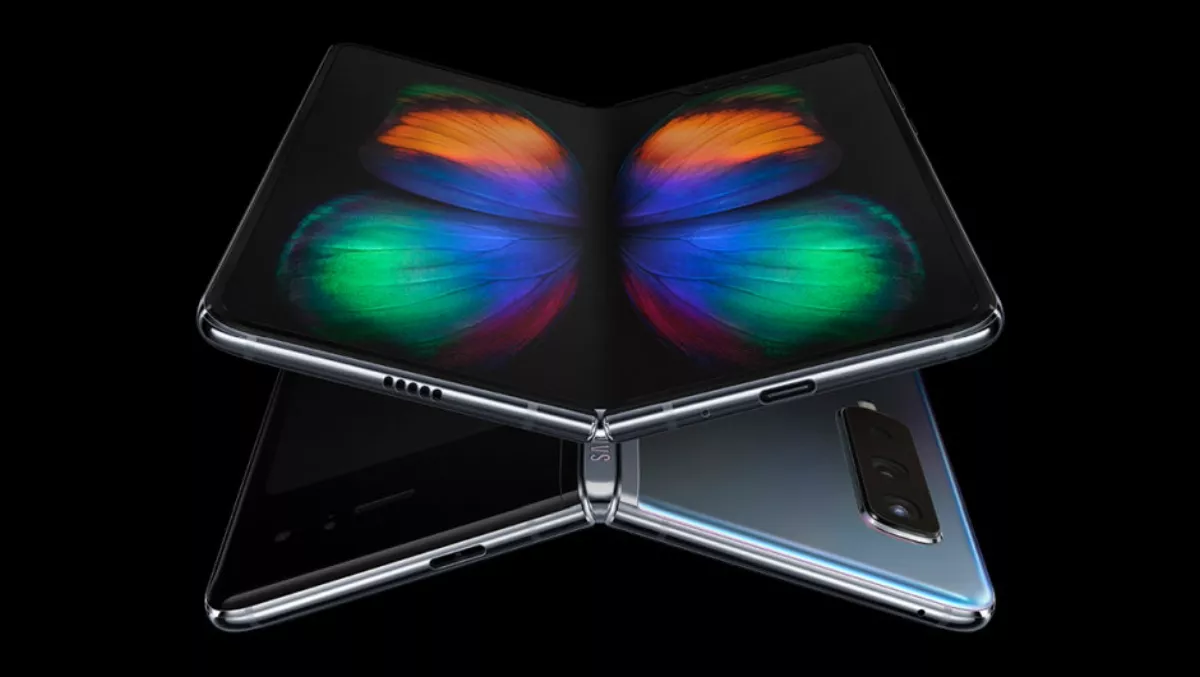 UPDATED - Foldables: The new battleground for smartphone fads
Fri, 22nd Feb 2019
FYI, this story is more than a year old
Move over OLED screens, stylus pens and speaker quality, the new battle of the smartphones is in foldable technology – at least if the big names like Samsung, Apple, Xiaomi, HUAWEI, and other brands like Royole are to be believed.
Samsung Galaxy Fold
Yesterday Samsung made headlines as it showed Galaxy Fold to the world, a 7.3" device that literally folds in half.
It uses an Infinity Flex Display to cope with all of that folding, which is made of new materials including a polymer layer and a display that's around 50% thinner than the average smartphone display.
"Samsung is writing the next chapter in mobile innovation history by changing what's possible in a smartphone. Galaxy Fold introduces a completely new category that unlocks new capabilities never seen before with our Infinity Flex Display," comments Samsung IT - Mobile Communications Division president and CEO DJ Koh.
"We created Galaxy Fold for those that want to experience what a premium foldable device can do, beyond the limitations of a traditional smartphone.
Samsung built the phone with a tailored UX based on Android 9.0 (Android Pie.) The UX includes Multi-Active Window for up to three active apps at one time; and App Continuity that can transition between cover and main displays as you open and close the phone.
It will also be kitted out with a front dual camera (10MP selfie cam and 8MP RGB depth camera), as well as a rear triple camera (16MP ultra wide camera), 12MP wide angle camera, and a 12MP telephoto camera.
Samsung expects to release the Galaxy Fold in Q2 2019.
Huawei's Mate X: Stretch, and bend! Stretch, and bend! Huawei has chosen flexibility that unfolds from its folded 6.6" front to become an 8" tablet.
The dual-sim device is being billed as the world's 'fastest foldable 5G phone' - well, that's assuming 5G infrastructure actually starts getting built, rather than being shrouded in controversy.
It has a 4500mAh battery, and a Leica 40 MP MP (Wide Angle Lens) + 16 MP (Ultra Wide Angle Lens) + 8 MP (Telephoto).
It's also infused with Huawei's flagship Kirin 980 chip, as well as a Balong 500 network chip.
Memory tops out at 8 GB RAM + 512 GB ROM.
Xiaomi – a foldable in the works?
Rumours are swirling about Xiaomi's double-folding smartphone that will either be called Xiaomi Dual Flex or Xiaomi MIX Flex. The world may get its first proper look at it next week at Mobile World Congress.
Apple's jumping on the foldable bandwagon too
Tech publication The Verge discovered that Apple has also filed a patent application for its own foldable phone that will incorporate hinges. Apple filed the application in October 2018.
"It would be desirable to be able to use flexible display technology to provide improved electronic devices," the patent says. These technologies may use OLED displays.
Royole – a smaller player that went for the 'bendable' tactic
Last year a US-based manufacturer called Royole announced that it was jumping headfirst into the bendables craze, with plans to launch FlexPai, a bendable phablet.