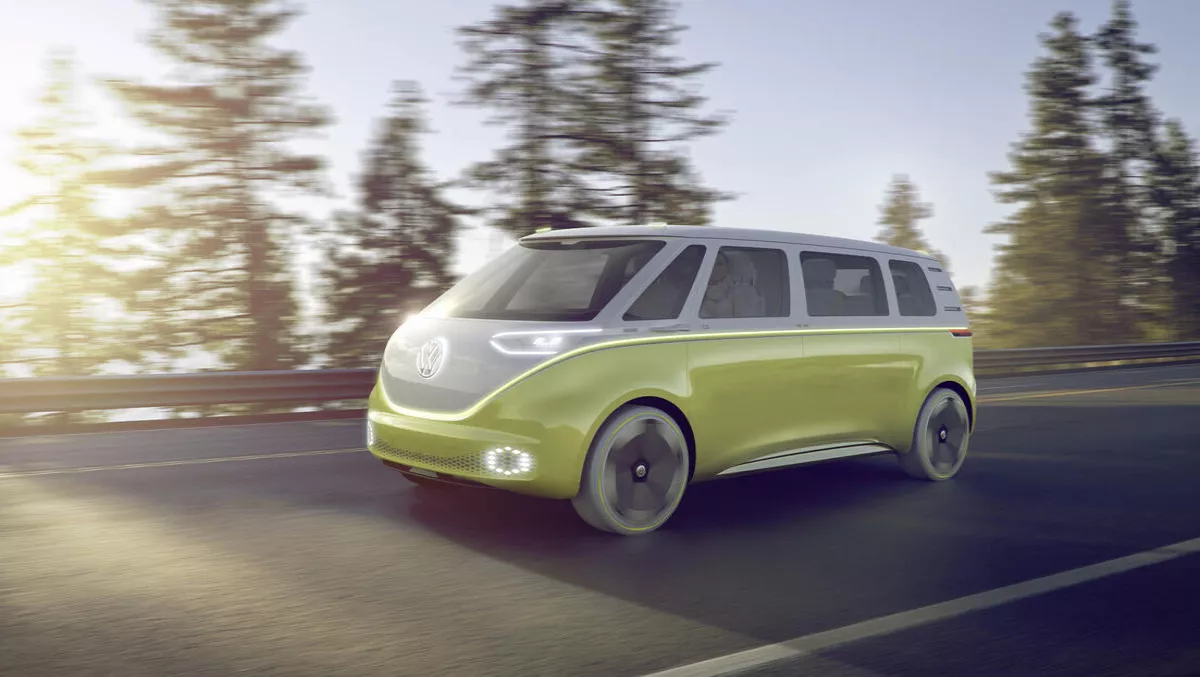 Volkswagen debuts all-electric minibus concept for the modern hippy
FYI, this story is more than a year old
Volkswagen is famous for its hippy-style travel kombi and has just unveiled plans for its first electric microbus.
The new idea has been dubbed 'The I.D. BUZZ' concept which stands for "Identity," "Idea," "Individual," "Intelligent" and "Iconic Design". BUZZ is a phonetic word play on "bus" and refers to the silent "buzzing" of the drive system.
Dr. Frank Welsch, Volkswagen member of the Board of Management, says theI.D. BUZZ is a next-generation vehicle based on the new Modular Electric Drive Kit (MEB), offering comfort and plenty of space.
"The overall concept of the I.D. BUZZ points the way to the future. This concept vehicle is the world's first electric multi-purpose vehicle to be equipped with a fully autonomous driving mode," he says.
"It carries the feeling of freedom of the Microbus over to a completely new era of mobility.
The I.D. BUZZ is bigger inside, has a silent drive system with a floor-mounted battery, but still remains similar to its kombi predecessors on the outside.
With a zero-emissions all-wheel drive system, the new vehicle has a total output of 369 horsepower and an NEDC electric driving range of 600 kilometers.
The I.D. BUZZ can detect other road users with its laser sensors, ultrasonic sensors, radar sensors, side area view cameras and a front camera.
The original Microbus is a legend all over the world and forms a global community. Although the I.D. BUZZ is designed for a new era, it would fit in perfectly with its predecessors.
Klaus Bischoff, Volkswagen head of Design, says the I.D. BUZZ is not a retro design on 22-inch wheels.
"Rather, we have taken the logical next step forward in development using what is in all likelihood the most successful design of its kind in the world," he explains.
I.D. BUZZ also features a touch-sensitive steering wheel, Augmented reality head-up display and an "I.D. Box" center console.
"The entire design is extremely clean with its homogeneous surfaces and monolithic silhouette. The future and origins of Volkswagen design DNA combine here to create a new icon," concludes Bischoff.