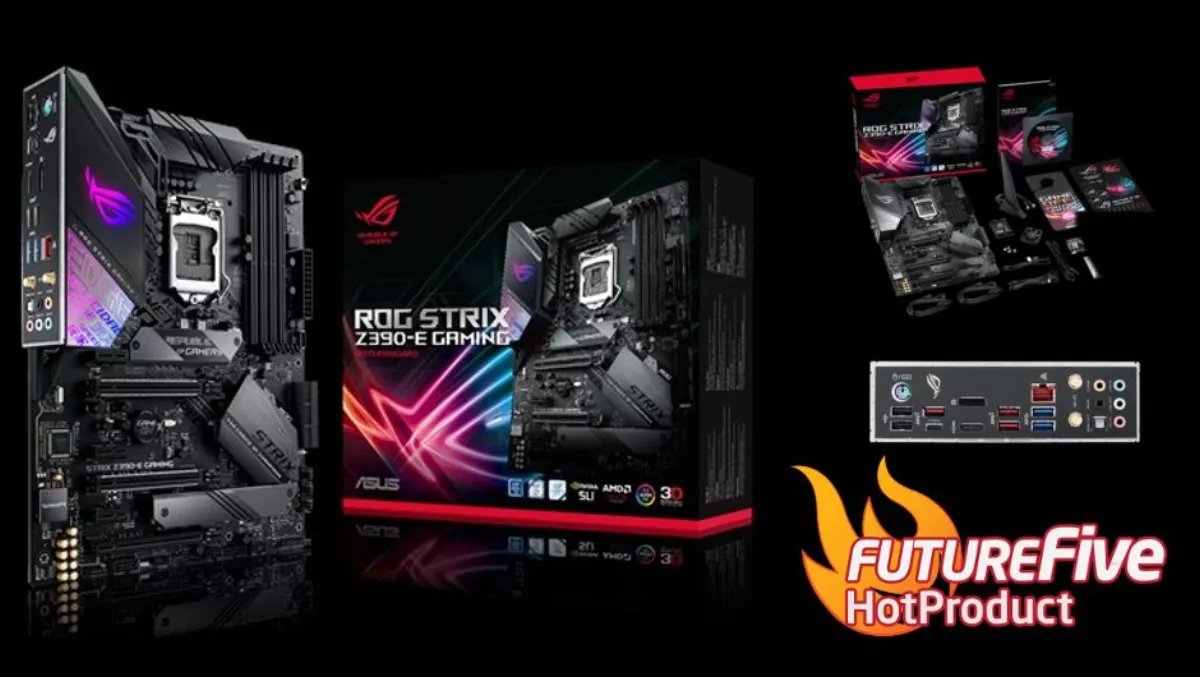 We go hands-on with the ASUS ROG STRIX Z390 E-Gaming
FYI, this story is more than a year old
90% of people don't get to enjoy their investment into a modern PC to its fullest. It may sound amusing but it's true, primarily due to knowledge barriers.
There is plenty more performance to mine, if only that knowledge was more accessible to the general public.
Manufacturers have attempted to offer automatic overclocking and optimisation features via pre-recorded profiles over the years.
However, without the consideration of other factors that may affect the result, these profiles often lead to undesirable side effects such as overheating and unnecessary fan noise, as well as an impact on system stability.
I wasn't expecting much when ASUS told me about their new AI Overclocking. After all, this name has been used in ASUS motherboard products for over a decade. Without much faith, I gave it a shot while test driving the ROG STRIX Z390-E Gaming, and boy was I amazed…
When I entered the ASUS BIOS screen, I immediately noticed some new information at the bottom right hand side of the screen called "Prediction". This is supposed to be able to give you a pretty precise estimation of the capability of your system from the next entrance into BIOS, after applying roughly five minutes of heavy load under Windows.
The magic is the ASUS AI chip that precisely records the behaviour of your CPU in relation to the change of voltage, power consumption and temperature. That data will be consolidated into a few easy to understand numbers to assist your system tuning process.
You can access the full instruction by pressing F11 in the BIOS screen. There is also the option to simulate the potential result of investment into a better CPU cooler "AI Feature" group if desirable.
Sounds too good to be true, doesn't it? I didn't believe it at first, but still followed the provided instructions. Once I was back in the BIOS setup, Prediction had the data ready for me.
The right hand side showed the maximum stable settings it predicts, while the left hand side showed the recommended voltage running the Turbo Ratio configuration.
It showed that my CPU was able to reach 5200MHz non-AVX, and 5000MHz with AVX, and the Cache of 5100MHz running 1.2V, 1.25V and 1.015V respectively.
I cautiously entered these recommended settings manually into the BIOS. And for now the moment of truth: I saved the settings and stressed the computer with non-AVX and AVX loads, using both Prime95 and Cinebench.
The system was able to sustain a few stable runs of Cinebench, followed by Prime95 torture tests for over an hour each without a blink. No crash or even throttling was detected throughout the tests. That was something I definitely never expected, until I witnessed it with my very own eyes.
If you think this is all the Strix Z390-E Gaming can do, think again. Combine this with their 5-Way Optimization. I easily optimised the system to the optimal balance between performance fan noise.
ASUS also included the RAMCache 3 software that provides more system memory to storage devices dynamically to improve I/O performance and overall durability of SSDs. That's definitely a useful inclusion for modern PC systems, especially after SSD industries move towards the shorter life MLC-based SSDs.
No matter how much the system can be fine-tuned, all will be pointless if the system simply won't boot up due to memory incompatibility. Aside from the complicated OptiMem2 layout introduced, the good old MEMOK! Function has become smarter.
The system will attempt to retrain the memory kit at the desired frequency automatically in the unlikely event of boot failure. This saves me the trouble of going back into the BIOS to fiddle with memory settings, while picking up any incompatible memory at random when conducting reviews.
In terms of other hardware specifications, ROG STRIX Z390-E Gaming also features the Intel 160HT capable dual-band AC WiFi, M.2 heatsink, and ASUS's patented Pre-mount I/O shield.
It is also worth mentioning that this is also the very first motherboard I have reviewed totally without the need for either driver disc or visiting their website.
After Windows 10 has been installed, it automatically installs the Armoury Crate software, and downloaded all the drivers for me ready to install all in one single click. This option can however be turned off in BIOS if not desirable.
The ROG STRIX Z390-E Gaming is packed with surprises. No marketing messages, just solid features that work in the out of the box. If you are looking to get the most of your new PC investment, look no further, this Strix will not disappoint you.
Keen to find out more? Click here for details.