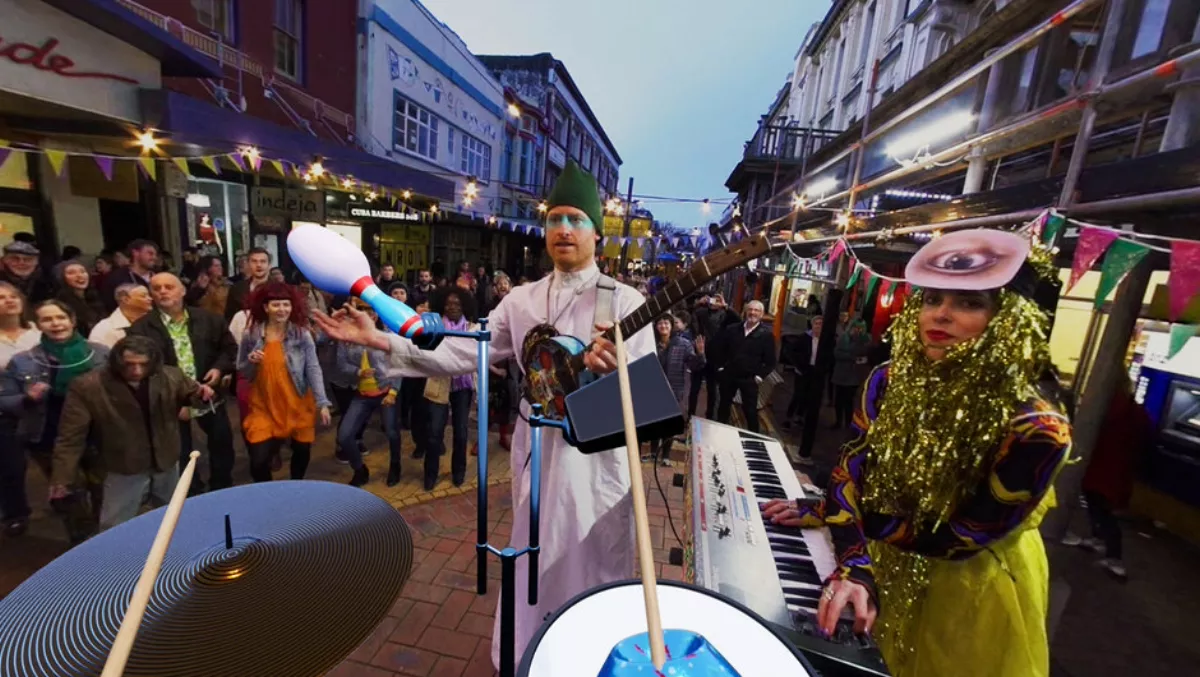 Wellington gets the VR treatment as world's first gamified city
FYI, this story is more than a year old
If you've never been to 'the coolest little capital in the world' – otherwise known as our very own Wellington, now's your chance to experience it in the comfort of your own home, thanks to a new virtual reality game.
The games, called WellTown and Explore More, are part of a virtual Wellington that showcase's the city from the infamous Westpac Stadium (otherwise known as the Cake Tin) right down to Te Papa and Weta Studio tours.
According to Wellington Regional Economic Development Agency (WREDA), the virtual Wellington may well be the world's first gamified city.
WellTown, which is available on the Oculus VR and Steam stores, includes six short virtual experiences. Players can do a range of activities and they can also receive 'physical adornments' for their avatars.
Players can shoot coffee at caffeine-deprived zombies as they finish their morning commute, take an underwater dive in Wellington's pristine harbour as a curious whale swims by, listen to the dawn chorus of birdsong in the native bush that surrounds the city, busk with a local band on Wellington's coolest street, stand beneath a starlit sky during Matariki (Maori New Year), and help people take a leap off a diving platform on Wellington's vibrant waterfront.
Explore More takes a deeper look into of some of the more epic experiences through 360 video.
Those experiences include an All Blacks test match at Westpac Stadium, a Weta Studio Tour at Weta Workshop, and players can also peek inside the doors of Kiwi accountancy firm Xero (which is experiencing huge success overseas).
Wellington Mayor Justin Lester loves the fact that Wellington has been bottled.
"Virtual Wellington is essentially a high-tech bottling of the city that allows it to be taken to the world. It will increase Wellington's international reputation as an innovative tech city with the world's best lifestyle," he says.
"Even though we're a small city, Wellington is packed with idea makers, creators and influencers. We're ranked as the most creative city in New Zealand with a large entrepreneurial community of more than 900 business startups, numerous art galleries, events and exhibitions, hundreds of cafes and craft breweries, an Oscar-winning movie industry and top-ranked education institutions."
Anna Calver adds that Wellington is home to a growing number of AR and VR firms that create content for customers in New Zealand and overseas.
One of those firms is Wrestler, which made WellTown. Cofounder Kat Lintott says the game is a novel way of telling the Wellington story.
"We used city-wide data supplied by Wellington City Council to create the virtual Wellington City and then added a layer of story and gamification though utilising motion capture, CG, 360 interactive video and photogrammetry," says Lintott.
"Whatever way you look at it, Wellington is creating the next generation of entertainment experiences," adds Calver.
Whether you're a New Zealand local or trying to persuade your friend from Greece to take a tour of the country, the game might just show why you can't beat Wellington on a good day.
Virtual Wellington is free to download from the Steam and Oculus VR stores and can be viewed on YouTube. An android and iOS version are in the works.
Related stories
Top stories