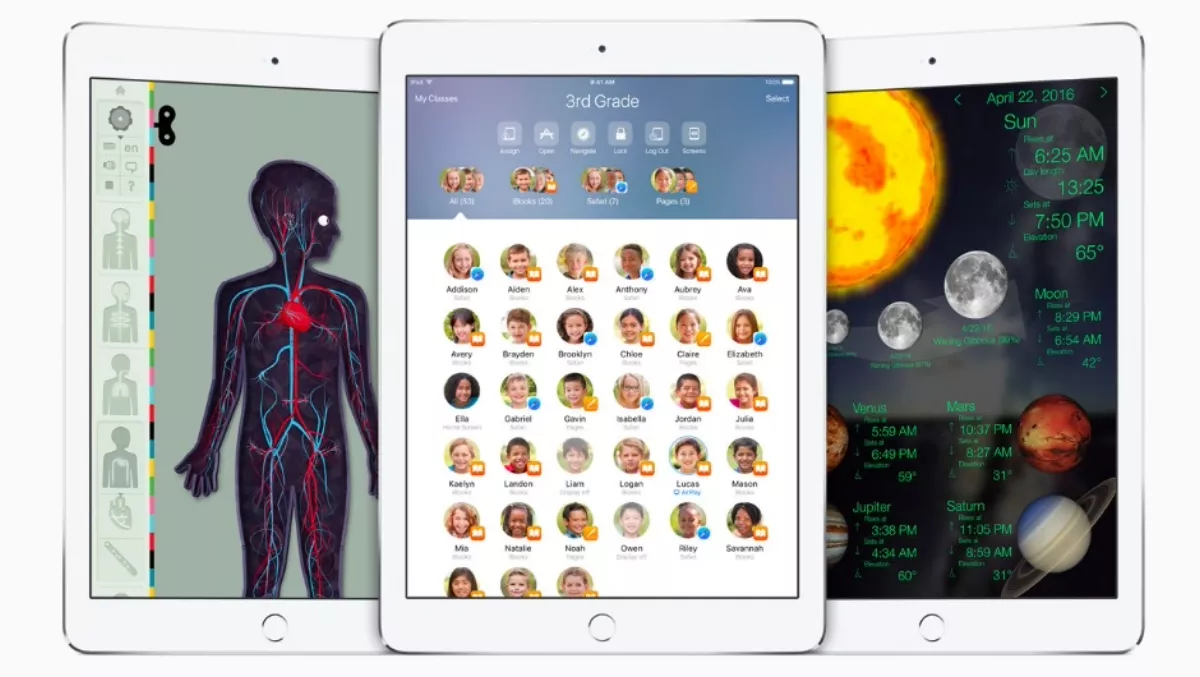 What Apple's latest iOS update means for educators
By Catherine Knowles,
Thu 14 Jan 2016
FYI, this story is more than a year old
Apple's latest iOS update brings a range of new features designed specifically for the education system, all created to help teachers and students get the most out of their learning.
iOS 9.3 allows students to have a personalised experience on a shared iPad, introduces the Classroom app to helps teachers track students, and adds more capabilities for admin and IT personnel.
Apple has reportedly been working on re-doing its iPad in Education programme since early 2015, when leaked information suggested that the company was working on unifying development programmes, simplifying app distribution and updating student Apple IDs.
The iOS 9.3 beta, released yesterday, shows that Apple has followed through with a number of these projects.
Here's a closer look at the new features iOS 9.3 brings to educators:
Shared iPad
Apple's new shared iPad feature enables students to have a personalised experience when sharing a device.
Each student gets their own Apple ID login, which they can use to access their own personal content, apps, books and documents.
Intelligent caching enables students who use an assigned iPad shared with other classes to log in and access the lesson plan or resources straight away.
The intelligent caching also enables teachers to use the Photo ID feature to assign devices. Each student's picture appears on the iPad so students simply have to locate their photo to find their device.
Younger students can also utilise the shared iPad feature, logging in with a four-digit PIN on the lock screen.
Classroom App
The Classroom app has been designed to help teachers keep students on track and focused on class.
Specific apps, websites, or a page in a textbook can be launched on every iPad in the classroom, and the teacher can also lock certain apps to keep students paying attention to the task at hand.
Through the app's feature 'Screen View' teachers can see what is on the students' screen. This helps the educator find out how a student is doing a worksheet or equation, or if the student has strayed from their work.
Teachers can also use this feature to project any student's work onto a classroom television equipped with Apple TV. Using AirPlay means no internet connection is necessary.
Classroom also enables teachers to reset forgotten passwords straight away.
Managed Apple IDs
With iOS 9.3, Apple has introduced the ability to create and manage student and teacher IDs.
Similar to how regular Apple IDs work, documents are stored in the iCloud and students can enroll in iTunes U courses.
However, Managed Apple IDs are specifically designed for schools, and as such enable the admin to reset passwords, audit accounts, create IDs in bulk, and create customised roles for everyone in the district.
Apple School Manager
This feature provides a centralised place for administrators to manage Apple IDs and deploy new iPads in the school from a web browser on a Mac or PC.
This is a complete end-to-end solution for deploying iPads in the classroom - from purchasing apps and distributing devices, to managing Apple IDs and enrolment.
An in-built setup assistant provides step-by-step instructions to create Managed Apple IDs, enroll district IT admins and then complete deployment.
Users can also buy and distribute books via the Manager feature, and build and deliver courses with iTunes U.
Schools can train their staff with the iTunes U Course Manager and then use Managed Apple IDs to connect teachers and students.
Furthermore, with this feature users can securely access all of the district's key enrollment information. By connecting to the Student Information System, users can set up IT managers, create accounts and locate students, staff and classes.
Users can find all devices in their district that have been purchased through Apple or a reseller and can also oversee MDM server information, configure enrollment settings and streamline device setup.