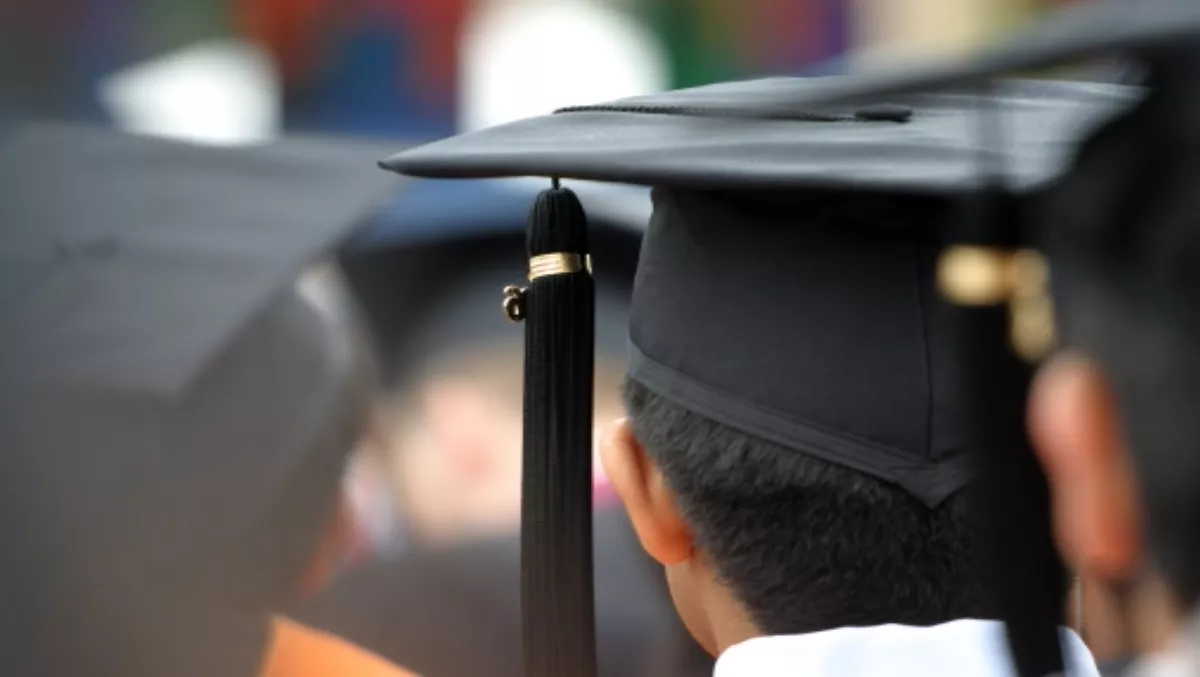 What new graduates need to know
FYI, this story is more than a year old
If you suspect that your 20-something employee is sneering at you from behind the stack of copies you asked him to collate, research suggests you might be right.
Three-quarters of professionals under age 30 think their skills exceed those of an entry-level job, a survey released today by LinkedIn shows.
But workers over 30 were wary of this attitude, saying they doubted the younger generation's work ethic.
Perhaps more shockingly, 64 percent of all adults — young adults included — are nervous about millennials leading the workforce.
The season for commencement speeches — the annual ritual designed to bridge this ever-widening gap — is underway.
Typically an admired leader, often with decades of work experience under her belt, imparts wisdom to a crowd of hopeful youth in polyester robes on the day of their college graduation.
Dozens of the thought leaders who write original content for LinkedIn have given, or are preparing to give, speeches to colleges, graduate schools and even high schools.
Dozens more have ideas about the speeches they'd like to give, or wish they'd received when they were just starting out. They've posted their commencement addresses — real, abridged or theoretical — in an exclusive series on LinkedIn.
So how are some of the smartest and most successful professionals in the world addressing the fact that new graduates both fear for their future and feel overqualified?
Some with tough love.
Ciplex founder Ilya Pozin takes on entitlement, arguing that a degree means almost nothing in the real world.
"Simply having a college degree will not get you hired. We need to break away from this idea," he says.
"In all reality, most employers could care less about your GPA or where you went to school."
And journalist Farhad Manjoo argues that however skilled graduates may feel, if they haven't honed their writing acumen, they're in trouble.
"Over the last two decades … writing has surpassed talking as the most important skill in the modern workplace," he says.
Frank Wu, Chancellor of the University of California Hastings College of Law, reminds students they're not as smart as they think:
"Even those of you who in fact are at the very top of the curve will find yourself surrounded by rivals who have attained that same status."
But Influencers also came ready with tips and experiences that transcended cliches.
Bob Dorf, co-author of the Startup Owner's Manual, recommends grads ask themselves four questions, including "Am I an extrovert?" and "Can I take a chance on greatness now?" to figure out their post-grad roadmap.
Venture capitalist Ann Winblad told graduates that while it may seem their careers will turn on their first job, it almost never works out that way.
"I quit my first job and went from a great salary to almost zero," she says. "But I now had a really great job and the one I really wanted."
Randi Zuckerberg, founder of Zuckerberg Media, warns to "be careful what you get good at," citing a story from earlier in her career when her excellence at a simple administrative task caused her bosses to pass her over for more challenging work.
Wolff Olins CEO Karl Heiselman gives some counterintuitive advice: Write your obituary.
"That sounds morbid, but it's actually exciting," he says. "You've got a whole life ahead of you, so think about the impact you want to make in the world and what you want to be known for."
And as for those fears about entering the workplace? Author, journalist and activist Maria Shriver cautions against getting caught up in ambition, instead recommending a break to pause and reflect.
"It's a race to be next, to be first, to be new. Sorta scary, isn't it?" She asks.
Groupon co-founder Brad Keywell also suggested reticence: "Don't get married too soon. Don't choose a career too soon. Don't commit to a city to live in too soon. Don't rush it. You have plenty of time."
Love or money?
LinkedIn's survey showed that most millennials are more interested in pursuing something they love than making money, and that they overwhelmingly preferred startups to large companies.
Advocates of that approach include Virgin co-founder Richard Branson, who suggests students find something they love and create their own path. "I never had a boss in my life," he says.
Craigslist founder Craig Newmark urges graduates to work for small companies, lamenting corporate culture that encourages "meetings. Lots of meetings, where people will often speak for the sake of being perceived as contributing."
And GE CEO Jeff Immelt encouraged bravery, risk-taking and leadership in a speech he gave to the University of Connecticut's graduate school earlier this month. "We can't wait for the economy to stabilize. We can't wait for a time when there is more certainty."
Graduates are often encouraged to do what they love. But Michael Fertik, CEO of Reputation.com, even challenges that idea: "The key is to be honest with yourself. Loving something doesn't mean you're good at it."
If, as LinkedIn's research suggests, millennials have doubts about their post-graduate future, they'd do well to incorporate some of these lessons.
But you don't have to be a new graduate to be inspired by these commencement speeches from the top minds in business, which combine humor, practical insights and a dose of cheerleading.
Unlike the speeches in this series, many commencement addresses will be forgettable. An irreverent final word on graduation comes from Buzzfeed president John Steinberg.
He says he learned by observing his peers and making mistakes, not by being told what to do with his life.
"When you are listening to that commencement speech, and the speaker starts on the whole 'break convention, pursue your own path' riff, I would urge you to just zone out."
By Francesca Levy - LinkedIn Official Blog
Related stories
Top stories