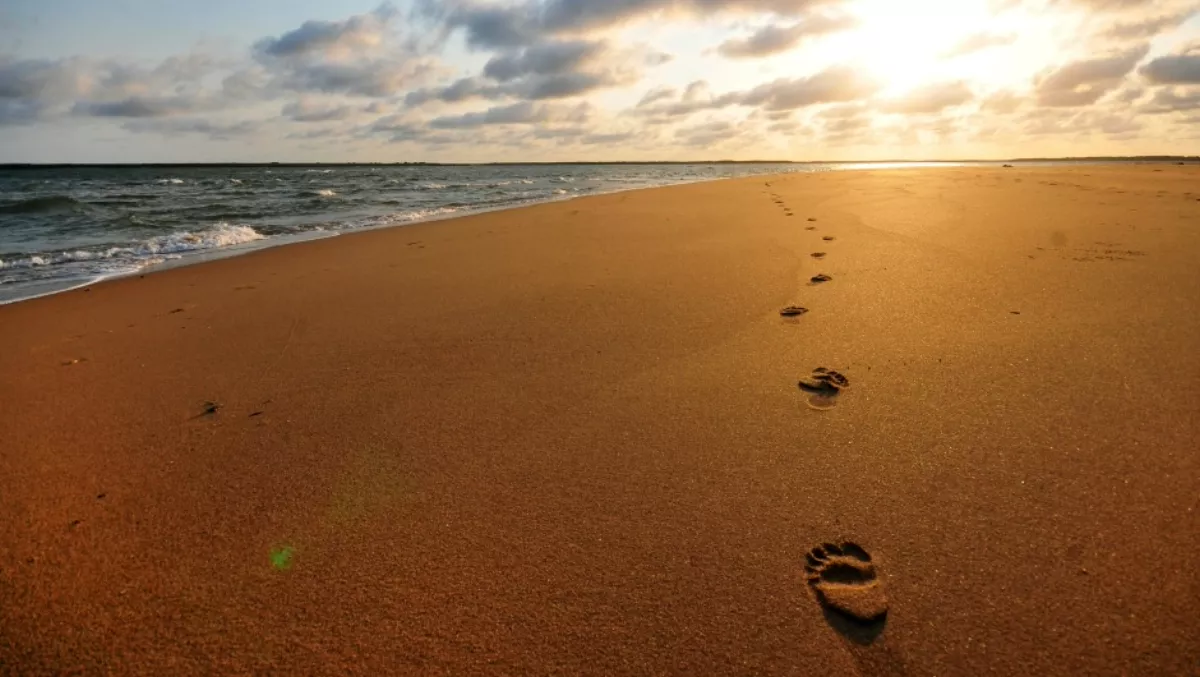 What is your 'digital footprint'?
Wed, 24th Feb 2016
FYI, this story is more than a year old
Your digital footprint is the trail of 'electronic breadcrumbs' you leave behind you as you use the Internet. It can include the websites you visit, the photos you upload and your interactions with other users on social networks.
A common comparison is the footprints you leave behind you when walk along a beach – every step you take leaves an impression on the sandy surface that allows another person to see the marks that your activity has made and offers the possibility for them to follow your trail.
If you walk along the shoreline of a beach, it's highly likely that your trail will be soon be covered up by the footprints of other beach goers who follow on behind you and that your footprints will eventually be erased by an incoming tide.
The Internet – and any electronic 'event' in general – doesn't work in the same cleansing way. The volume of Internet users and their actions can add complexity and provide some cover for your digital activities but it's safer to assume that anything you do, publish or post online may be there permanently and won't be 'washed away'.
In short, it pays to think before you publish any kind of information online. Once published, you lose control of the data that can be copied, shared and quickly attract unwelcome attention.
WHAT'S THE RISK?
Most Internet users create a digital footprint as they use online services.
They may actively publish their own information by sharing – for example publishing personal information or images about a holiday, interest or event. And they may passively – often unintentionally – contribute metadata to the services they make use of. This could include their device IP address, browsing behaviour and 'loyalty' to any service that tracks individual or anonymised user information.
The most common forms of risk reported to NetSafe related to individual digital footprints are:
Publishing personal information that leads to online bullying or harassment;
Publishing or sharing imagery or video that is used for sexting, sextortion, revenge porn or blackmail incidents;
Publishing personal or business information that is used for social engineering attacks;
Publishing or sharing information that results in reputational harm such as loss of employment.
The data you share online can be used to build up a picture of you as a person and your activities and interests. It can be seen and stored by partners, ex-partners, employers, family members and – should the content go viral – the wider world. It can be be used as evidence of your behaviour and occasionally result in cases of serious harm.
WHAT CAN I DO ABOUT MY DIGITAL FOOTPRINT?
For young people, the most common concern is to be a good digital citizen: to support your peers in the way you behave and in the record of activities that you leave online.
Google your name and see what information is returned about you and your online activities. Getting content removed can be hard so it's best not to share in the first place.
Avoid publishing information that showcases a lifestyle of drunken or drug endured behaviour as New Zealand employers can and do review digital footprints when short listing interview candidates. And make use of privacy settings on common platforms.
Value your personal information;
Be cautious about what you publish and where you share;
Think about your online privacy and security and review platform settings;
Manage your reputation – evaluate what the impact could be when publishing a photo, status update, comment or review;
Stop and think about the effect it could have on you and those around you longer term.
MORE INFORMATION
The Internet Society has lots of information and tutorials on various aspects of what contributes – actively and passively – to your digital footprint and why it's important to manage it.
Article sourced from NetSafe, an independent non-profit organisation with a sole purpose to promote confident, safe and responsible use of online technologies.