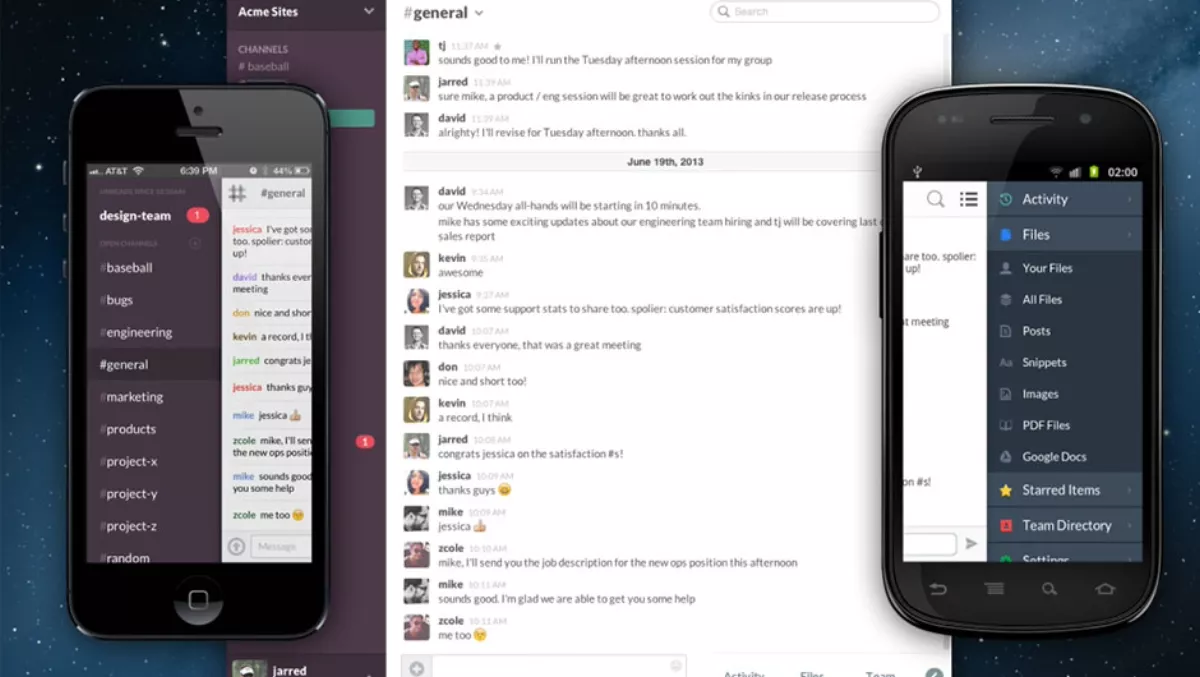 You've heard of Slack; we explain the tool
By Sean Mitchell,
04 Oct 2016
FYI, this story is more than a year old
If you're like me, you've heard a lot about this revolutionary new business communications tool called Slack. The brand is also mentioned by many software companies who proudly say that they have Slack integration.
The Slack story
Slack is a cloud-based software tool. It's focused on team collaboration and messaging.
It started life as an internal tool used by a bunch of developers at a game development company called Tiny Speck.
It was officially launched as a stand-alone product in late 2013.
The company added voice, video and screen-sharing to the tool in January 2015 with the acquisition of Screenhero.
Two months later, over a four-day period the tool was hacked. User's data was compromised with email addresses, usernames, encrypted passwords, and, in some cases, phone numbers and Skype IDs that users had associated with their accounts was stolen.
Two-factor authentication and a serious focus on security has resulted.
Today Slack is one of the most popular next-generation collaboration tools, in particular, its popular with start-ups and in development environments.
The company has raised over $600 million across five funding rounds. The latest of which values the company at over $2.7 billion USD.
What makes Slack difference
At its heart, Slack is a communication tool.
Slack has many things in common with old school Internet Relay Chat (IRC) tools. It has a streamlined interface that you can organise by topics. You can also establish private groups and direct message individuals.
You can search through any conversations and files that have been shared.
The communication on the platform doesn't necessarily come from people. It integrates with a huge number of software tools that can then send and receive messages. This includes Google Drive, Trello, Dropbox, Box, Heroku, IBM Bluemix, Crashlytics, GitHub, Runscope and Zendesk amongst many others.
In late 2015 the company announced an App directory that today showcases over 600 integrations that users can install.
It also has a rich arsenal of emoji's and buttons which senders can add to a message, which readers can then react using. The groups that use Slack can be a small internal team right up to a large community. While primarily focused on business use, it has a strong following for individuals outside of work, especially to interact with community groups.
The company advocates that their tool can help replace group emails or texting. There are clever tools like private channels to allow for private conversations between smaller subgroups within an overall group.
Availability
It's generally speaking a free tool, with a limit of 8,462 users per channel. One can upgrade to various paid version to gain access to larger channels or additional features.
Its app is available for iOS, Android, Windows Phone as well as desktop clients for Mac OS X, Windows and Linux.
Slack is also available for the Apple Watch, allowing users to send direct messages, see mentions, and make simple replies. It was featured on the home screen of the Apple Watch in a promotional video.
Conclusion
I can't praise Slack enough. It's a great tool that has stuck to its core purpose of messaging and collaboration. It also retains a simple and straight to the point interface.
Today it has over a million daily active users and the number of tools it integrates with keeps growing. We can see this continuing to grow.
Go and download your free trial here.