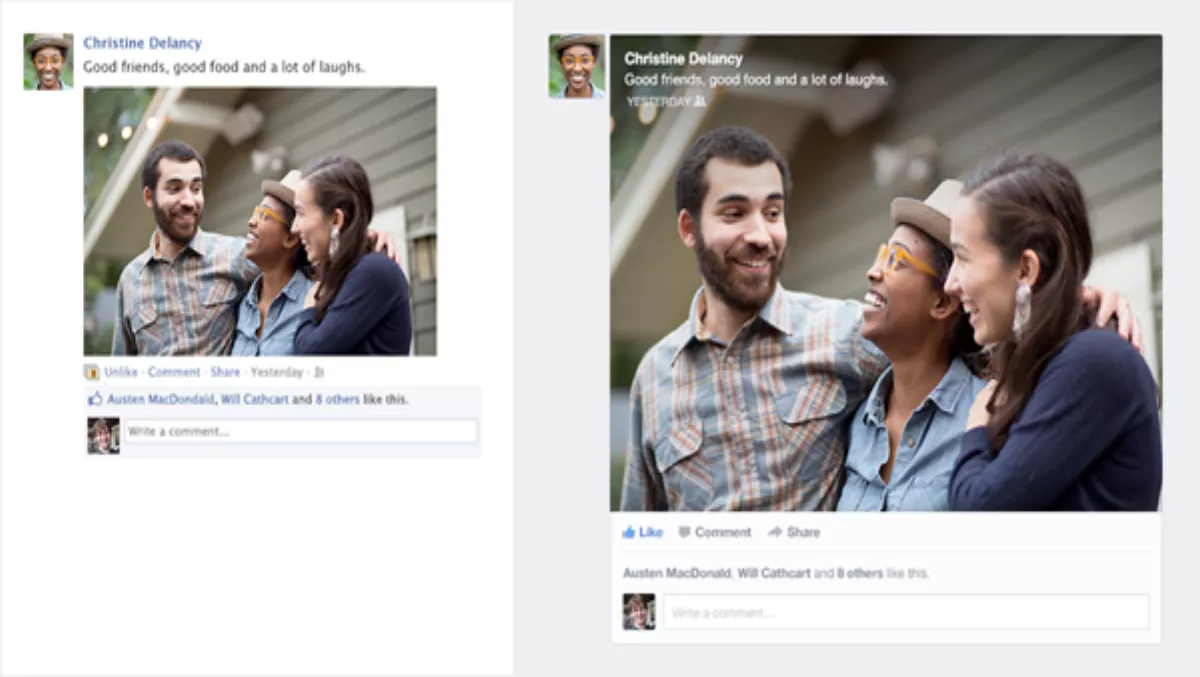 Acebook drops the F with new News Feed
08 Mar 2013
FYI, this story is more than a year old
"Goodbye Clutter. Hello bright, beautiful stories."
That's the line coming out of Facebook HQ, with founder Mark Zuckerberg revealed a newly designed News Feed for the social networking site.
Speaking during a scheduled media event this morning, Zuckerberg revealed Facebook's biggest change since it's Facebook Timeline launch in late 2011.
Featuring three major components, Facebook's new focus centres on a clean and uncluttered user face, lead by imagery and simplicity.
Bigger images, multiple feeds and mobile consistency - this is what the new News Feed promises.
"The news feed is one of the most important things we've built," Zuckerberg says. "How we're all sharing is changing and the news feed needs to evolve with those changes.
"This is the evolving face of news feed."
Dropping the name in favour of a simplistic 'F', Facebook's assurance that it's brand will be recognised appears to have driven the change, a change heavily focused on mobile.
With the new design, the site now has the same look and feel on mobile, tablet and web - a major benefit when trying to attract advertisers.
Referring to the News Feed as the "most personalised newspaper", the importance of text still remains the same, but now take on a greater visual impact.
Facebook says users see all the stories they saw in their News Feed before, but with a fresh new look.
"We've completely rebuilt each story to be much more vibrant and colorful and highlight the content that your friends are sharing," Zuckerberg says. "Photos, news articles, maps and events all look brighter and more beautiful."
The social media giant has also introduced several new feeds to explore in addition to the same News Feed users have today. They include:
- All Friends: a feed that shows you everything your friends are sharing
- Photos: a feed with nothing but photos from your friends and the Pages you like
- Music: a feed with posts about the music you listen to
- Following: a feed with the latest news from the Pages you like and the people you follow.
Zuckerberg says the new design will be rolled out slowly over the coming weeks on both web and mobile, with users given the option of adding themselves to the waiting list in the meantime. But with over a billion active users worldwide, that may be a pointless wait.
The design updates will also be available on iPhone and iPad in the coming weeks and to Android soon after.
For more information, click here
What do you think of the new Facebook News Feed? Tell us your thoughts below