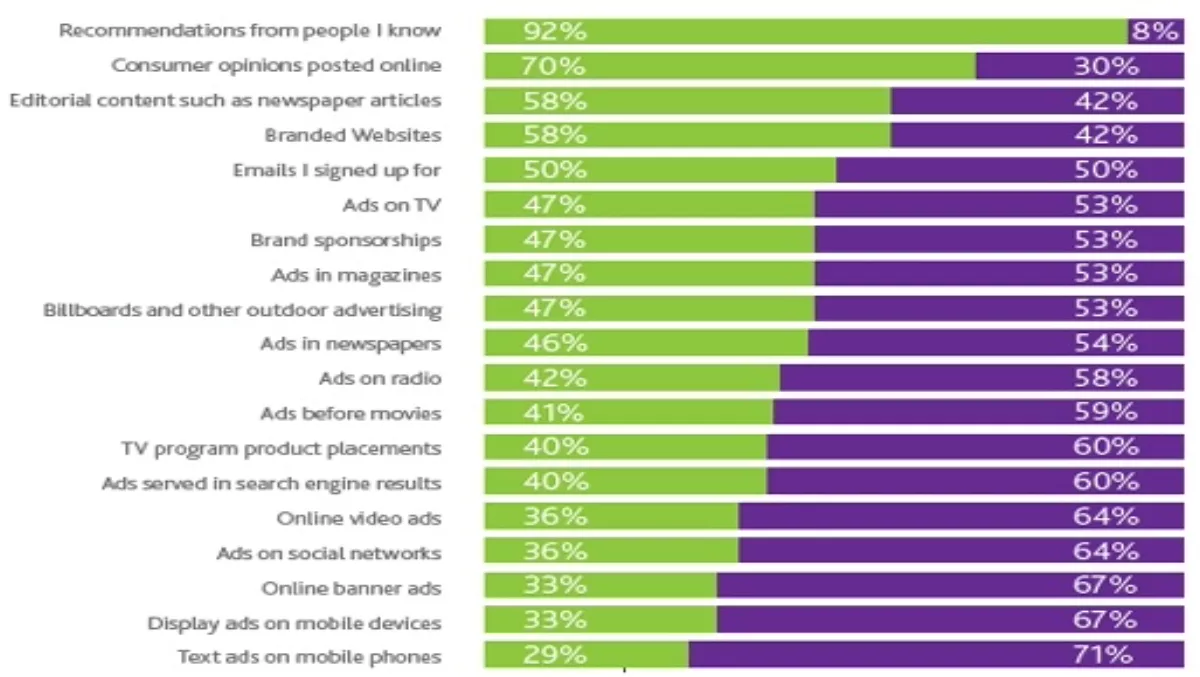 Ads on mobile devices are the least trusted by consumers: Nielsen
Thu 12 Apr 12
FYI, this story is more than a year old
The trust consumers are willing to put into advertisements on new media like the internet and mobile devices is growing, but traditional media like TV, magazines and newspapers still lead the way, according to a new study by marketing and advertising research company Nielsen.
In an online survey of 28,000 respondents from 56 countries around the world, just 29% said they trusted messages in text ads on mobile phones, and 33% said they trusted display ads on the same devices.
Online ads fared little better, with 33% expressing trust for banner ads, and 36% for ads on social networks and online video ads.
In contrast, ads on TV, ads in magazines and ads on billboards were trusted by 47% of respondents, with ads in newspapers just behind that on 46%.
However, it's not all bad for new media, with most sectors on the rise, according to Nielsen's Randall Beard.
"The growth in trust for online search and display ads over the past four years should give marketers increased confidence in putting more of their ad dollars into this medium," Beard says.
Furthermore, 50% of respondents said they trusted direct emails – provided the user had signed up for them first – and 58% trusted branded websites.
Consumer opinions posted online earned 70% trust, despite the ease with which these can be manipulated; however, recommendations from people the respondents knew topped the list, with 92% trust.
Which forms of advertising do you trust the most – if any? Post your comments below.