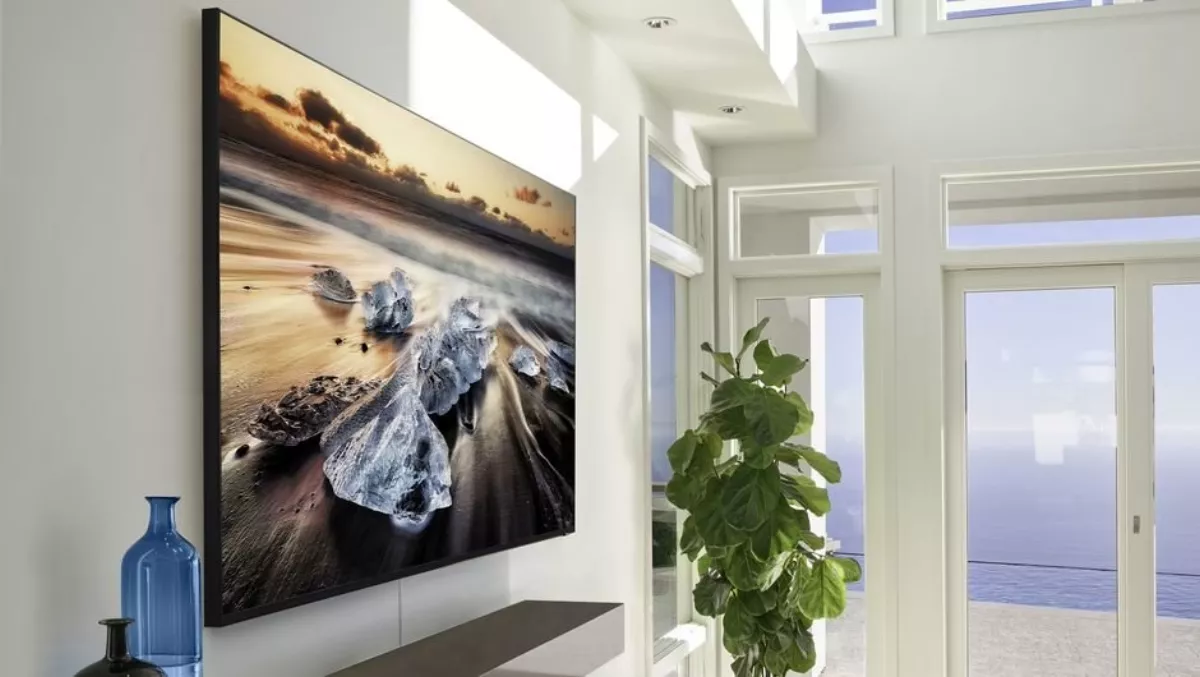 An 8K TV for $80,000? Samsung has you covered
FYI, this story is more than a year old
8K televisions have landed in New Zealand, but they come with eye-watering price tags of up to $80,000. Yes, that's not a typo – amongst Samsung's latest TVs to market is the Q900 QLED with a 98-inch screen (almost 2.5 metres) for your $80k.
If that's a premium product that's pulling your purse-strings a little too hard, there are also 65-inch and 75-inch versions in the same line, for as low as $11,000.
While Samsung is setting the bar for 8K TVs and 'the next generation of home entertainment' in one fell swoop, what exactly is 8K anyway?
This is Samsung's definition: "8K resolution features four times more pixels than a 4K UHD TV and 16 times more pixels than a full HD TV.
"To put that in perspective 8K resolution equates to 7,680 × 4,320, or 33,117,600 pixels to be exact, instead of 3,840 × 2,160 which is 8,294,400 pixels for 4K. To easily visualise it, imagine four 4K TVs placed in a four-by-four grid." Says Samsung New Zealand head of consumer electronics, Jens Anders.
While Samsung admits that there isn't much in the way of native 8K content available, Samsung's quantum processor can recognise and calibrate lower-resolution video from streaming services, HDMI, set-top boxes, USB, and mobile.
Beyond picture clarity, detail and sharpness at any distance, the screens are also large because Kiwis want bigger TVs, says Anders.
"In 2018 roughly two thirds of purchasers opted for a 55-inch plus TV. With the demand for larger screen sizes comes the need for technology that can deliver a flawless picture.
The QLED 8K screens integrate AI upscaling thanks to dynamic machine learning, and they feature HDR10+ and Ultra Bright III to manage the TV's contrast and colour. HDR10+ can also minimise the impact of glare and reflection – which might be handy as we try to warm our houses with the sun as we go into winter.
"Connected home ready, One Remote ensures quick and convenient access to compatible devices and services including Netflix, YouTube, Xbox and compatible soundbars. Each model also comes equipped with smart capabilities for Samsung's Smart Things and Bixby as well as integration with voice-recognition based platforms Amazon Alexa and Google Assistant, so users can turn their TV on or off, or control volume via simple voice commands.
The new line-up will also support the soon to be launched Apple TVTM and Apple AirPlay, and they will even include the new Spark Sport app.
And while early adopters and businesses might seem like a good market for high-end premium 8K TVs, Samsung hasn't forgotten about the older (yet still respectable) sibling to 8K, the humble 4K TV market.
Samsung's 4K QLED range varies in size from the $3100 55-inch screen right up to the $11,000 82-inch screen.
Here's the price list for both the 8K and 4K ranges (excluding the 98" Q900):
The 8K QLED range will be available nationally at select retailers from April.
82" RRP $19,999.95
75" RRP $15,999.95
65" RRP $10,999.95
The 4K QLED range is priced as follows.
82" Q75: RRP $10,999.95
65" Q75: RRP $5,199.95
55" Q75: RRP $3,999.95
82" Q60: RRP $8,499.95
75" Q60: RRP $6,999.95
65" Q60: RRP $4,299.95
55" Q60: RRP $3,099.95