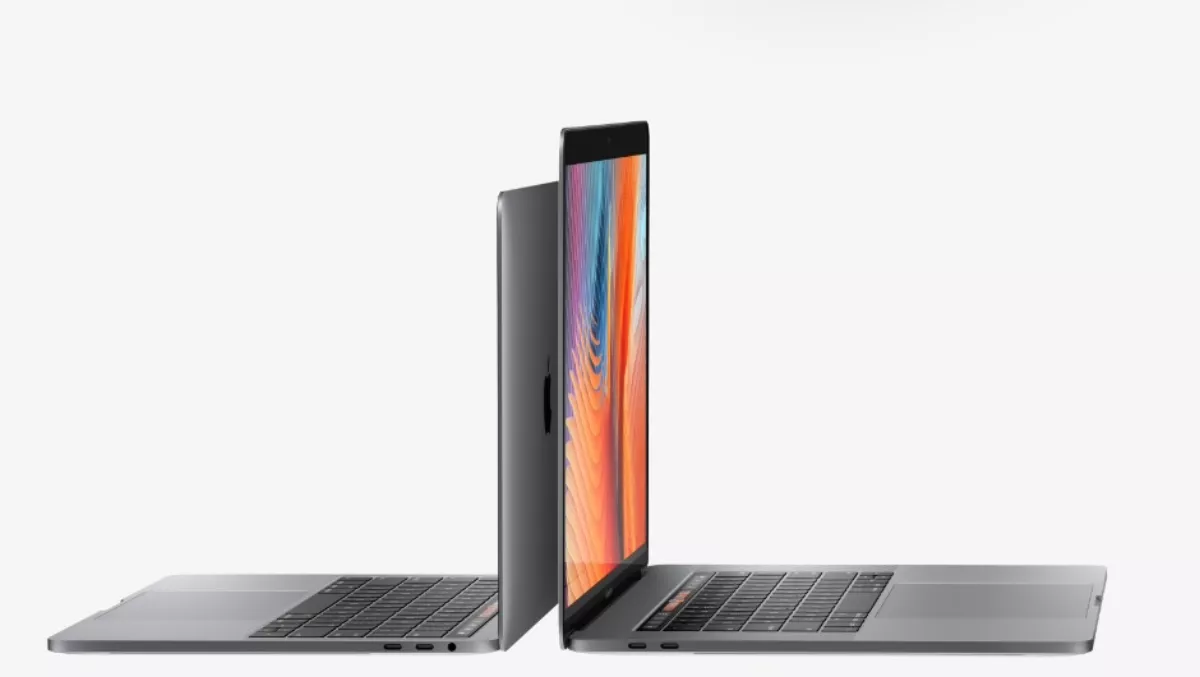 Apple unveils new MacBook Pros
FYI, this story is more than a year old
News broke this morning that Apple have unveiled two new MacBook Pro models, with some interesting new features. New Zealand's Apple Guru, Mark Webster, advises that Adobe are already on board with software adaptations for the Touch Bar. Gone are the familiar function keys, replaced by Touch Bar, which you can customise according to Apple's breaking news. Specifications state that the graphics will be "up to 130% faster," and prices will range from NZ$2499 to NZ$4699. The specs are out and for the 13-inch are:
"2.9GHz dual-core Intel Core i5 with Turbo Boost up to 3.3GHz and 4MB shared L3 cache which is "Configurable to 3.1GHz dual-core Intel Core i5 with Turbo Boost up to 3.5GHz and 4MB shared L3 cache; or 3.3GHz dual‑core Intel Core i7 with Turbo Boost up to 3.6GHz and 4MB shared L3 cache"
While for the 2.7GHz 15-inch: "2.7GHz quad-core Intel Core i7 with Turbo Boost up to 3.6GHz and 8MB shared L3 cache Configurable to 2.9GHz quad-core Intel Core i7 with Turbo Boost up to 3.8GHz and 8MB shared L3 cache"
Click here to see all the specifications. Both models come with four ports which double as Thunderbolt and USB C ports, meaning of course that you can charge from any of the ports. It's nice to see that Apple hasn't skimped on ports, unlike some of their competitors. Despite this, Apple claims this model is "up to 17% thinner" than current models. They weigh in at 1.37 kg's for the 13-inch and 1.87kgs for the 15-inch model. I'll need two if I want to strengthen my biceps.
I haven't looked at Apple Pay yet, as my bank doesn't support it. However the Apple Pay functions will now be available through the Touch Bar. Parting with your money will be such sweet sorrow now.
Isn't it interesting how each iteration of laptop computers become lighter, thinner, and faster? Every so often I fire up my Wallstreet G3 vintage Powerbook, blisteringly fast in 1998 and requiring special software now to even cope with the modern internet. It seems that the faster we can go, the more quickly we want to travel. I'm much enamoured with the Retina Screen on my current MacBook Pro, and can't wait to see how much better the new models are.
Graphics and sound promise to be much better in the new models, and I already thought they were pretty neat. The new models feature P3 colour. This means a 25% increase in colour definition over the standard RGB colour standard, meaning a broader range of reds and greens and deeper blacks. Sound quality claims to have "twice the dynamic range and up to 58% more volume," which has me reaching excitedly for my Aqualung album, and wondering how much better it will sound now.
The news is that the new models will be available in the next few weeks. Watch this space! Available in silver or space grey, I can't wait to get my hands on one.