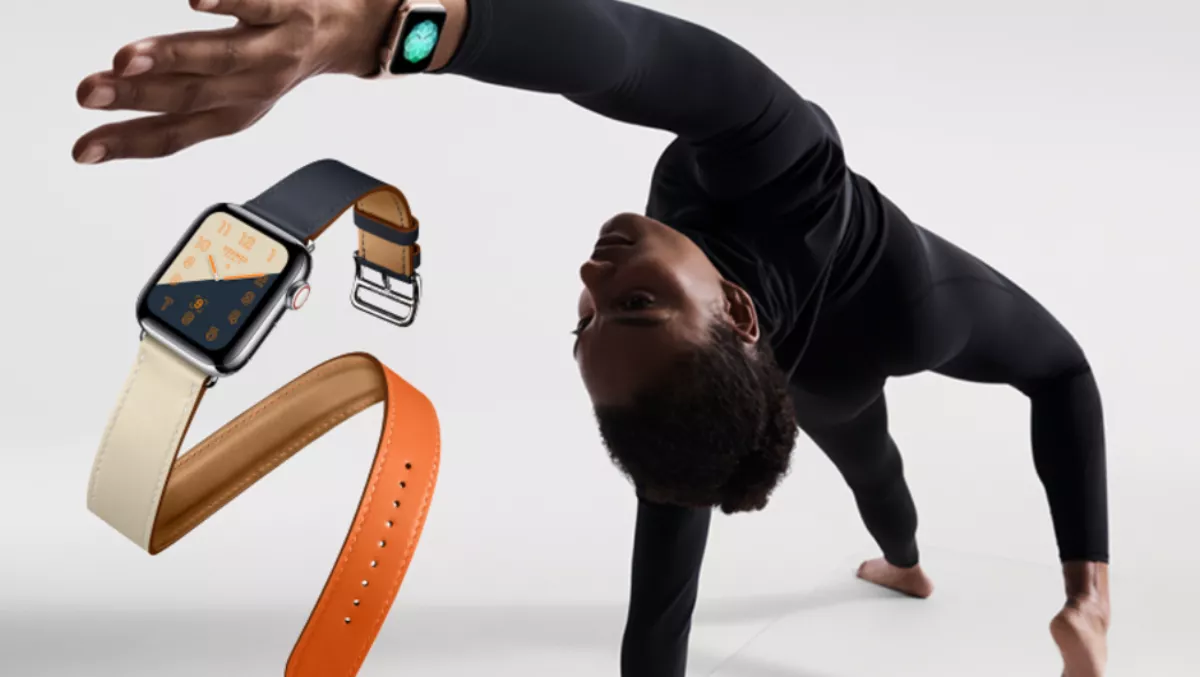 Apple Watch Series 4 offers fall detection and emergency alerts
FYI, this story is more than a year old
Apple is now up to Series 4 of the Apple Watch, and this time the company has opted to boost fitness capabilities to the point where the watch can detect hard falls and detect if you have a heart condition.
Apples describes its Apple Watch Series 4 as redesigned and re-engineered to help users stay connected, be more active, and manage their health. The display is now 30% bigger and integrates into a thinner, smaller case. The watch also runs WatchOS 5, which features more communications, activity and health features.
The accelerometer and gyroscope can detect hard falls up to 32Gs. The watch can analyse how the wrist landed and how you fall, send an alert to see if you're okay. That message can also be used to call emergency services.
"If Apple Watch senses immobility for 60 seconds after the notification, it will automatically call emergency services and send a message along with location to emergency contacts."
An electrical heart rate sensor can take an electrocardiogram (ECG) of your heart (this, according to Apple, can help to detect signs of heart conditions such as Atrial Fibrillation). It can also alert you if there's an irregular heartbeat, or if it falls above or below a specified level.
"The completely redesigned Apple Watch Series 4 continues to be an indispensable communication and fitness companion, and now with the addition of groundbreaking features, like fall detection and the first-ever ECG app offered directly to consumers, it also becomes an intelligent guardian for your health," says Apple's chief operating officer, Jeff Williams.
For health and fitness junkies, the WatchOS 5 offers activity competitions that you can use to challenge other Apple Watch wearers, automatic workout detection, calorie count, battery life of six hours, pace alerts for outdoor runs, and many other things. It even counts yoga and hiking as workout types now.
Those who like staying connected with friends can now use a watch-to-watch connection called Walkie-Talkie. It works over WiFi or cellular. You can also listen to podcasts on the go through Apple Podcasts, and stream podcasts through Siri.
There are a number of other third-party apps like Streaks and Dexcom that can help with other daily monitoring tasks.
Apple Watch pricing and availability:
Apple Watch Series 4 (GPS) starts at RRP NZ$699 inc. GST and features the updated design and new health capabilities. Series 3 will be available at the new starting price of RRP NZ$479 inc. GST, making it even more accessible to customers. Apple Watch Series 4 comes in three aluminium finishes anodised in silver, gold and space grey. A new collection of bands debut for autumn and all bands continue to work with any generation of Apple Watch.
You will be able to preorder the Apple Watch Series 4 (GPS) from September 14. They will be available from September 21.
The Apple Watch Nike+ will be available for preorder from September 14. They will be available from October 5.
Apple also unveiled the iPhone Xs, iPhone Xs Max, and the iPhone XR today. Read more about them here.
Related stories
Top stories