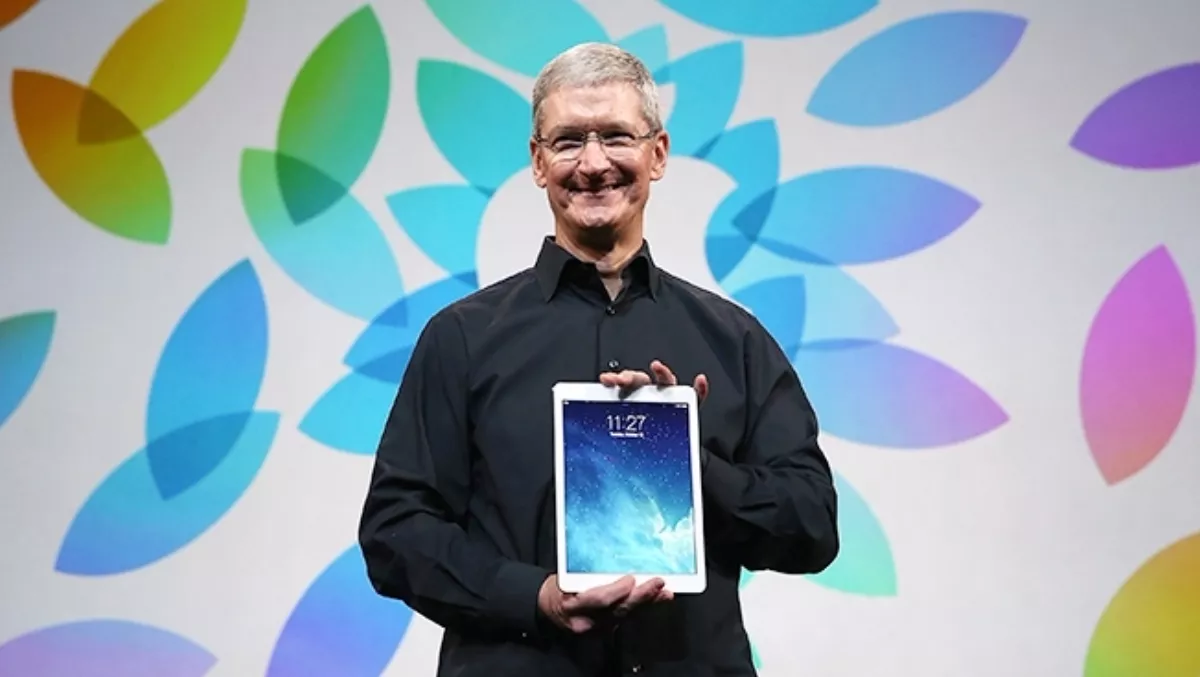 Apple's Cook takes swipe at "confused" Microsoft
Sat 26 Oct 2013
FYI, this story is more than a year old
Apple CEO Tim Cook has taken a swipe at Microsoft, branding his rivals "confused".
Speaking during the company's eagerly anticipated iPad event earlier this week, the normally reserved Cook pulled no punches in his thoughts regarding Redmond.
Openly criticising the software giant's Windows 8 strategy and its foray in the hardware market, with its Surface tablet range, Cook told the packed assembly:
"Our competition is confused. They chased after netbooks. They tried to make tablets into PCs and PCs into tablets.
"Who knows what they're going to do next?"
Claiming that Apple wants to "build computers people love to use", Cook's clear jab at Microsoft stemmed from the company's revamp of its iWork and iLife apps, and integration with iOS.
Hitting back at Cook however, Frank Shaw, corporate vice president of Communications at Microsoft, wrote on the Official Microsoft Blog: "Seems like the RDF (Reality Distortion Field) typically generated by an Apple event has extended beyond Cupertino.
"So let me try to clear some things up.
"Note: If you are the TL;DR type, let me cut to the chase.
"Surface and Surface 2 both include Office, the world's most popular, most powerful productivity software for free and are priced below both the iPad 2 and iPad Air respectively.
"Making Apple's decision to build the price of their less popular and less powerful iWork into their tablets not a very big (or very good) deal."
With the war of words spilling out into the public domain, analyst firm Ovum believes the changes to Apple's software licensing for Mac OS X, iLife and iWork is of huge significance, not least for Microsoft.
That's according to Jan Dawson, chief telecoms analyst at Ovum, who believes Cupertino's latest move could hit the software giant hard - as reported yesterday by Techday.com.
Redmond generates 96% of its operating margins from operating system and productivity software licensing, and Apple is now teaching people to expect both of those things to be free.
"While this won't disrupt Microsoft's business overnight, it will create further pressure on Microsoft to bring down prices for its productivity software and especially for Windows," Dawson added.
"This is yet another example of one of the keys to being a successful player in the consumer tech market: using your core business to subsidize low-cost or free products in other categories.
"Amazon uses its e-commerce and digital sales to fund devices, Google uses advertising revenue to fund its software and services, and Apple is now using hardware to subsidize software across the board."
The big question is, asks Dawson, is what can Microsoft do to compete, when its cash cow is being eroded by these moves from its competitors?
Is Apple crushing Microsoft with its software deal? Is Microsoft "confused"?