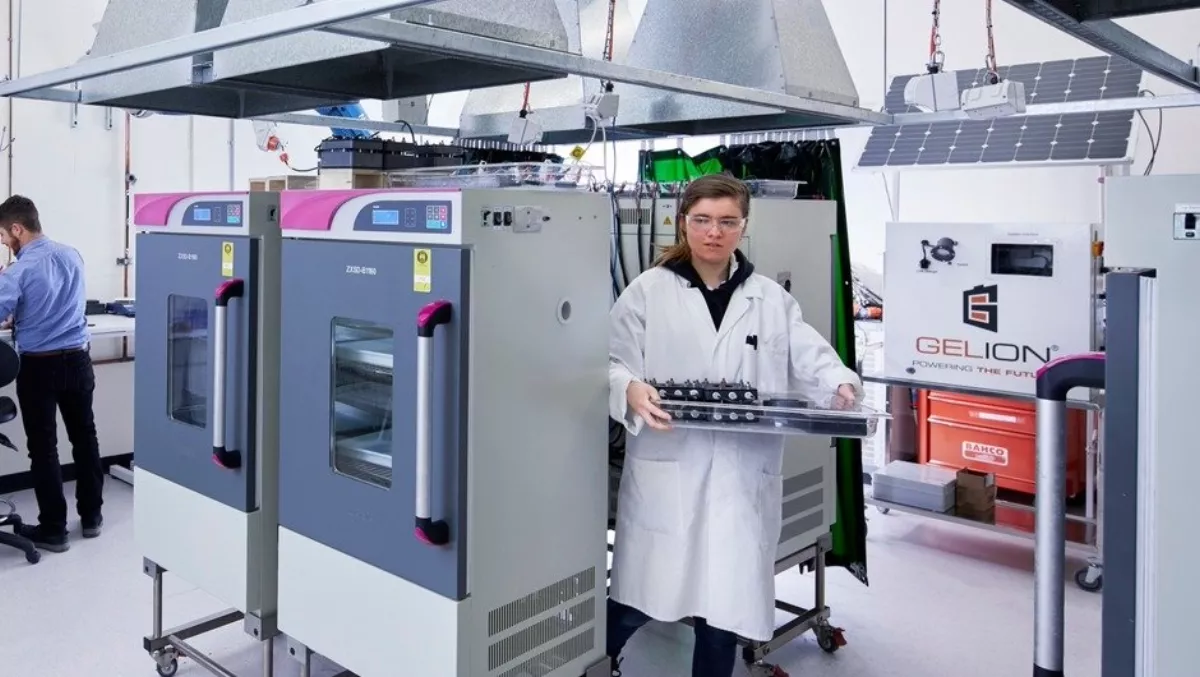 Aussies bring next-gen zinc bromide batteries to life
FYI, this story is more than a year old
Gelion Technologies, a battery technology company with a focus on renewable energy, particularly solar PV (Photovoltaic), is releasing Gelion Endure: an energy storage platform, designed to bring new capability to the energy sector globally.
By re-imagining the internals of established zinc bromide batteries, Gelion provides scalable storage for green power, with a battery that compared to current technologies, is designed to be safer and lower cost - both in terms of initial outlay and total cost of ownership.
Gelion's Endure battery system was launched on Wednesday at the University of Sydney in its inaugural commercial deployment.
The University's 'sustainable campus' and 'campus safety' programmes were given a boost with the illumination of a mobile, solar-driven lighting unit powered by Gelion batteries.
The University's strong commitment to the technology is a leading example of how positive action can foster innovation for the national good, with guests from Government, industry, investment and community sectors attending the event.
Gelion CEO Rob Fitzpatrick explains that storage is the key element enabling widespread adoption of renewable power. Innovative battery storage solutions at scale are required for renewable energy to reach its full potential.
"The global battery market is currently valued at $60bn-$70bn and yet, if we were to take all current batteries produced in one year, they would only have the capability to store around 11 minutes of our annual electrical power use," he says.
"In the face of the rapidly expanding renewables sector and its dependence for further growth on electrical storage, Gelion has seized this overwhelming market need and aims to answer it with an inexpensive, robust, safe, fully recyclable and scalable battery – the Gelion Endure system.
The zinc bromide chemistry used by Gelion operates safely without the need for active cooling. It uses 100% of the battery's capacity and its electrode surfaces can be rejuvenated remotely, using state-of-the-art battery management systems, without the need for on-site servicing.
This makes it ideal for stationary energy storage applications in all areas, including remote sites.
"Gelion Endure batteries exhibit characteristics similar to fire retardants, and even in the case of faulty manufacturing or control systems, they will not explode or catch fire," adds Fitzpatrick.
"Gelion is on an exciting growth curve with a new capital raising program for expansion into global manufacturing, with key initial relationships in Australia, UK - India.
Gelion's Founding Chairman and Inventor of its technology, Professor Thomas Maschmeyer, said it was fitting to be launching Gelion Endure at the University of Sydney, where he and his team started developing the technology in 2014.
"I'm honoured to be launching Gelion Endure here today as our first commercial endeavour and to help build the foundation for a more sustainable and safer University campus. During the next year, the University will be incorporating Gelion battery systems to power solar mobile light towers and improve the safety of students after dark.
"The University of Sydney has been an unwavering supporter of Gelion from the outset. Our continued relationship speaks to their growing reputation in high impact innovation and technology translation to further positive societal outcomes," Maschmeyer said.