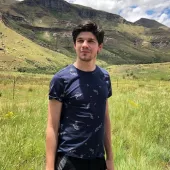 By Jacques-Pierre (JP) Dumas, Reviewer
The HP Mars Home Planet project builds on work initially done for Mars 2030, a virtual reality experience created by Fusion in collaboration with NASA.
HP and its partners are uniting engineers, architects, designers, artists and students to imagine, design and experience humanity's future on Mars through VR.
From buildings, vehicles, farms and clothing, this co-creation project of professional creatives from around the world explores how life could be sustained on the red planet given its climate and atmospheric challenges.
Josh Peterson, HP vice president of product management says, "In 2016, we conquered the International Space Station with our HP ZBook Workstations, powered by Nvidia Quadro graphics, and now we have our sights set on Mars.
"Through HP and partner technology, we are unleashing engineers, architects, designers and students to help anticipate and solve the real world problems we'll face to inhabit Mars one day.
The project looks beyond 2030, to a time in the future where there are families and communities living on Mars.
The goal of the project is to engage creative thinkers to solve some of the challenges of urbanisation on the red planet, ultimately, through the VR experience, people here on earth will be able to experience what life on Mars might be like.
The three phases of the year-long program start with the Home Planet's Mars Urbanisation Challenge, where participants will focus on transportation and infrastructure concepts for a specific location.
Following the conception phase, 3D modelling and rendering will be completed, resulting in a virtual reality experience of life on Mars.
HP Mars Home Planet is produced and managed by Launch Forth, a product development community made up of designers, engineers and solvers, working together to develop complex solutions.
HP Mars Home Planet is part of HP's newly announced VR strategy which is focused on enabling brands to reimagine how they innovate and engage customers.
Anyone can sign up to be a part of this journey on the program's website.
To bring HP Mars Home Planet to-life, HP and Nvidia partnered with Autodesk, Fusion, Launch Forth, Technicolor, Unreal Engine and VIVE.
Participants of the project will use best-in-class Autodesk software to make anything, from 3D models of Martian buildings and cities to vehicles and infrastructure.
With creative and technical leadership from Technicolor, creators will then use Unreal Engine to create a virtual reality simulation.
You can watch the concept trailer here: