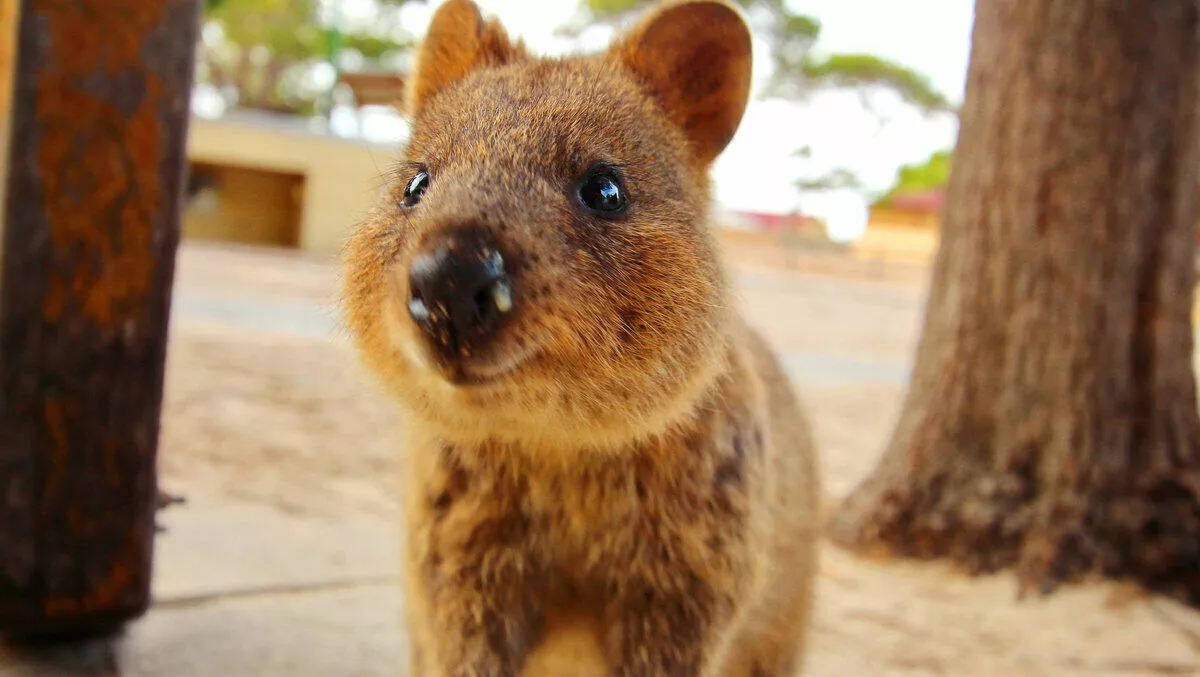 Drones and tech could help save quokka from extinction
FYI, this story is more than a year old
Quokka are some of Australia's cute little marsupials, but they're also at risk of extinction if humankind doesn't act to save them. The Quokka is listed as 'vulnerable' – along with 28,000 other species, according the International Union for the Conservation of Nature.
Quokkas thrive on Ausralia's Rottnest Island, but don't do well on the Western Australian mainland, which is only 22 kilometres away.
But quietly there's a mission to change all of that, and it's all thanks to technology and science. Microsoft recently awarded the University of Western Australia (UWA) a grant that will allow researchers to study quokkas by using techniques that delve deep into technology.
"In the last 200 years, we've lost more than 30 species," explains UWA Associate Professor Parwinder Kaur.
"It's critical that we act now and join hands with the global initiatives where we can empower our genetically and developmentally unique Australian species with genomic resources.
The UWA team will use specially-designed 'scat drones' and high-powered cloud computing to monitor at-risk species in ways that are faster and cheaper. 'Scat drones' are drones that spot quokka droppings.
"A scat drone has a little probe attached to it for DNA analysis. It can go and look for scat samples around the island, and analyse them in real-time for us," says Kaur.
The information is then moved to cloud computing, where it is then sequenced and analysed with the help of artificial intelligence and machine learning.
It's a classic big data challenge," explains Kaur. "The genome of a single mammal may run to 3.2 gigabytes (GB).
"To properly understand the genome, it needs to be read 50 times – creating a 172 GB data challenge for a single animal. Multiply that challenge across entire populations of threatened species and the scale of the computing and analysis problem is clear.
"By using supercomputing power and also Microsoft cloud, artificial intelligence, and machine learning, we hope to automate and accelerate genome assemblies and subsequent analyses.
But the cute quokka is only the beginnings of DNA research. DNA Zoo is on a mission to use digital technologies and scientific rigor to facilitate conservation efforts to help slow extinction rates worldwide – or even better, stop extinction completely.
Data collected through the DNA Zoo program is open source. When it is shared with other open source data collections, machine learning can search for patterns that, in turn, can reveal new insights into the health and condition of species populations.
That approach allows scientists to study the DNA of a threatened species or population alongside those which appear to thrive in the same or similar habitats. Ultimately, that will help researchers learn more about how to slow or reverse population decline.
"We welcome the support from Microsoft, DNA Zoo, and UWA that will add to our knowledge of the quokka in ensuring its ongoing survival," adds Rottnest Island Authority executive director Michelle Reynolds.
DNA Zoom also plans to focus its efforts on Australia's top 40 most threatened mammals.