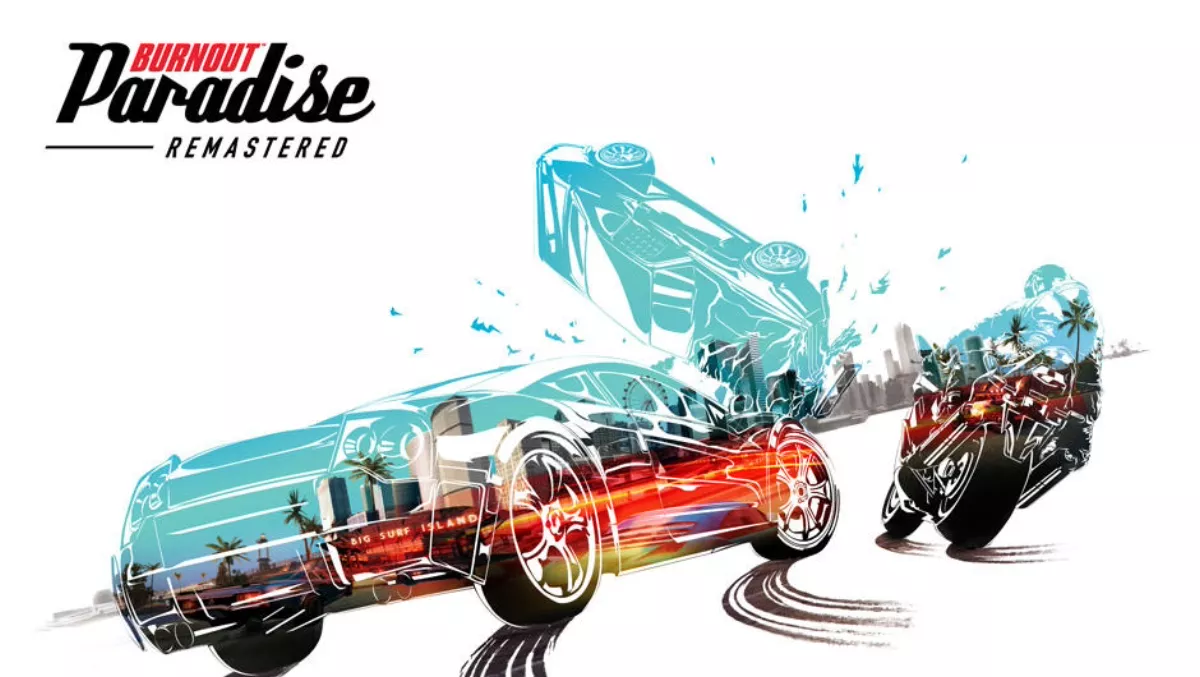 EA Games returns to Paradise City
Tue, 20th Mar 2018
FYI, this story is more than a year old
Classic adrenaline-fueled racer Burnout Paradise gets the current-gen remaster treatment, introducing one of the finest open-world racers to a new generation of players.
When Burnout Paradise was first released ten years ago (yes, I know!), it marked a major departure for Criterion's racing series. I'd longed to roam free across the meticulously created cities of their previous games, I even hoped that this would be my reward for finishing the first game. I had to wait for Burnout Paradise to feel the freedom of cruising a Burnout city at my leisure.
Even in this fabulous-looking remaster, I find the game to be a case of be careful what you wish for. Whereas previous Burnout games were all about racing around clearly defined courses, mashing opponents and crossing the finish line first, the races in Burnout Paradise play like an urban rally. One wrong turn and the race is over for you. There's a lot to be said for huge omnipresent chevrons pointing you in the direction that you need to go.
But this is a minor quibble for a game that is otherwise perfect.
The Xbox 360 version of Burnout Paradise has recently joined the Xbox One backwards compatibility program, so I've already been reintroduced to the game which, even with its upscaled Xbox 360 visuals, still looks outstanding.
Burnout Paradise Remastered looks absolutely stunning on the Xbox One, running in 4K at a blistering 60fps with upgraded textures and lighting. But, of course that's not all.
Back in the day, Burnout Paradise was a game that Criterion couldn't leave alone. After the game's release, the developers added a day/night cycle to the game, motorbikes and several car pack (most notably the legendary car pack with it's movie inspired cars) and a whole new area, Big surf Island. Some of it was via free updates, whilst others were premium DLC. The remastered edition gets all this extra stuff included free-of-charge.
Burnout Paradise's open race structure was the template that would later become a staple of EA's other racing series, Need for Speed. This means a game heaving with things to do.
Each intersection in Paradise City is the entry point for a race or event. Each car has its own unique burning route – a time-based dash to the finish destination. Then there are race events, stunt events and road rage events (where you have to takedown a certain number of other cars to win). You enter races by pressing accelerate and the brake, at the same time, whilst stationary in the middle of the intersection.
As well as races there are plenty of shortcuts, fences and billboards to find/smash. You can also collect best items for each road, setting records for your friends to try to beat.
Not only are the visuals utterly amazing, the game rewards every mistake that you do with some of the most spectacular cash animations that have ever graced a video game. A brief clip of a barrier can send your car hurtling through the air, debris and glass flying everywhere. Similarly, in events such as road race, seeing your opponents come to a bitter end, at your own hands, due to a takedown, and their vehicle shatter into pieces is very satisfying. Motorbikes also smash themselves to pieces but, alas, you don't get to see the rider sliding down the road on his/her arse- it seems that this is too on the nose for sensitive types.
It's worth mentioning just how huge and detailed Paradise City is. You could spend hours just exploring the city and Big Surf Island. The remaster has given Paradise City a fresh coat of paint making it an absolute joy to drive around morning, noon and night.
The game's original multiplayer modes are all still intact for the remaster. From the menu you can select to join an online freeburn with other players just hooning around the city, casual player races or ranked races.
Burnout Paradise is every bit the gem that it has always been. Polished up and complete with all the expansions and extra goodies, Burnout Paradise Remastered is an essential purchase.
Verdict: 9/10