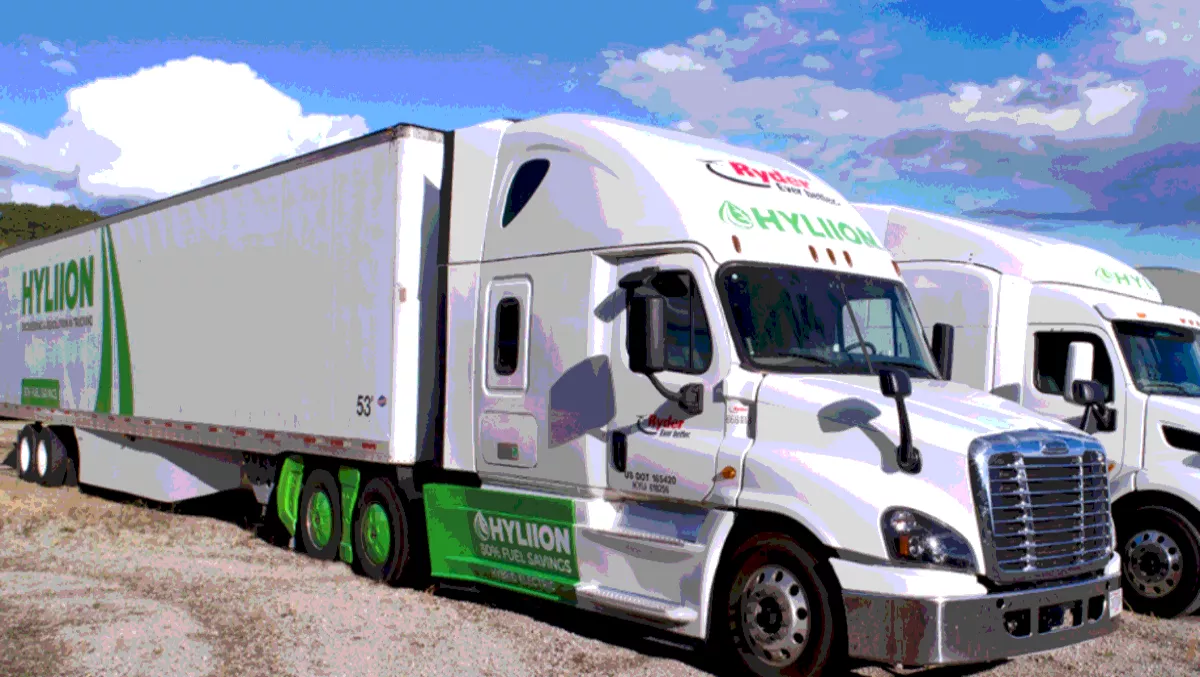 Electrification is coming for long haul trucks
FYI, this story is more than a year old
Hyliion, the instant Class 8 vehicle hybridising company announced the 6X4HE System for long-haul trucks.
Supposedly this device can be easily installed or retrofitted on trucks, the Hyliion System uses hybrid electrification to deliver fuel savings, lower emissions, instant telematics and a better driver experience.
Mesilla Valley Transportation, PAM Transport and Ryder all participated in testing and refining the 6X4HE.
This is the second product announcement from Hyliion.
The first which occurred a year ago was a trailer based product.
Thomas Healy, Hyliion CEO says, "After our trailer product announcement last year, fleets came to us and asked to have the technology put on trucks.
"We listened and focused our efforts to first deliver the 6X4HE System with an innovative APU.
"The technology we designed into the trailer product plus a different approach to an APU is now available for Class 8 trucks.
The 6X4HE is attached to the truckand is a self-contained system.
Fuel savings of up to 30% are a blend of three technologies, 15% from the electric hybrid, 12% from APU, and 3% from aerodynamics.
Royal Jones, Mesilla Valley Transportation CEO says, "Innovation in fuel savings is nothing new to Mesilla Valley Trucking, but Hyliion's system is the only thing we've seen that can make such a big impact.
Regenerative braking captures power when slowing down then electric power is applied when necessary to keep diesel engines at their most efficient RPM delivering hybrid fuel savings.
The APU leverages Hyliion's proprietary cooling system and battery to deliver 18,000 BTUs for 10 hours on a single charge.
In addition, two outlets provide electricity in the cab.
The 6X4HE is also Shore Power enabled.
Scott Perry, Ryder Fleet Management Solutions CTO says, "Hyliion provides a creative solution for long-haul over the road trucking that we feel will be of interest to current diesel fleets who are looking for an advanced technology that they can pursue in the very near future.
"We're excited to be working with their team on this revolutionary product as this relationship expands upon Ryder's ability to provide customers with the most innovative solutions to help them streamline operations, promote safety and reach their efficiency goals.
Hyliion is currently taking orders for the 6X4HE with production starting November 2017.