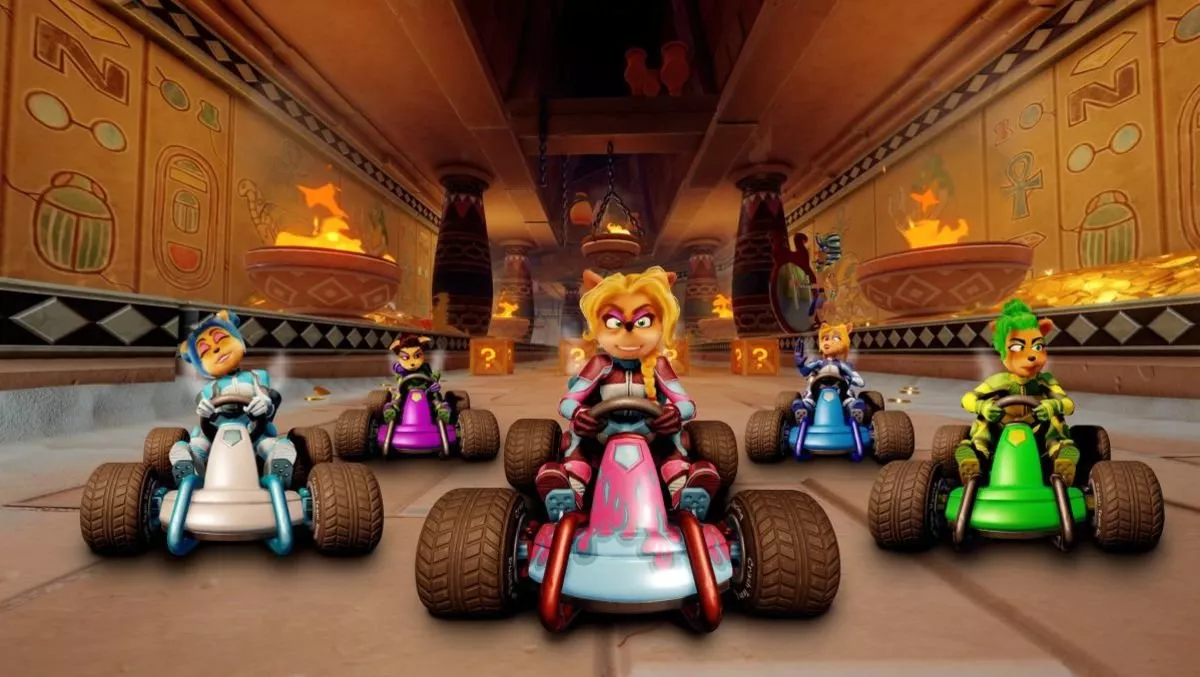 Game review: Crash Team Racing Nitro-Fueled - the hardest Switch racing game
FYI, this story is more than a year old
Crash Team Racing was originally introduced as PlayStation One game back in 1999. As a fan of the Crash Bandicoot Trilogy, I was excited to see that the game was getting a revamp and that it's now available for Nintendo Switch.
Luckily for fans, Crash Team Racing Nitro-Fueled was not an HD update of the old game - it was a complete rebuild. Activision's amazing revamp of the Crash Bandicoot Trilogy gave us high hopes for Crash Team Racing, and for the most part they delivered.
The visuals:
It is only fair to say that the game is gorgeous. The fact that they build this game from scratch means that the courses are packed with the little details that make the experience realistic. The carts look different with every surface you drive on. This means that driving on mud and ice are completely different and that gives the game realism.
The developers also paid attention to every character, each with their unique animations and personality.
The game runs at 30 frames per second. While some people are salty considering that Mario Kart8 Deluxe runs at 60 frames per second, the game frame never drops. This makes Crash Team Racing a great experience.
The game has a total of 26 characters and 31 tracks combining everything from the original Crash Team Racing game, as well as the 2003 Crash Nitro Kart release.
It is worth noting that the game looks significantly better in docked mode than it does in handheld mode.
Different game modes:
The game has an Adventure mode, Local play, different battle modes, three different challenge modes as well as online play.
The Adventure mode is the solo mode of Crash Team Racing Nitro-Fueled. This mode reminded me of the Diddy Kong Racing game in the sense that this mode puts you in an open area with different stops. You have to drive from course to course, winning races and collecting items to be able to proceed. The mode also has boss battles where you race against characters to unlock them.
Other modes include Time Trials and Relic races where you have to race against the clock and hit crates along the way to pause time, as well the CTR challenger that forces you to finish first and find the letters C-T and R. Battle mode is also pretty entertaining, and it gives the player different options to choose from.
Gameplay:
The game plays well, however it is important to point out that it is noticeably difficult! While playing on easy is a relaxed experience, turning the difficulty up to normal will prove to be challenging. Finishing first on a regular basis is suddenly not a possibility.
To be good at this game you need to master its triple turbo drifting mechanic. To make this work, players need to initiate the drift by holding either the L or R buttons and steer in the direction they intend to drift.
After that, you need to pay attention to the turbo meter. Once the meter fills, you need to press the opposite trigger to initiate a boost. Repeating this perfectly three times will result in what the game calls a perfect boost that will give you extra speed. I am yet to master this boost system, but I sure appreciate the challenge.
The downside:
In my opinion, Crash Team Racing Nitro-Fueled has one major downfall: the ENDLESS loading times.
While this might not be an issue for other players, I found that having to wait 40 seconds to one minute for each race to load was infuriating. This means that when playing a four-race Grand Prix, players waste up to four minutes just waiting for the game to load. And then when the race is done, players have to wait again just to see the trophy screen.
Another concern that needs to be pointed out is the fact that Wumpa Coins (the game's currency used to unlock skins and customisations) can only be gained when you are connected to the internet. This is not a problem for me as I only play my Nintendo Switch in docked mode, but for people who like to play their switch on the go this means that unless you find a good WiFi connection, you will make absolutely no progress.
Conclusion:
Crash Team Racing Nitro-Fueled is a visually astonishing karting game. The game's different modes and unique characters and items set it apart from other games on the market like Mario Kart 8 Deluxe and makes it worth owning. The difficulty provides hardcore gamers with a challenge that will keep them playing.
Verdict: 8/10
Related stories
Top stories