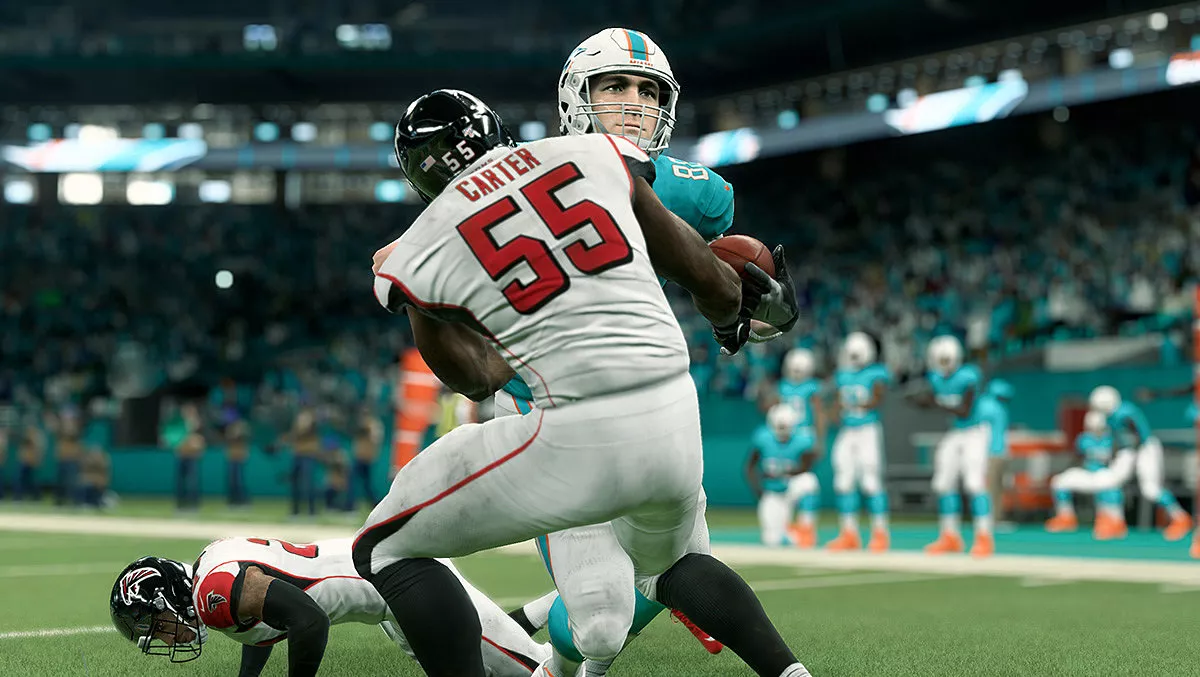 Game review: Madden NFL 20 (Xbox One)
FYI, this story is more than a year old
It's Madden Season again. EA Sport's America football game, Madden NFL 20 heralds this year's line-up of premium sport sims.
I'm no expert Madden player, originally hailing from part of the world where FIFA is king. Over the years, though, I've built a respect for the Madden franchise. What the game lacks in on-pitch action is made up for with the deep strategy and nail-biting outcomes of each play.
On the outside, American football is a bit like the bizarre offspring of rugby and a game of chess, where the pieces are huge refrigerator-sized men. If you think a game of rugby union is a bit stop-start, it's got nothing on NFL. As much time seems to be spent thinking about what's coming up as actually doing something with the ball.
But it's these punctuated moments of action that bring your heart up into your mouth. Like when your quarterback throws the long pass and it's faultlessly received by a player, a player that then proceeds to dance around the opposition (who want nothing more than to drop him to the ground), and over the line for a touchdown.
Whilst FIFA sells more for EA, the Madden NFL franchise is an American institution - one that the developers, Miami-based EA Tiburon, pull out all the stops for.
As you'd expect, Madden NFL 20 looks the business. For a ball game that is as much about examining the play as it is implementing it, Madden's player animations continue to improve. The players weave, jump and spin realistically whilst their opponents tackle, stumble and sprint around them with no discernible 3D model clipping or deformations. From the grass on the field to the crowds in their seats, Madden NFL 20 is a sight to behold.
Returning players will, no doubt, want to get straight back into a new season with their favourite teams. Of course, the game has been updated with all the new seasons players and stats.
This year the fifty top NFL players now feature special abilities known as Superstar X-factors. These players have a suite of special abilities some of which are available at all times during the game and one "zone ability" unlocked by completing an in-game objective. There are also a number of Superstar players with special abilities, but not the zone ability. These special players are available across the different game modes.
As usual, there are loads of ways to play the game. You can jump right into an exhibition, solo or online, take the reins in Franchise mode, build your own team in Ultimate Team or embark on your own NFL journey in Face of the Franchise: QB1.
Face of the Franchise: QB1 is a campaign mode putting Madden fans into the game, creating their own quarterback. Their career starts with college football working their way up to the NFL draft and gridiron stardom. Along the way, the game adds custom playable events and challenges making the game a unique experience for everyone. It doesn't quite live up to Madden 19's story mode (which in turn didn't match up to the story mode in Madden 18), but it does offer a decent campaign mode, if that's your thing.
Madden NFL 20 continues to provide a thrilling American football experience. The visuals and animation are outstanding and the thrills on the field are as nail-biting as ever. Whilst franchise mode provides, in my opinion, the best Madden 20 experience, Ultimate Teams still has its magic. Face of the Franchise: QB1 didn't appeal to me as much as the story modes in previous years. Overall, though, this year's Madden is still a solid entry.