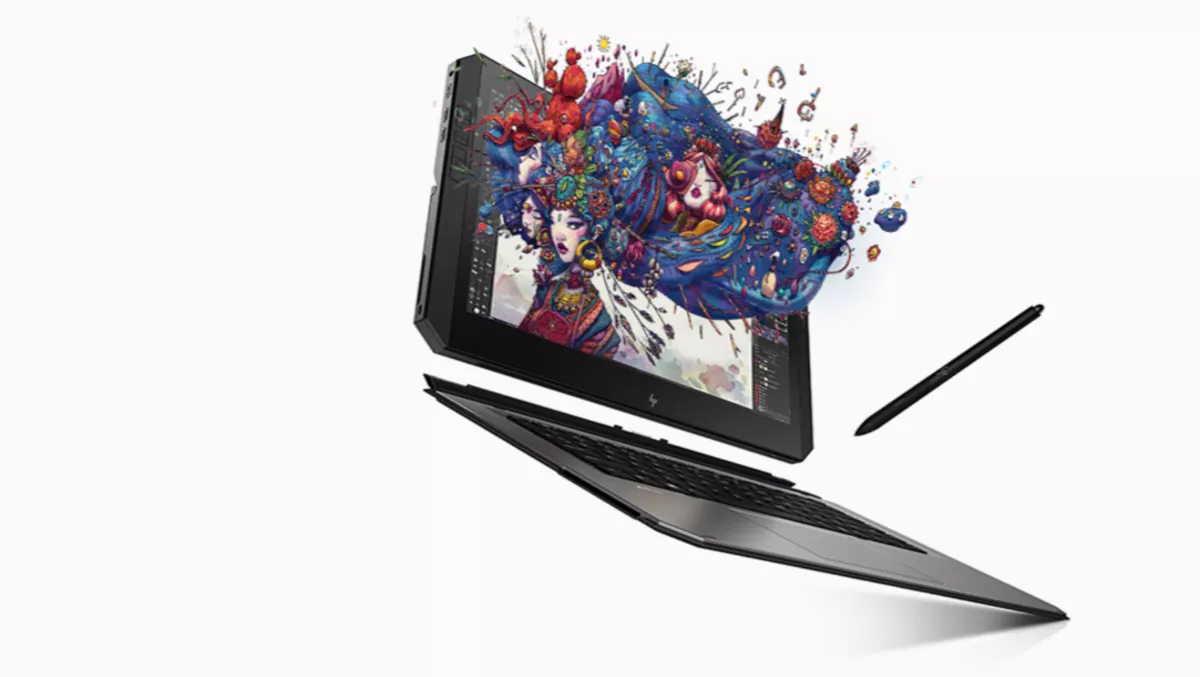 HAND ON REVIEW: channeling the creative mind with HP's ZBook x2
FYI, this story is more than a year old
For creative professionals and especially those who work with things like 3D modelling and Adobe suite, finding a device that fits your needs exactly can really be a difficult beast to conquer.
Some devices lack power, while others aren't intuitively designed, making everyday tasks that they need to complete their work more difficult than they really have to be.
HP's ZBook x2 is the company's answer to this dilemma. Foregoing traditional aspects of consumer design in favour of something a little more practical for those who need it.
Design
The ZBook x2 isn't really a device that your average everyday user would pick up. It's primarily aimed at the creative professionals market and it seems to have been built from the ground up to accommodate creative functions.
The device is quite heavy, coming in at around 2 kgs when the keyboard is attached, making it a little difficult to carry around easily.
The tablet itself has thick bezels, housing additional buttons that act as shortcuts for using creative software applications like those within Adobe's creative cloud.
The screen beautifully vibrant and crisp, coated with a matte-type finish that makes for incredibly accurate strokes with the included 'Wacom EMR' pen device, which itself is an impressive piece of hardware.
Strokes are smooth and work almost as if you were holding a pen or pencil and working on paper, which is something that a glossy touchscreen would struggle to emulate.
The keyboard is also very responsive and accurate, making the device an absolute breeze to type with, something that can often be quite hard to pull off with a 2-in-one device. It also stays connected via Bluetooth when the tablet is detached, so creatives really have a lot of freedom in how they want to use the device.
The tablet also uses magnets to detach and reattach with relative ease, with a stand at the back that supports 165 degrees of motion, which - again - makes it quite versatile in terms of viewing angles and positioning.
The x2 is also fully loaded with ports, featuring HDMI, USB 3.0, SD card slot 2 thunderbolt ports
While all of these design choices make it an amazing device for creative professionals, it might not be the best for people who seek to merely use it for web-browsing or general use applications like Word or Excel.
This is because it not super easy to manoeuvre and the stand can sometimes feel a little clunky when sitting on your lap, with the buttons on the side probably little to no use outside of creative applications.
Specifications/Power
When we said the HP ZBook x2 was made to be a little more practical to serve a function, we really weren't kidding.
The ZBook x2 comes in a few varieties but at its most powerful features a quad-core Intel Core i7-8650U processor with Intel UHD Graphics 620 (1.9 GHz base frequency, up to 4.2 GHz with Intel® Turbo Boost).
However, it's also available in an i5 flavour, as well as previous generation dual-core i7, 7000 series processors, which comes in at a cheaper price point.
It also features 32 GB of DDR4 SDRAM, an Nvidia Quadro discrete graphics card and up to 2TB of Solid State Drive space.
With specs like these, users who pick up the device at its most powerful are going to be getting everything they need to perform just about any intense graphical creative work using things like creative cloud.
One hang-up we had though, was that the battery life faltered a little bit in our experience, lasting around 5 hours with constant use. Although this is probably to be expected considering the top of line internals the device is sporting
Verdict
If you're a creative professional looking for a perfect companion device that will accomplish everything you need in your work, it would really be difficult to look past the HP ZBook x2.
It's certainly not your average laptop or tablet, as it has been designed from the ground up to accommodate the specific needs of creatives.
I certainly think of it less as a 2-in-1 or tablet device and more as a professional tool, and if that's what you're looking for, there's barely a single aspect of it that will disappoint you.