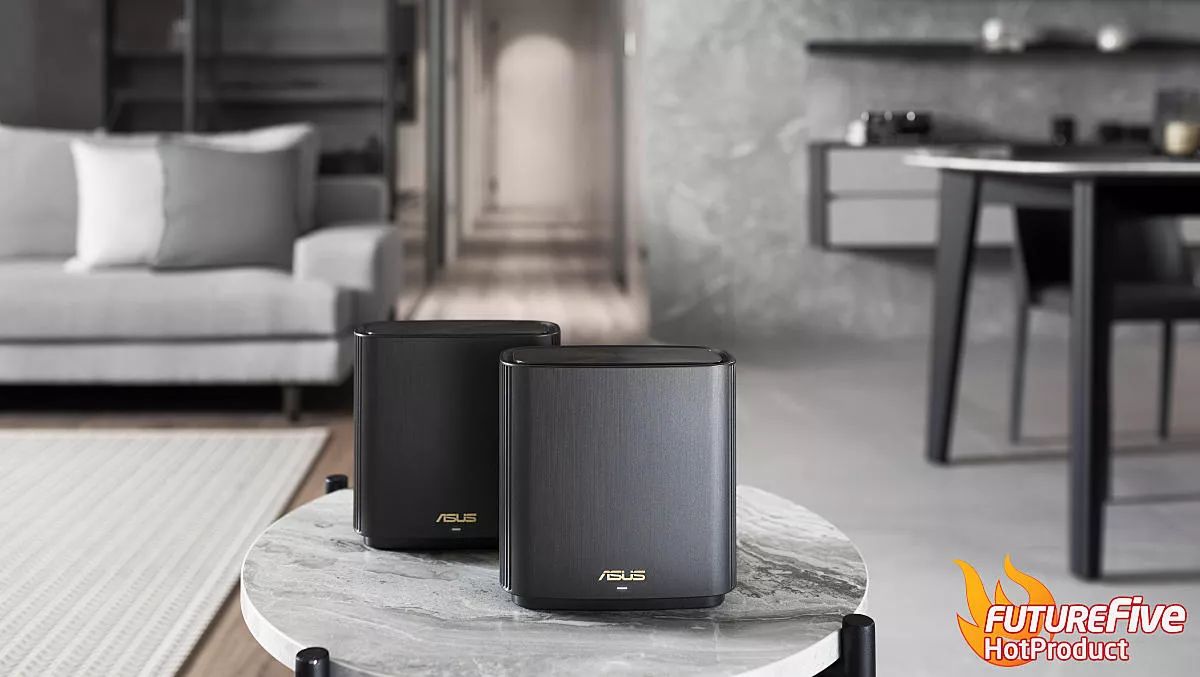 Hands-on review: ASUS ZenWiFi AC (CT8)
FYI, this story is more than a year old
ASUS' new ZenWiFi AC3000 Whole-Home Mesh Wi-Fi System is the perfect way to create a reliable and secure mesh network in your business or home.
As more and more of our gadgets and household items require a connection to the internet, mesh networks are becoming commonplace and the ZenWifi AC allows you to do so over a huge range.
First impressions and set up
The packaging is nice and minimalist, with just two ZenWifi AC routers (or 'nodes'), two power adaptors and an ethernet cable needed to get you on your way.
I adopted the incredibly free and easy-to-use ASUS Router app on my iPhone (also available on Android) and from there followed the simple instructions to get my network set up.
Living in a three-bed city apartment totalling 103m², the extra node wasn't exactly essential, but setting it up in the bedroom meant optimum coverage to our deck and every other corner of the unit.
The ZenWifi nodes are identical and finished in very durable plastic. They have a nice, sleek finish meaning that they don't stand out like a sore thumb in your living room like some other products on the market. They sit at just over 6-inches tall and feel premium to hold due to a weight of around 730g.
They're compact and have been specifically designed in a way that incorporates vents to help increase airflow to maintain optimum performance.
On the rear of each device is a power input, power switch, USB 3.0 port, three LAN ports and one WAN port. The branding is discreet with a small ASUS logo on the front of the unit on top of a status light.
Software
The aforementioned app is something that ASUS can be proud of - it gives you an incredible oversight into your network's performance, and allows you to manage everything with ease. Setting up an additional node is simple, for instance, and the list of ways in which you can tailor your network is vast.
The ability to prevent your children from visiting any site they shouldn't is simple with ASUS' AiProtection Pro software. You can also keep on top of their overall usage and apply blackouts - perhaps the perfect way to get them outdoors before the nice weather is behind us. Overall network security also monitored via AiProtection Pro.
Like with other ASUS products, you can also use the web app by visiting router.asus.com to utilise these features.
Performance
The ZenWifi nodes contain quad-core CPUs, and contain a calculated arrangement of antennas, some of which are housed at a 45-degree angle in order to increase reliability in multi-story properties. The system uses WiFi 5 (802.11ac), and has a tri-band to increase overall speed -performance was outstanding over both 2.4GHz and 5GHz.
In terms of the overall performance of the ZenWifi AC setup, it was leagues ahead of anything I've used in the past. WiFi was fast and reliable in every corner of my apartment.
Verdict
The ZenWifi nodes provide the perfect backbone for a mesh network, and despite me only being in a one-floor apartment, I was able to reap the rewards. They also look (and feel) very good, which I think is important for many potential buyers.
Security is more important now that it's ever been, and the ZenWifi set up is one of the most secure you can buy.
If you have a business or a large home, are looking at upgrading your network(s) and have looked into mesh networking, look no further than the ZenWiFi AC3000 Whole-Home Mesh Wi-Fi System. You won't be disappointed.
Check out the ASUS ZenWiFi AC (CT8) here.