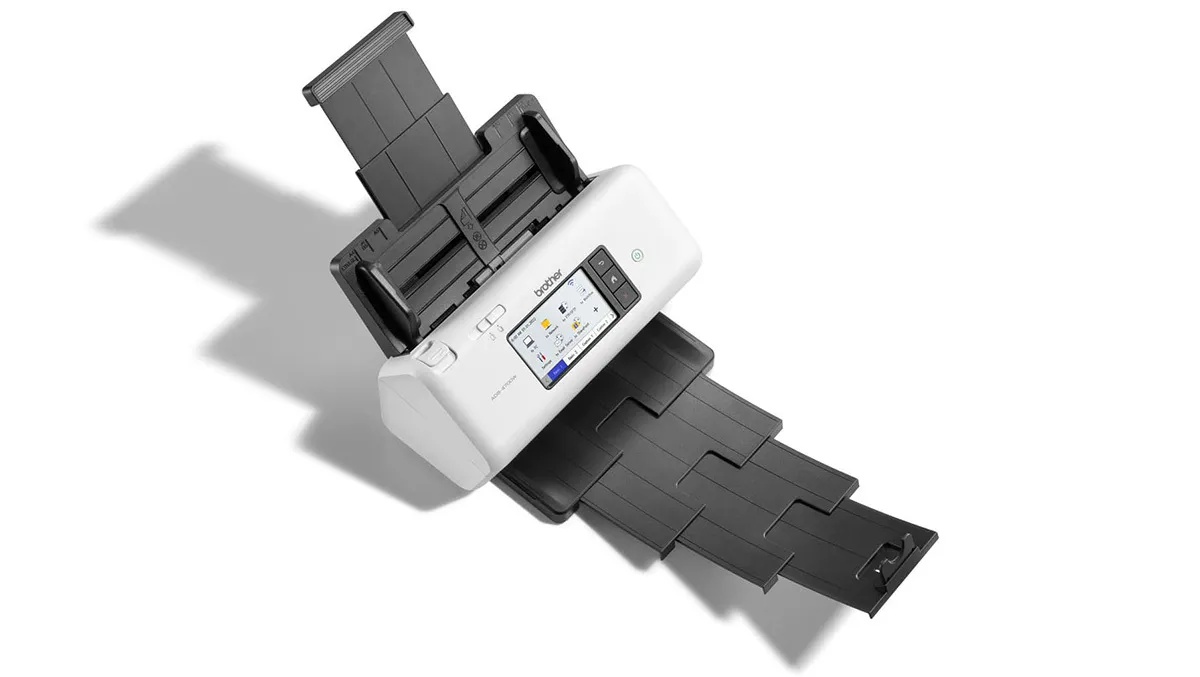 Hands-on review: Brother ADS-4700W Wireless Desktop Document Scanner
The Brother ADS-4700W is a compact professional wireless desktop document scanner aimed at home/office users. It's so small, at 29.7 x 19.1 x 21.6 cm and weighing only 2.75kg, it's almost portable.
Despite best intentions, we still haven't managed to completely remove paper from our lives. There's always a need for a scanner, be it receipts for accounts, documents, or letters. It's all very well using your phone to quickly digitise documents, but if you need crisp, clear, high-resolution digital documents for archiving or emailing, you really need to be using a scanner.
Multifunction devices with a printer and a flatbed scanner take up valuable space, especially if you don't do a lot of printing. The ADS-4700W, when folded up, can easily be discreetly perched off to the side of your desk or workspace, out of the way. The device has rounded edges and a natural colour complementing an aesthetically pleasing design that won't look out of place in a home office.
Setting up the scanner is pretty easy using the enclosed quick-start guide. The box contains a separate document feeder that just needs to be snapped into place at the back of the scanner, and you are good to go.
The document feeder, as well as the collection tray, extends to accommodate A4 sheets (the collection tray extends a little more). When you are done, the collection tray completely folds away. The feeder also easily unclips, though I'd recommend keeping it in place unless you really need to remove it.
The wireless set-up was painless, simply following the on-screen prompts clearly displayed on the large built-in 4.3" colour touchscreen LCD panel. In moments the scanner was connected to my wireless network.
For more detailed instructions on using the scanner, I needed to access the online user's guide available on the Brother website. This is a bit of a pain as it is a somewhat dated online-only HTML-based manual. Applications and drivers also need to be downloaded from the Brother website to get the most out of using the scanner with a PC, Mac, Android, or iOS device.
The feeder can be used to scan documents up to around 8mm thick (about 80 sheets), accommodating paper with a thickness between 0.08mm and 0.28mm thick. It can also be used to scan business cards and even bank/store cards.
You can scan double-sided, colour or mono, up to 600 dpi. It's fast as well, able to scan both sides of a document in a second and in one complete pass. It's even able to scan creased or dog-eared sheets.
Users can select from manual feed or continuous feed via a switch on the front of the scanner. The front cover can be opened right up, gaining easy access to jammed documents. There's no need to fiddle about bloodying your fingers to gain purchase on an errant sheet.
As well as Wi-Fi, network connectivity is also provided via Ethernet. The scanner can be directly connected to devices via Wi-Fi, as well. The enclosed USB Type-A cable allows the scanner to be plugged straight into a PC for direct scanning without the need for networking or Wi-Fi.
There is a USB port for scanning to a thumb drive or portable hard drive. Scanning documents to a USB thumb drive requires no network connectivity. This makes scanning easy even if you have network issues, are on the go, or just need to scan something quickly for someone.
There are options for network scanning, scan to FTP and scan to email server. Documents can also be scanned to cloud services such as Google Drive, OneDrive SharePoint, and Dropbox.
Scanning directly into your workflow is easy. I had no problem scanning documents straight into Photoshop and Adobe Acrobat both over the network and via a direct USB connection to the PC. You can also scan documents into Word, Excel, PowerPoint, and searchable PDF formats.
The ADS-4700W dashboard can be customised using tabbed pages. This allows the most used features to be accessible without having to delve into menus. The device can also be locked down with administrative passwords to avoid users inadvertently altering the configuration. On the back of the scanner is a Kensington security slot for securing the device in place.
The Brother ADS-4700W Wireless Desktop Document Scanner does exactly what you want it to do. It has all the features you need to scan documents exactly how you want them. If you are after an easy-to-use but fully-featured, professional-quality standalone scanner for your business or home office, the ADS-4700W is worth a look.