Partner content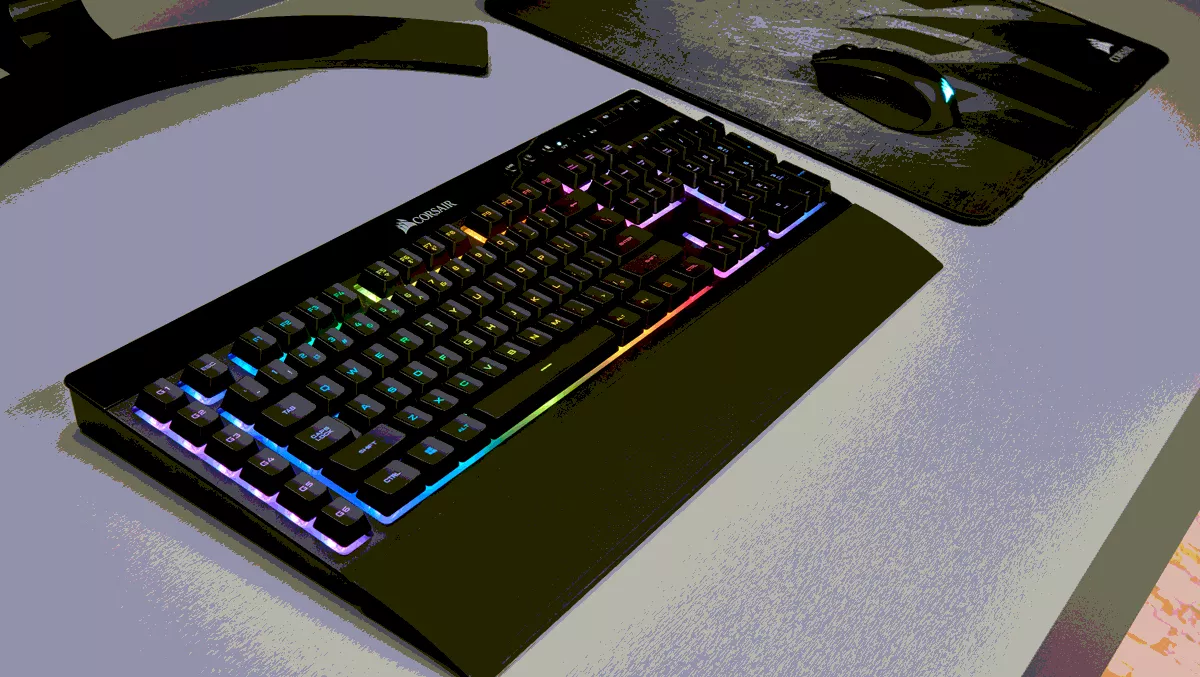 Hands-on review: Corsair K57 RGB Wireless Gaming Keyboard
FYI, this story is more than a year old
I'm excited to try a wireless version of Corsair's famous mechanical keyboards, as I've been dying to play some of my 'new' games.
Yes, I finally decided that I should enter the domain of the serious gamer, so I've purchased, at great personal expense, SBX: Superbike World Championship, GTA: San Andreas, and The Battle of Britain. I'll be giving my beloved zombies a rest for a while as I attempt to save the Mother country, win the Manx GP and clear my name while wresting control of the streets from the corrupt cops who framed me for murder.
I've attached the palm rest, which is lightly textured and very comfortable. It's allowing me to position my fingers correctly as I touch type. At this stage I must digress. Corsair's mechanical keyboards are wonderful for the touch typist.
The play in the keys is akin to the experience you would have gotten from an old-fashioned typewriter. With a more defined action than the normal flattened down electronic keyboards, you're keeping your digits well exercised, thus preventing the onset of occupational overuse syndrome, or OOS. Before long, your digits will be strong enough to pretend to do Bruce Lee's famous one-inch finger punch. Corsair words it slightly differently, calling their keyboard "quiet and responsive".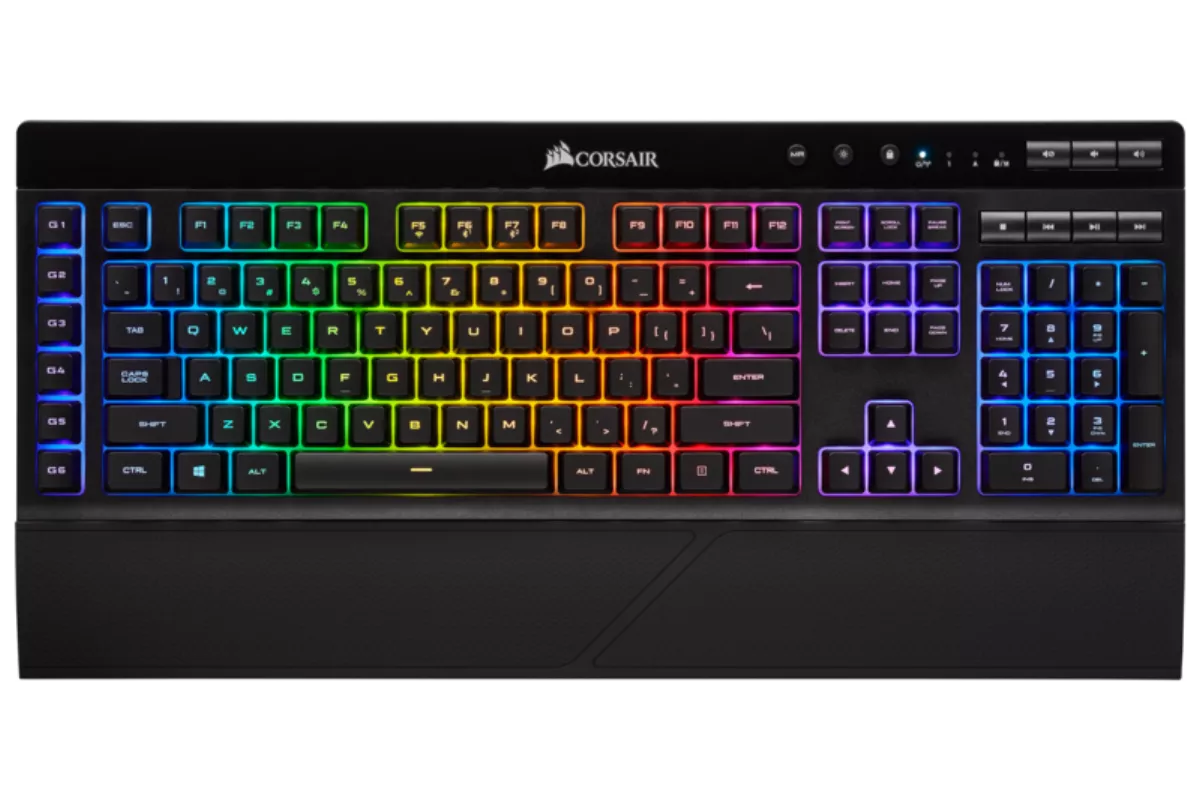 The keyboard is fully featured, with six programmable macro keys. There are also three ways of connecting wirelessly. I'm currently using Bluetooth Wireless #1, according to the blue indicator on the keyboard. Before I start gaming, I'll be setting up 2.4GHz Slipstream Wireless. This will require me to plug the USB cable back in but will ensure what the handbook says is "Hyper-fast, sub-time wireless connection (which) is designed for no-compromise gaming grade performance". Aha! Just what I needed! Aha! Solid Cyan, so I'm ready to play!
Using the iCue software, which also works with other Corsair devices, makes setup a doddle. Gone are the days of waiting for driver downloads and endless restarts.
The backlit keyboard is programmable, but I'm quickly running out of time and I still have three or four more games to peruse.
The Corsair K57 feels quite lightweight in comparison to the wired K63 and K70, but the action of the keys feels pretty much the same, and the ergonomics and layout of the numeric keypad and main keys feels very familiar.
The lightweight nature of the keyboard means that you can rest it on your knees if you're like me and do your serious work from an easy chair. Don't make the mistake of thinking that lightweight means flimsy, because this is still a very solidly constructed keyboard. You won't be getting any flexing, but you will be getting comfort and respectable key travel.
It has only taken me a few minutes to feel quite comfortable negotiating it when typing. My fingers seem to find their way unerringly, and my digits are starting to loosen up as they get to travel more than they become used to in the days of the digital keyboards.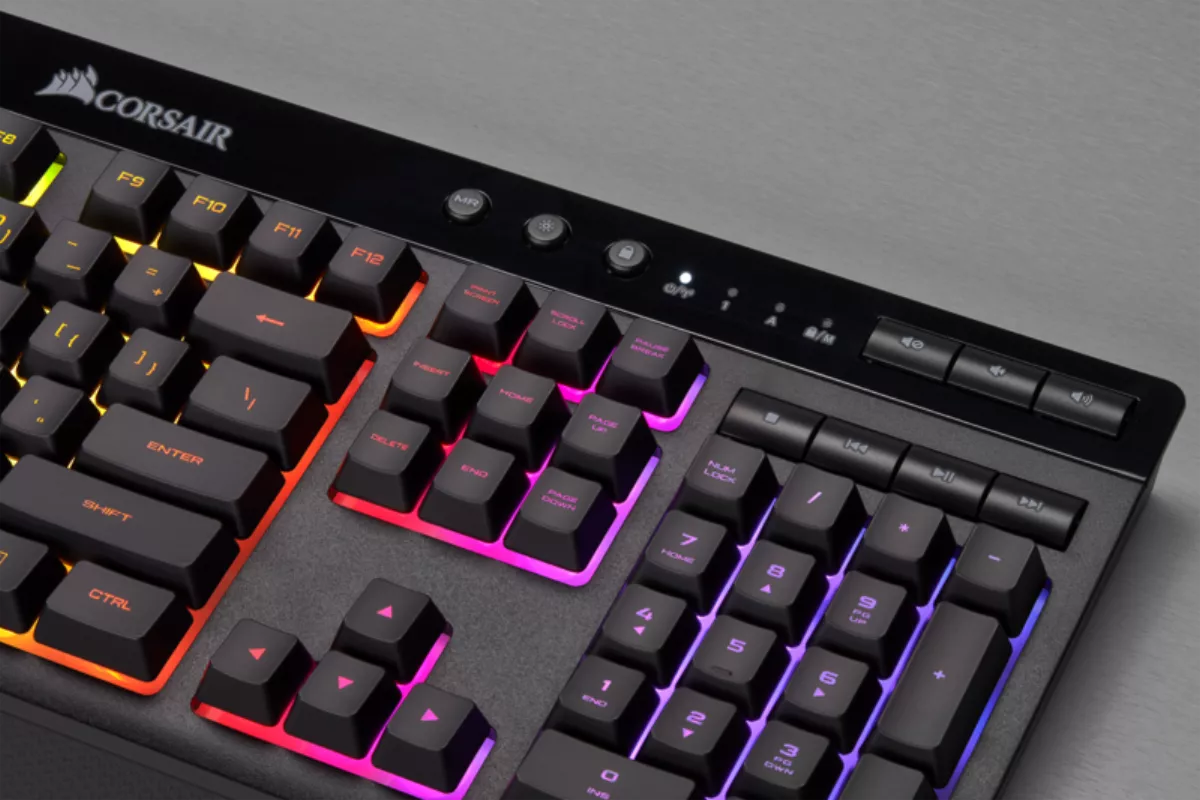 The quick response time of the keyboard is vital in gaming mode. I'm yet to see if I can notice a difference between the different modes. If you do a lot of typing, you will love using this mechanical keyboard. Words literally seem to fly off it, and the action ensures your fingers will remain in tip-top physical condition.
There's a lot to be said for the wireless connection capabilities for the K57. My desktop is normally a tangle of USB, lightning, power, HDMI, VGA and twisty cables. Anything that Marie Kondo's my workspace is a bonus.
Eavesdropping on some of my peers, I see that the K57 can go a long time between charges, even when using the RGB lighting for the keys. Corsair says to expect 35 to 175 hours of wireless use, depending on your use of RGB lighting.
Capellix LED technology means lights shine brighter whilst consuming less power. Plugged in, you can control the lighting of each key. Wirelessly you still have 18 different multi-colour combinations available. Knock yourself out and have fun with it.
When I finally get to do my gaming machine build, I'm planning on incorporating iCue software, so that all facets of my equipment will be brighter than my friend Nathan's Christmas lighting display. I'm slowly accumulating the gear I need, casing, keyboard, headset and cooling system. Now I need to sell some writing to get my sound and graphics cards, CPU and motherboard, with a decent DVD reader and a couple of SSD hard drives. Keep on watching to see how I get on. I'm already daydreaming of how I'm going to accessorise my build!
Priced around the $230 mark according to PriceSpy, the K57 RGB Wireless is a well-mannered mid-priced mechanical keyboard. It's even had me gaming like a pro. Having said that, it delivers features that make it competitive with some of its pricier competing models.
If you value the cable-free environment offered by Bluetooth, along with the quick responsiveness for when you're gaming, Look no further. I envisage non-gamers being just as enamoured as their cramped fingers discover that sudden release that the "striking" action on a mechanical keyboard provides. Like the rest of Corsair's gaming products, you'll be both nimble-fingered, lit up and unstoppable.
Related stories
Top stories