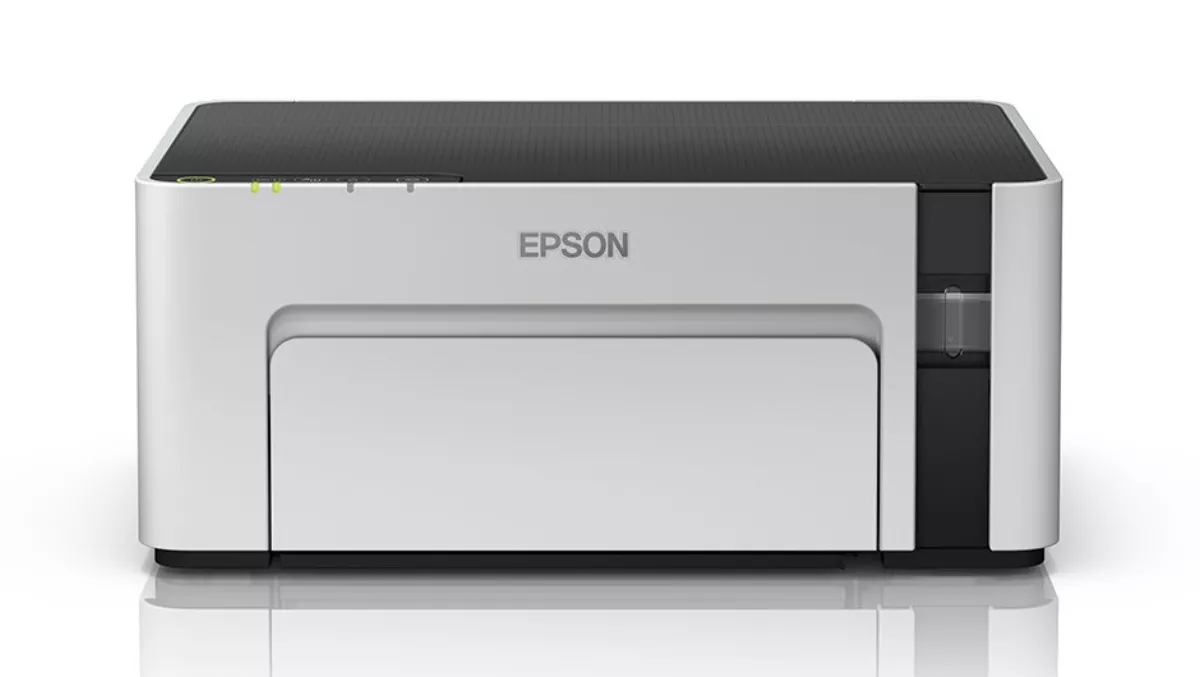 Hands-on review: Epson's ET-M1120
Tue, 30th Oct 2018
FYI, this story is more than a year old
Epson's Ecotank ink delivery system has already turned colour inkjet printing on its head. The days of paying a tidy sum for a new printer only to find that its going to cost you an arm and a leg for ink are over. For a while now, Epson have been rolling out colour inkjet printers complete with a two-year supply of ink.
The ET-M1120 promises to offer the same deal for users that only require black ink. Whilst most of us probably though we were done with an Epson black and white print when we binned our LX80s, back in the day, there's still a time and a place for mono printing.
Normally the forte of laser printers, the ET-M1120 offers cartridge-free mono printing via a bottle of black ink that should be good for 6,000 pages. Why a dedicated black inkjet printer, though?
How many times have you gone to print a document only to find you are out of an ink colour? You try and print B-W and have another go. Still it won't let you. It's not uncommon for a colour inkjet to use colour even when printing in black and white. The ET-M1120 has a little window which, when the printhead is parked, allows you to see just how much ink it has.
If all you are going to print are mono pages, it's less fuss to use a black and white printer. The Epson ET-M1120 is aiming at the mono Laser printing market, favoured for invoice printing and places like doctors' surgeries, that really have zero need for a colour print.
The ET-M1120 is very lean on features. Which is a plus and a minus. On the plus side it is easy to use. It's a printer and that's all it does. There's no menu or display to complicate matters- you hit print and it prints.
It's not a multifunction printer, so there's no need for a display, really. This does make the set-up process a bit old school. With no menu you are pretty much at the mercy of your router's WSP function to connect it up to your Wi-Fi network.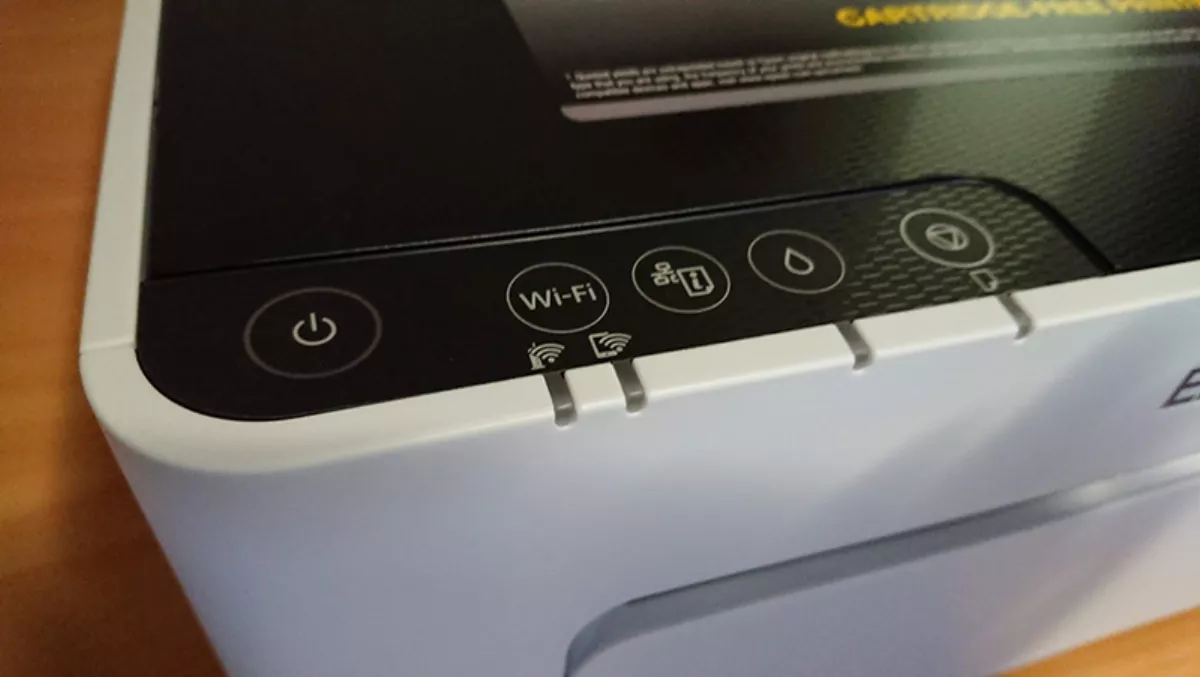 There's no visual feedback, just a load of flashing lights. If things don't go well with the setup, you may be left scratching your head. The instructions are easy to read and there's plenty of help on the Epson website is you do get into a tangle.
The printer does have Wi-Fi direct capability, allowing printing via a direct Wi-Fi connection between the device and the printer. The printer can also be connected to a computer via a USB cable, but a USB cable is not included in the box. There's no Ethernet port, either, which is a bit of a shame.
Following the instructions, I had no problem connecting the printer to the home network following the driver installation wizard enclosed on the included CD. All this is available online as well if your device doesn't have a CD drive.
The printer is easy to fill with the included bottle of black ink. You just unscrew the top of the bottle and place it in the specially-shaped socket on the top of the print head. Once full you just take the bottle out and put the lid back on with no mess. The printer didn't take all the ink, with enough left for a top-up later.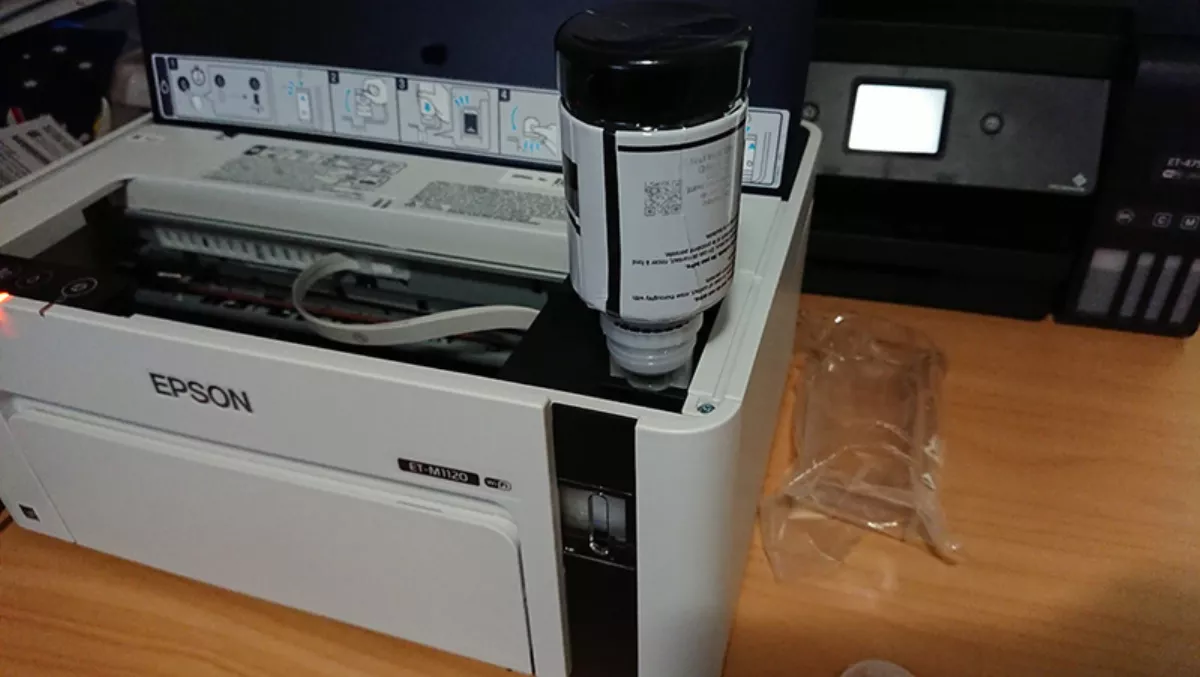 There's a feeder for up to A4 size paper. You can fit about 100 sheets in the feeder.
Quality-wise, when printing using the standard setting, it outputs reasonable ink-jet quality pages almost as quick as a laser printer. The text is a lot furrier than a laser print, though. The high-quality setting produces output virtually indistinguishable from that of a laser printer, but taking considerably longer to print.
The Epson ET-M1120 compact mono printer is an environmentally and budget-friendly replacement for expensive-to-run laser printers. Whilst lacking the quality, this no-nonsense printer does exactly what it says it will, at a fraction of the price.