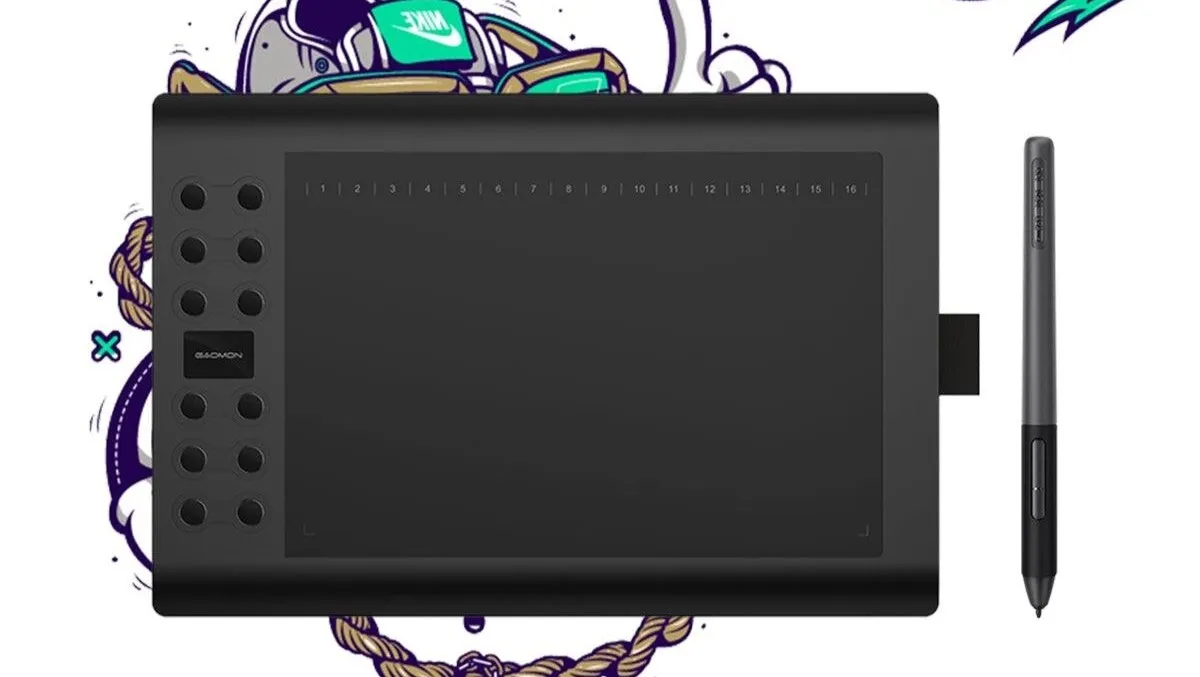 Hands-on review: Gaomon M106K Pro Battery-free Pen Tablet
The Garmon M106K Pro packs a lot of punch for what is an "entry-level" graphics tablet. Sadly, most of the time I have had the tablet for review, my left hand has been in bandages after surgery. I'm just starting to be type again, and my artwork has always been of questionable quality anyway. However, despite these setbacks, I've learned enough to know that for a sub NZ$100 tablet (It's on special on their website as I write), it has features that rival some of its pricier competitors. I have used it on Silicone and Intel MacBook Pros and was also able to link to my iPad Pro.
Specifications:
Working area (PC Mode) 254 x158.8mm (10 X 625"
(Phone Mode) 158.8x89.3mm (16:9)
Pen technology Battery-free EMR
Pressure level: 8192
Pen Resolution: 5080 lpi
Accuracy: ± 0.3mm
12 programmable Press keys
16 programmable Soft keys
Software Support: Windows 7 or later, MacOS or later, and Android 6 or later
As a left-handed person, all I had to do was rotate the Tablet 180º so that the programmable keys were on the right. Sadly, I didn't have time to learn how to use those keys, but some snooping around on user reviews showed that they come in handy once you learn how to use them. Further snooping on Gaomon's site added that the ring around each button can be used to zoom, scroll, and adjust the brush.
I used Photoshop and Affinity Photo and found myself using the pen as a mouse as well as for my rather amateur graphics efforts. The pen is pressure-sensitive, and for those of you who understand all the nuances of shading, cross-hatching and all those other arty techniques, I can guarantee that you will be in your element. There was no lag between the pen and the screen, making the drawing experience much easier than I anticipated. I discovered that the secret is to get used to keeping my eyes on the monitor and not on the tablet. Resist the urge to look down, and you will soon get the hang of knowing where your hand needs to be.
As I used the M106KPro, I wondered if they had display tablets and was delighted to discover that they do. They cost more than the M106K Pro but are still insanely affordable, starting at under NZ$300. However, for beginners like me, the M106K Pro has proven an excellent starting point. It enables me to edit my photos with ease, and I am sure that with practice, my artistic genius will eventually shine through and not end up on the editor's cutting room bin.
Final Thoughts: I have had the opportunity to look at a few products now, and I am surprised that Gaomon has packed in as many features as they have in such a competitively priced product. Included in the box, you will find spare nibs, a cover for the tablet and a pouch for the pen. If you're a beginner or a designer on a budget, the Gaomon M106K Pro may be the right entry-level tablet for you to unleash your inner Picasso. On their website, it is currently listed at NZ$77.00, and the site quoted me NZ$18 for shipping to the North Island.