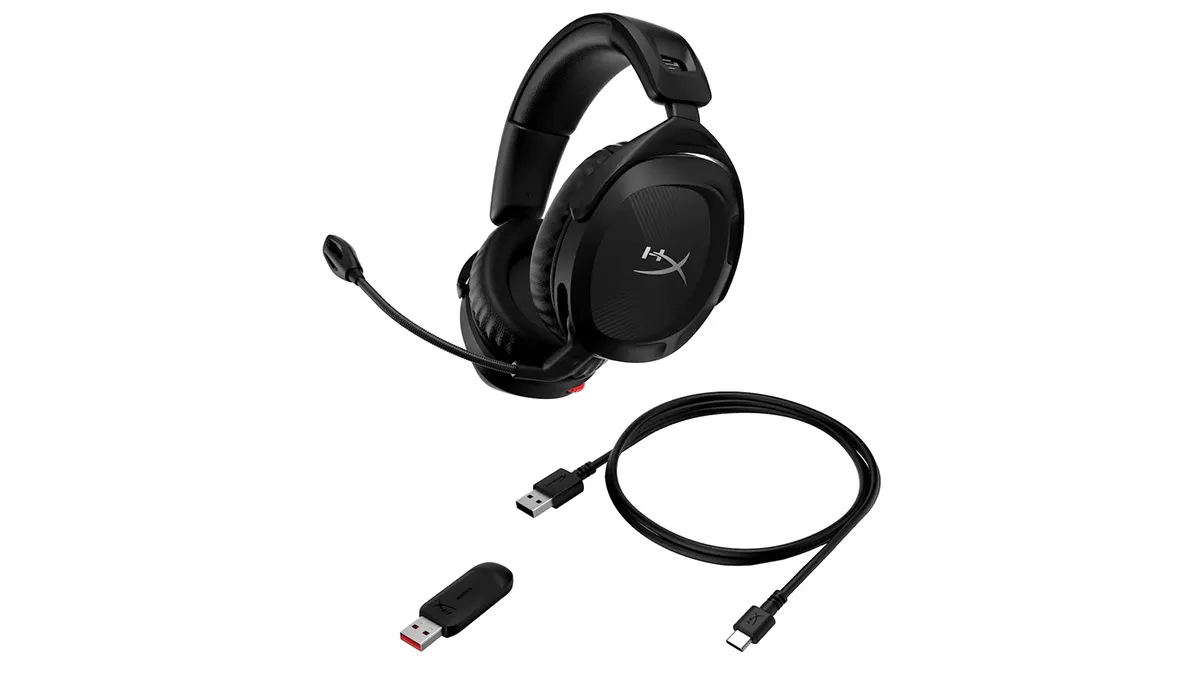 Hands-on review: Hyper X Cloud Stinger 2 Wireless
A lightweight gaming headset, the Hyper X Cloud Stringer 2 Wireless has been designed for ease of use and trouble-free audio. It comes complete with a USB Type-A wireless dongle for connecting to a PC or PlayStation 5.
A decent headset is pretty-much an essential purchase if you want the best gaming audio, especially if you play a lot of multiplayer games and chat with teammates. The AU$150/NZ$170 Cloud Stringer 2 Wireless sits in the middle range, price-wise, compared to most wireless headsets out there, but does it still deliver?
Opening the box, you get a quick start guide, a card with Hyper X's regional support details, a USB Type-C to Type-A charge cable, a USB Type-A wireless dongle, a sponge microphone cover, and the headset itself. Handing the headset for the first time, the construction felt a bit fragile and plasticky. But I think this is more to do with the headset being so lightweight.
The earcups have a two-axis movement to allow them to fit nicely against the side of your head. They twist 90 degrees so you can rest them flat around your neck when not in use. The earcups have pleather cushions for a comfortable fit.
Whilst there's no visible sign of the headband being metal, it's certainly strong and flexible enough when twisted to suggest that there's a steel strip in there. If you have got a large noggin, the headband can be extended, fitting the earcups snuggly, but not too tight, over your ears. Again, there's a nice comfy pleather cushion on the underside of the headband.
The headset is so light and comfortable that even in a hot room, you'll have no problem wearing it for an extended gaming session. The earcups fit tight enough to block out ambient sound without putting undue pressure on the side of your head.
There's an easy-to-find red volume dial on the right earcup for a quick volume adjustment; no tapping buttons or messing about. The left earcup houses the on switch (with an LED indicator) and a USB Type-C charge socket. The non-removable flexible mic, also on the left earcup, has the standard raise-to-mute feature, so, again, there's no fiddling about with buttons.
The USB Type-C socket is for charging only, with the included USB Type-C to Type-A cable. There's no wired connectivity via USB. You can still charge and use the dongle, although the included cable, which is 0.5m long, if you run out of charge. HyperX boasts 20 hours of use on a single charge.
Connectivity is exclusively via the 2.4 GHz USB Type-A wireless dongle. There's no Bluetooth, either. As this is a gaming headset, I don't have a problem with any of this. A dedicated wireless dongle is the easiest way to connect a device to a headset unless you have a cable trailing between the two.
The wireless dongle is a bit big, especially if you are using it with a laptop. But it is a no-nonsense device with red flashing LED that lets you know that it is doing its job. There's no pairing required; you just plug the dongle into an available USB slot, switch on the headset, and you are away.
Game audio sounds great through the headset, and the max volume should be loud enough for most. Even at full blast, the base doesn't bottom out. It's perfect if you are like me and enjoy your audio loud. Being reasonable, though, I found at three-quarters volume the output is nigh on perfect. Testing the headset with music tracks granted me crisp vocals and a rich base.
The headset boasts DTS X on PC, which is enabled using the free Hyper X Ngenuity app, downloadable from the Windows Store. The Ngenuity app is used across most of Hyper X's range for adjusting settings and customisation, as well as firmware updates and driver installation. The app has just been updated to fix a compatibility issue with the DTS X functionality and Windows 11. As well as activating DTS X you can also use the app to set custom EQ levels and switch on mic monitoring (so you can hear your voice through the headphones).
The mic is nice and flexible, so you can position it right by your mouth. You have the choice of using it with or without the sponge cover. It does its job and is great for in-game chat, but (as you'd expect), not really studio-level. It is a noise-cancelling mic, eliminating most background noise.
The box only mentions PC, but the headset also worked fine with the wireless dongle plugged into a PlayStation 4 and a PlayStation 5. The headset doesn't work with Xbox One or Xbox Series X or S.
The Cloud Stinger 2 Wireless is another quality peripheral from Hyper X at a reasonable price. This is a gamer's headset that looks the part. There's no garish RGB, just the stylised H and X in silver on the side of each earcup. The modest aesthetics complement what I consider to be the best feature of the headset: its simplicity, getting you into the game without having to mess around. If you are after a reliable and easy-to-use wireless headset for PC or the PlayStation, this one is worth a look.