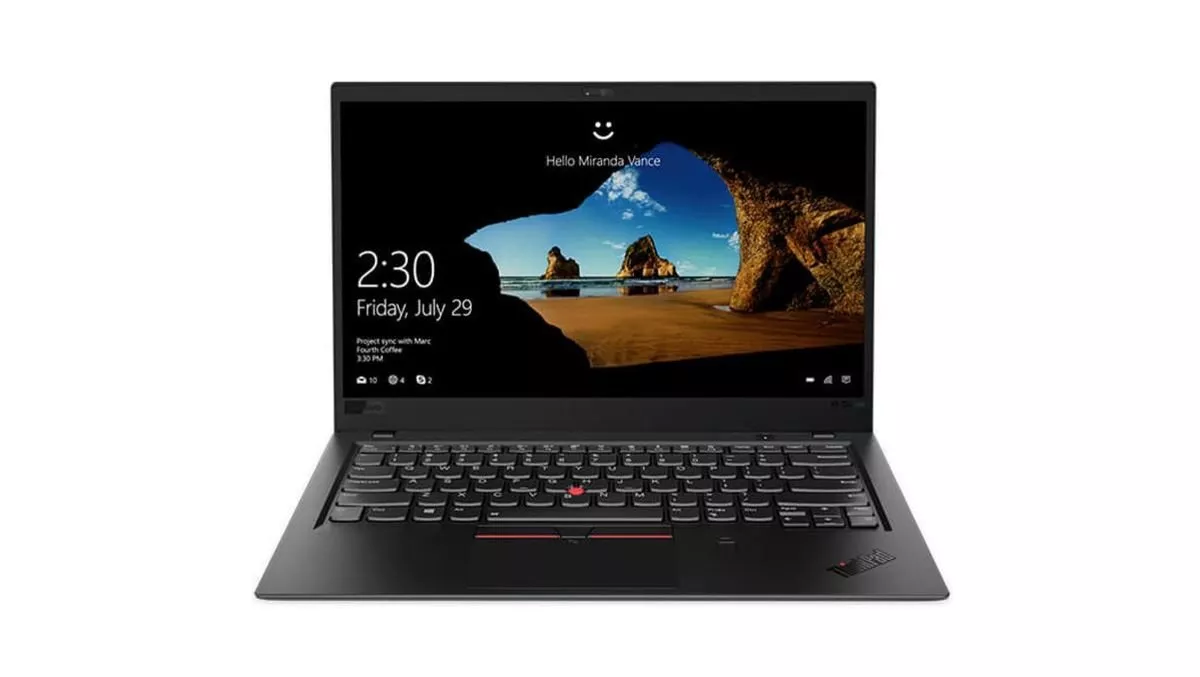 Hands-on review: Lenovo ThinkPad Carbon X1 (6th Gen)
FYI, this story is more than a year old
My old work laptop recently entered its hard-earned retirement and made way for the renowned Lenovo ThinkPad X1 Carbon (6th generation).
The ThinkPad had big shoes to fill: I formed a sentimental attachment to my old laptop, even with its wear and tear – it was like an old friend that travelled the world with me; told countless stories; and became an integral part of daily life.
I've had the ThinkPad Carbon X1 for three months – a mere blip in the longer history of the ThinkPad range, which started with IBM and now carried by Lenovo. I must note that Lenovo recently released the 7th generation of the X1 Carbon, so this review concentrates on the previous (6th) generation.
The ThinkPad remains a dominant market player because it consistently lives up to business expectations. After spending three months with the X1 Carbon, I can see why it's still a leader.
As part of the media machine and as a writer, there are four things I need from any laptop: portability, speed, a great keyboard, and durability.
The 14-inch Lenovo ThinkPad X1 Carbon with Windows 10 Professional is certainly a good investment for a durable work laptop – and it definitely ticks all my boxes.
Design
"Matte" is the key design element to the ThinkPad X1 Carbon. With a matte screen display, matte shell, a matte touchpad, and even matte keys, my trusty cleaning cloth is an essential accessory.
The ThinkPad is supremely portable and light weighing 1.18 kilograms. It was super easy to carry the ThinkPad around from appointment to appointment. It has two USB ports for wireless (or wired) mice, a power cable that plugs into a Thunderbolt port, HDMI port, and networking slots. There's no wired WAN port though. Portability requirement: check!
It's too early to say whether this laptop has enough durability to last its lifetime – during my travels so far it has stood up well to overseas climates, plus the occasional scuff and knock. Durability requirement: watch this space.
A common feature amongst ThinkPads is the red textured round trackpoint in the middle of the keyboard. It's a handy little scroll feature that means my hands don't ever have to leave the keyboard.
The keyboard itself also feels easy to type with; though I lament the fact that the keyboard backlight only comes on when toggled manually, and that it takes several clicks to toggle the touchpad on and off.
On ThinkPads, the Fn and Ctrl button placements are swapped around (differing from most other keyboards I've used), but there is an option within Lenovo settings to switch their functions within the software.
When I booted the ThinkPad for the first time, it took a while to set the keyboard to the required format. At first, the $ symbol was set to the pound symbol and a couple of other keys weren't properly assigned, so keep an eye out for that issue.
Great keyboard: check (but only after a bit of tinkering).
The ThinkPad can open 180% flat. When I first encountered this, I couldn't see any immediate use for it – until one day I opted to ignore basic ergonomic practices in favour of a comfy chair. It's a less-than-ideal admission to say that the ThinkPad is good for working in a relaxed style, but it's bad for your body if you're working for hours on end.
Performance
Fitted with 16GB RAM, and an Intel Core i7-8650U CPU @ 1.9 GHz, this is decently specced for a work laptop.
I need to be able to open apps at light speed, especially when I'm working on the go. This is where quality SSDs and CPUs really make their benefits known.
Windows 10 Professional is certainly demanding on resources, Task Manager indicates that CPU, GPU, memory and disk usages aren't spiking in any troublesome way.
This machine is virtually silent and fast enough to handle all manner of internet browsers, image editing software, word processing software. Speed requirement: check!
Typically, a screen is one of the most common battery drains. The battery on the ThinkPad lasts all day for my purposes, even with the screen on maximum brightness. The official stats say this device can last up to 15 hours, but as always it depends how you're using it.
Sound
Laptops and superior internal speakers generally don't go together too well, but Lenovo has given it a go. Clear audio playback is an important part of the job when transcribing interviews. While slightly washed out, the sound is clear enough to tell the difference between words – in all types of accents. The sound is not so great for music playback – but this is business, not pleasure.
Verdict
So far, the Lenovo ThinkPad X1 Carbon has ticked all the necessary boxes for business use (at least in my job): Portability, speed, a great keyboard, and durability.
While there were a couple of fiddly drawbacks such as manually having to turn the keyboard backlight on, it's a minor inconvenience when stacked against the excellent user experience that this device provides.