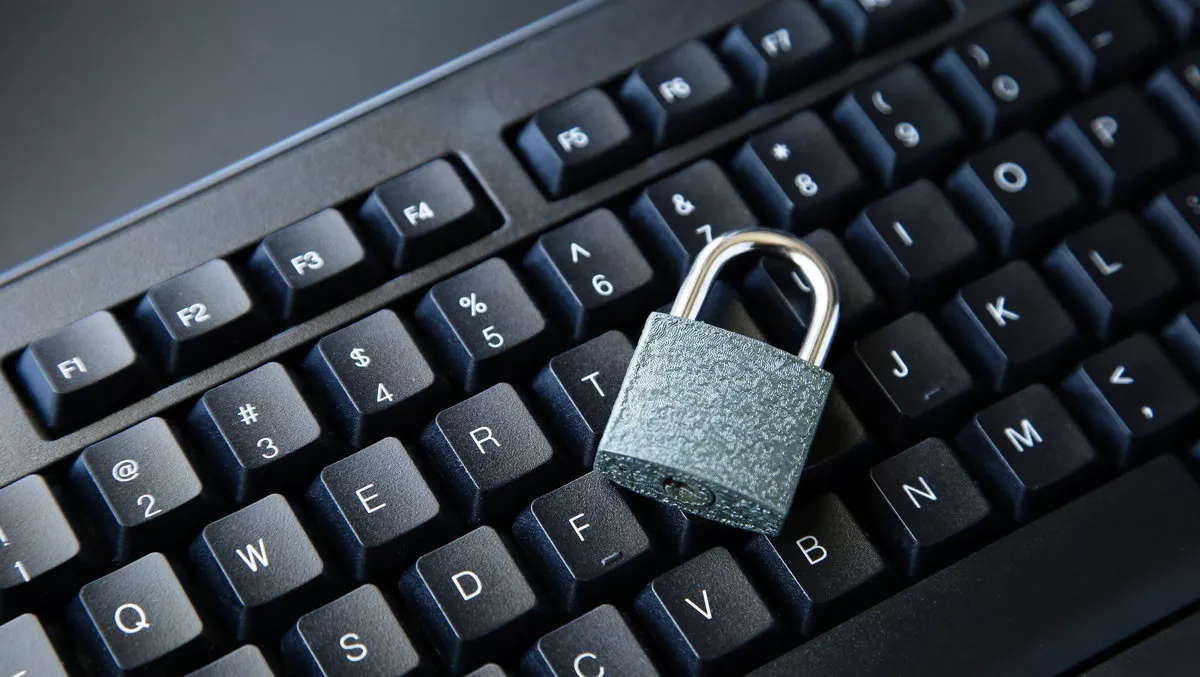 Hands-on review: Norton Security gets the safety and freedom balance right
FYI, this story is more than a year old
Antivirus software, like airport security, is a necessary evil. It's sometimes inconvenient, but an essential insurance against a potentially worse outcome.
My ideal antivirus software is something that sits in the background, keeping itself to itself until something iffy comes along. Only then does it leap into action, hopefully letting me know before it buggers up my PC in the name of security.
Most commercial antivirus and internet security packages offer an extensive number of extras ranging from the useful to downright disruptive. For better or for worse, Symantec's Norton Security is one of those packages.
Don't get me wrong, I consider Symantec to have one of the most robust antivirus engines out there. I'd trust Norton for my antivirus needs over any of those freemium security packages any day. It's just that the likes of Norton Security offer such a comprehensive suite of security applications, most of which I don't want or need anywhere near my PC.
If you've got parents, however, who are forever signing up to whatever phishing scheme that comes their way, forgetting passwords all the time, or using "password" as their password, installing Norton Security will likely stop those annoying telephone calls that start with "I think I've got a virus". Norton Security will idiot-proof a PC against even the most technologically inept internet user.
Or course, the price of security is the loss of freedom. And this is where, for me, most commercial antivirus suites fail. You see, they all assume that I'm your elderly mum and that I don't know what I'm doing.
Like a nagging over-protective, but well-meaning, friend your average antivirus software is constantly trying to second guess you, positive that you've forgotten to hand control of your PC over to it and warning you of the dire consequences if you don't.
Norton Security departs from your normal hand-holding, in-your-face internet security package. Yes, you can crank the protection all the way up to eleven and have the software standing over you ready to dispense discipline the moment you step out of line, if that's your bag. But, the folks at Norton understand that there are those of use that like to walk on the wild side. But even a seasoned internet adventurer like myself likes a degree of protection.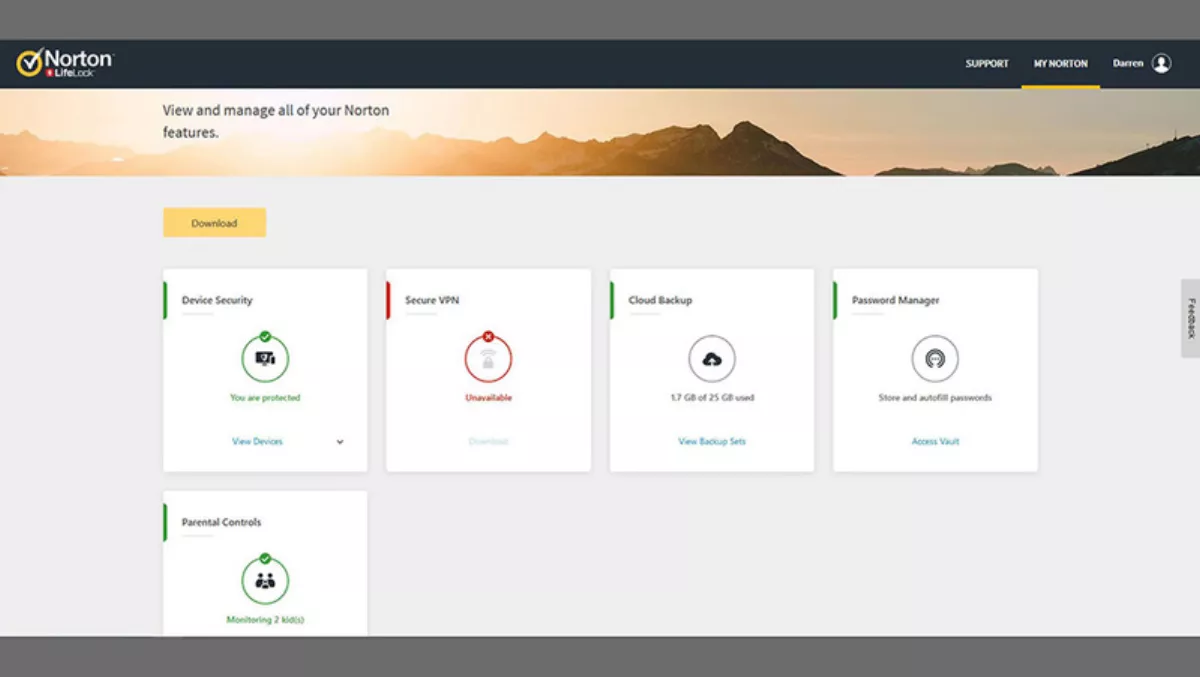 Rather than act like a mindless doorman blindly following order set by the developers, Norton Security has a comprehensive set of options that allows competent individuals to enjoy the benefits of the software without being treated like a child.
The options, themselves, are rather complicated, but it's a complicated bit of software. The rule of thumb I'd use is that unless you know what the setting means, you probably need to leave it enabled. But if you know what you are doing, you can configure Norton Security to be a very inconspicuous bit of protection working silently in the background without nagging you all the time.
The software has come a long way. Whereas in the past switching off or toning down modules resulted in an annoying red mark in your system tray, I had Norton running silently in the background doing exactly what I wanted it to do without pestering me.
Setting the software up is easy. The default options will be fine for 99% of users. Symantec have been in this game for a long time and as a result the software offers a pretty intuitive customer experience.
Norton Security has four main modules: Security, Internet Security, Backup and Performance.
Security is your basic antivirus protection. Everybody really needs to be running some form of antivirus software on their computers. Whilst it's likely that you'll never get anything nefarious on your machine, if you do wind up with a virus, they are a pain to deal with. Prevention is better than a cure.
Internet Security adds browser protection, manages passwords and can even be used to generate passwords. Possibly the most overt module in the package, if left to its own devices, Norton Security will restyle your browsing experience in a manner that may not be to our choosing. But, if you are worried about you or your family getting exposed to the darker side of the web, Norton's curated Internet experience will do the job.
Backup can be configured to backup files and folders to the Norton cloud servers. For many, this is something that likely already happens via OneDrive, but you can never have too much off-site storage.
Performance can be used to optimise disks, clean-up files and sort your start-up files. There's even a fancy graph to prove that it does something. There's nothing wrong with giving your PC a quick tune-up to remove the junk and get things running smoothly. Whilst there may be nothing you can't do already via freely downloadable software, with Norton it's all in one place and just needs a button click.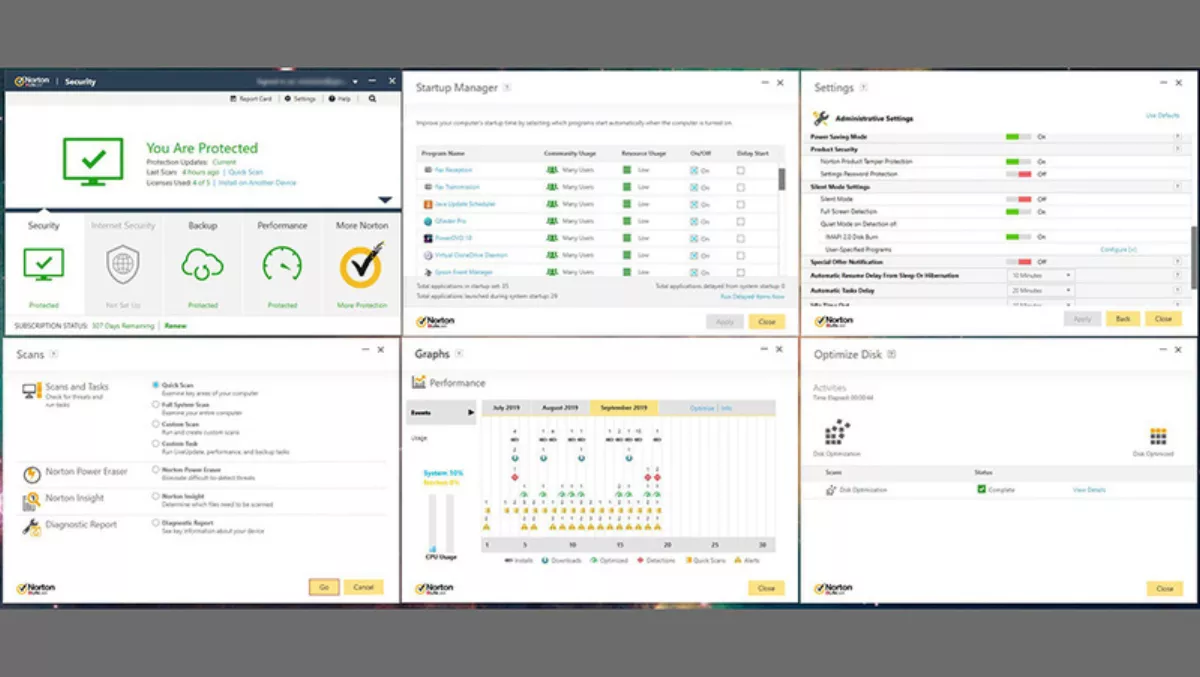 There are some further functions available under the "more Norton" option that include a password manager for mobile devices and some family options. If you are like me, faced with tech-savvy pre-teens already feeling their way out into cyberspace, the family options will come in handy tracking what the kids are up to. Ironically, I've spent years trying to blow open the Internet so it seems weird having to shut it down. But, it's a jungle out there and it's better to keep the kids sheltered from it as long as you can.
Not only can you block sites from the kids and monitor their use, you can disable their Internet access remotely with one click – either via the Norton Family website or the mobile app. You can also set usage limits and schedule access times.
Norton Security Premium is a subscription-based application, the year-long subscription costs NZ$124.99 from the Norton NZ website. This allows installation on five devices. Protecting three devices is NZ$104.99 and one device NZ$74.99. You can install the product on Windows, Mac and iOS/Android devices.
For the price of admission, you are assured of an up-to-date antivirus database with yearlong protection and PC optimisation facilities, as you choose to use them. There's no nagging "buy me" pop-ups and no risk of accidently signing up for something you don't want or inadvertently changing your search engine to Ask Jeeves or something.
As a PC power user and a father of three inquisitive kids the software surprised me in being able to give me the Internet protection my family needed without hindering my own PC experience.
Norton Security is a robust and fully-featured premium antivirus and computer security service providing the necessary protection required to safety negotiate today's Internet. Comprehensive and customisable, the software accommodates the needs of vulnerable and novice computer user, but at the same time offering the flexibility required of the more technologically astute enthusiast.