Hands-on review: Skullcandy Push wireless earbuds
FYI, this story is more than a year old
Skullcandy's Push wireless Bluetooth earbuds add another offering for users in an increasingly crowded market. I'm not a regular user of earbuds, but I've got to say that with the number of wireless earbuds out there, there's really no reason to have wires hanging from your ears anymore. Indeed, my Huawei phone doesn't even have a headphone socket.
Skullcandy boast six hours of use from a single charge of their Push earbuds, plus another six hours of charge stored in the charging case. The charging case has a USB Type-C connector which matches that of my phone, meaning one less cable to cart around/loose.
Pairing the devices with my phone was pretty easy. I did have a bit of fun trying to sort it out, but it was mainly to do with me getting my head around the various button-presses required. Thankfully once paired with your phone, you only need to take them out of the charging case for them to turn on and connect.
The earbuds feel well-made and pretty robust, as does the charge case. The earbuds would probably survive a drop, but the charge case - not so much.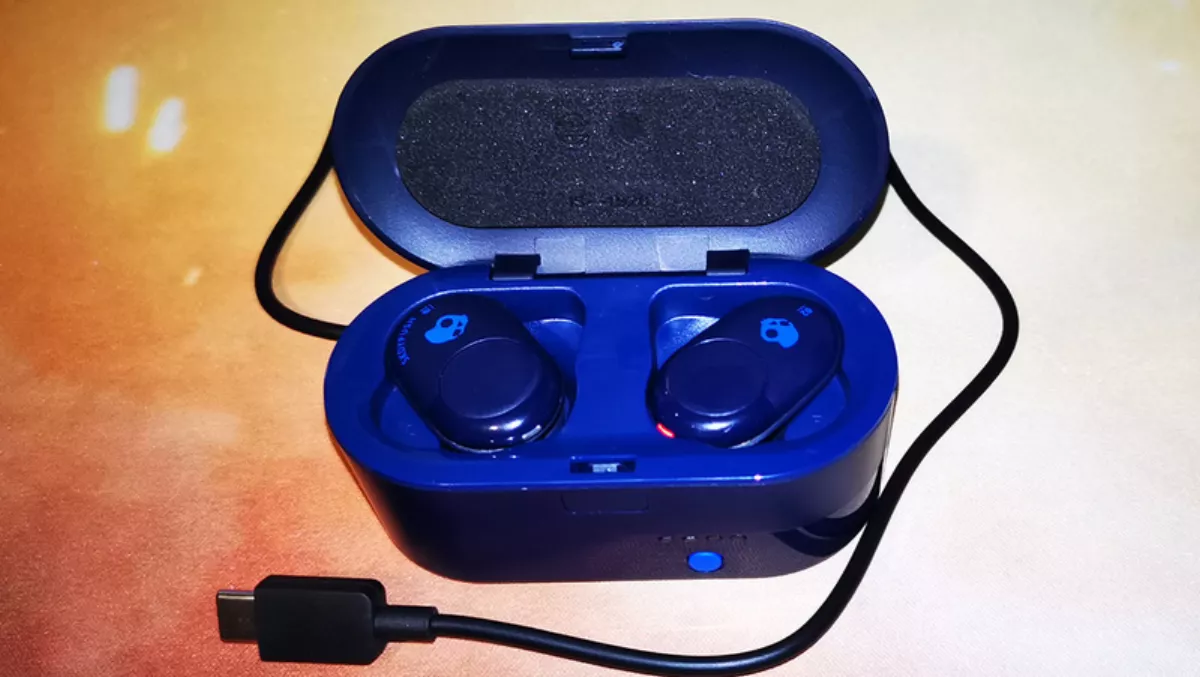 The package comes with a handy quick reference card detailing the various combinations of button-presses required to access functionality. I pretty much had to carry this around with me. Even though the quick-reference card more than adequately explains the how to use the earbuds, there's also an instruction manual with the same info, but with bigger pictures.
The earbuds allow you to answer/end calls with one button press, as well as change songs and skip forward. You can also access your choice of phone's assistant via a triple press of either earbud. The buttons are fingerprint-sized, so there's no fidgeting about.
The Skullcandy Push earbuds are a bit on the large side. The earbuds' FitFin "horns" are supposed to anchor them into your ears. I can't say that they really gave me the confidence that Skullcandy intended. The earbuds both felt as if they could slip out at any moment.
Even after trying the other rubber earpieces (the pack comes with 2x small and a medium), they still didn't feel "in". That being said, I was wearing them whilst doing some uncharacteristic manual work in the garden and they never fell out. It's probably more to do with me being used to shovelling my existing earbuds dangerously right into my ear cavities than the Push earbuds themselves. In time, though, I got used to them and trusted them a little more.
The sound quality is good. At first I thought they were a bit too quiet, before I realised that the volume of the earbuds is independent of the volume on the phone. Double-pressing the right earbud a few times got the volume up to max. Even at max volume, the earbuds handled some extreme bass very well.
Skullcandy Push wireless earbuds may be a bit on the large size, but they pack in some good sound quality, very accessible functionality and look reasonably stylish. The charge case is small enough to tuck away nicely giving an additional six hours of charge on top of the six in the earbuds. All-in-all Skullcandy have produced a great-sounding, easy-to-use set of buds that should delight the mobile audiophile.