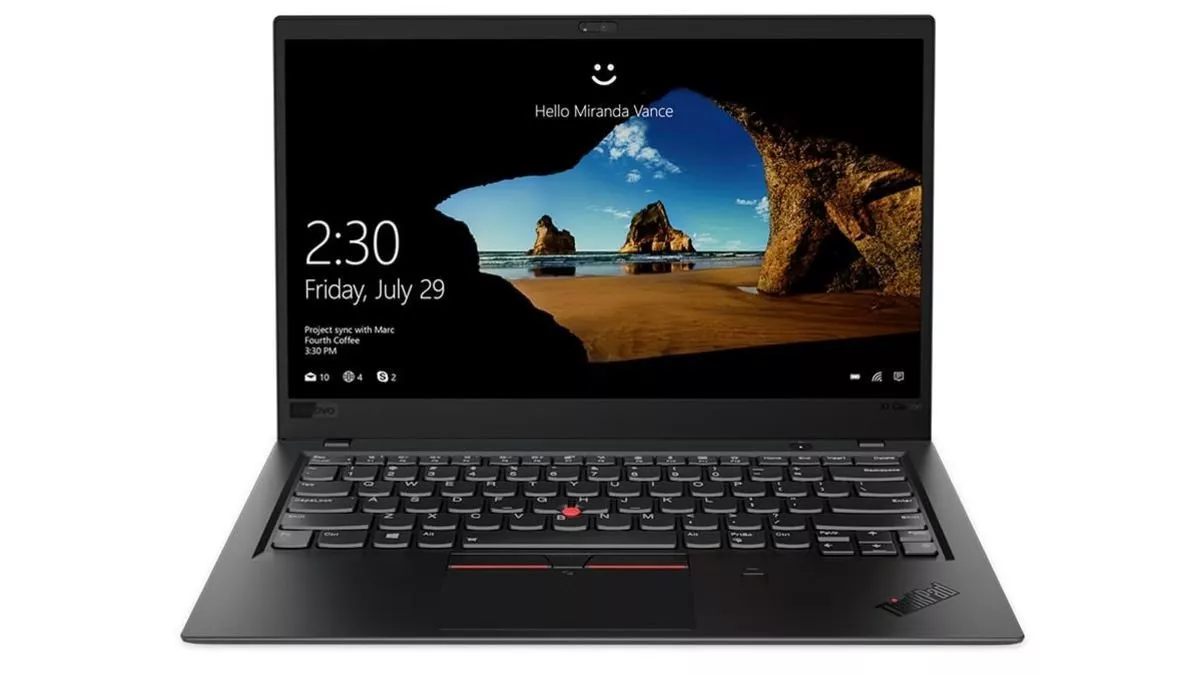 Hands-on review: The 6th Gen Lenovo ThinkPad X1 Carbon
FYI, this story is more than a year old
The last time I reviewed a laptop I loved it so much I went out and bought one. Now, a few scant months later, I am wondering how I justify another purchase.
From the crystal clear screen with the incredibly sharp imaging, to the light-as-air feeling of this wee number as I heft it between thumb and forefinger (I've been working out), I'm feeling rather fickle about how quickly my loyalties can shift.
My device appears to have been used for a few reviews before me, so when it arrived it was already in a dialogue screen. Not the "out-of-the-box" experience I'd like to share, but my main issue was convincing the ThinkPad that I wanted a US configured keyboard layout and not a UK one.
There appears to be a corrupt .dll file which I'll try and ignore for now, because connecting to my Microsoft account was a cinch. Once I remembered my passphrase I was up, running and working away on the ThinkPad.
I also connected to my cloud storage, meaning the mountains came to me, not the other way around. Oh how I love operating in the cloud.
This ThinkPad is equipped with an 8th Gen Quad-Core 17 8550U CPU @1.80GHz with 16GB of RAM. The 14" WQHD LED Monitor delivers very sharp text when typing, and the images are outstanding.
The really exciting thing is the connectivity. There are two USB C (Thunderbolt 3 compatible) ports, an ethernet extension connector (Gen 2), two USB 3.0 and one HDMI plus audio jack.
For the presenter on the go, this ThinkPad offers the ultimate in connectivity. Connecting to a Bluetooth speaker and WiFi-enabled printer took about as long as typing this sentence.
My experience so far has been straightforward with one small exception, which has more to do with my phone than the ThinkPad. There is a handy little app called My Phone, available in the Android and iOS stores. I managed to link the two items and then connection dropped. A brief timeframe means I have had to move on, eschewing my regular strategy of trying the same thing over and over, before phoning a helpline.
Lenovo offer an appetising range of accessories. I'd be opting for a USB docking station which would easily fit into my laptop bag. The Lenovo ThinkPad 230W Workstation Dock offers both DVI and VGA connectivity as well as the normal plethora of ports. Add a full-sized monitor and your favourite keyboard and you are operating in desktop mode. At the back you'll find a nano sim and Micro SD card slot. They are only visible when the display isn't open, meaning that they were the last things my eagle eyes spotted.
When connecting, I opted for facial recognition. I guess it's the sci-fi junkie part of me that thinks "how cool is that!" every time I use it. There is also a handy fingerprint reader, or the more traditional user can opt for the normal PIN code. Lenovo offers a versatile range of ways to interact.
This model is a real featherweight. Thanks to my recent activity working out in the gym, I was able to accurately guesstimate it would tip the scales at around the 1kg mark. (It weighs in at 1.08kg according to the web. Unsurprisingly, I quickly found online references to a lightweight packing the punch of a heavyweight.)
I have often marvelled at Lenovo's ability to pack in a lot of features, making them hard to overlook if you're constantly on the go, and in need of your office at your fingertips.
If you are going to be making multimedia presentations, remember to take along your Bluetooth speaker, because the ThinkPad has adequate but rather tinny sound. I can forgive the sound quality, however, because with so much packed into such a small build, something had to give.
I love the smooth tactile feel of the ThinkPad, which has my fingertips almost dancing with delight. The trackpad is one of the better ones around, with its three-button layout, not to mention the little red joystick nestling between the g and h keys.
The ThinkPad's monitor provides great viewing when tuning into your favourite YouTube channel, or getting that Netflix hit during your lunchbreak. My review model does not have a touchscreen, but other iterations add that feature in for a couple of hundred dollars more.
Portable and lightweight, with high quality graphics, Lenovo are onto a winner. I'll let them have the last word.
"This lightweight package reinvents portability and untethers you from the office. With a battery life of up to 18.3 hours, and Rapid Charge when you do need more juice, you can go wherever the road—or the sky—takes you."
The Lenovo ThinkPad X1 Carbon is distributed by Dicker Data in New Zealand.
Related stories
Top stories