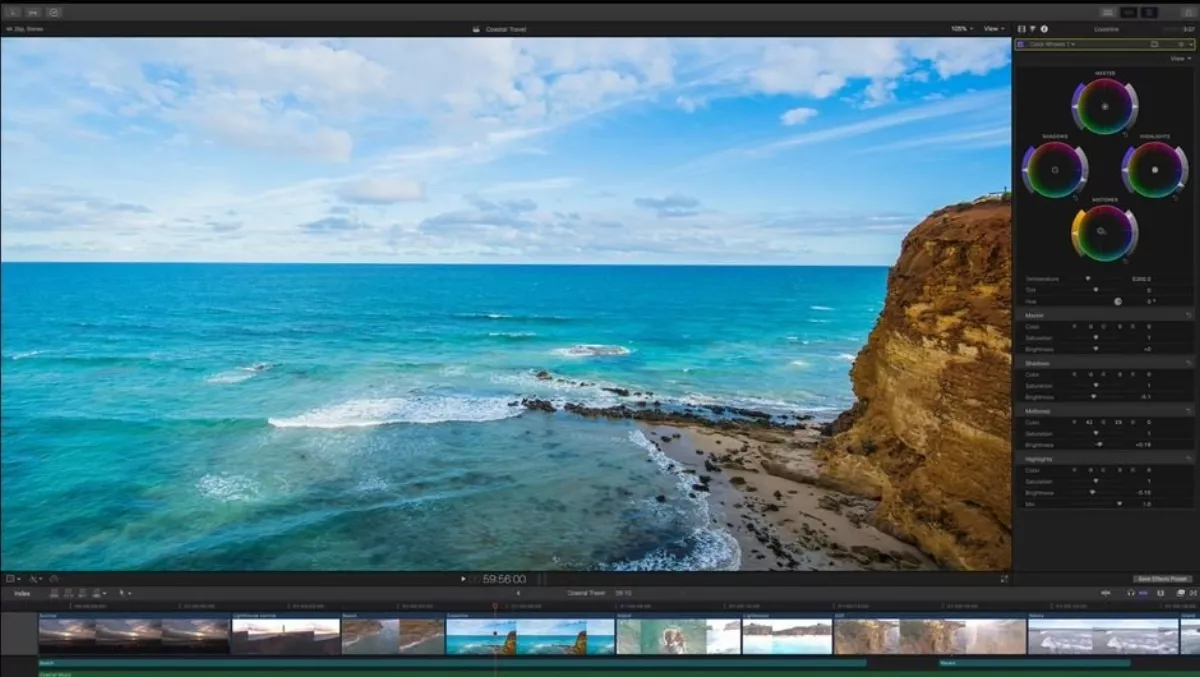 Hands-on review: The Final Cut Pro X 10.4 update
By Austen Hammon,
Mon 29 Oct 2018
FYI, this story is more than a year old
Apple's exclusive video editing software, "Final Cut Pro X," has now become much more powerful with the new "10.4" update.
While previous issues included the need for a colour grading system, logic audio adjustment and HEVC compatibility, Apple had work to do if FCP was ever going to be a serious contender to rival software.
Apple has not only addressed these concerns in 10.4, but it has gone above and beyond user expectations - and it has put itself in the conversation for best video editing software.
Colour grading has been the biggest letdown in previous FCP software. Before 10.4 you needed to implement a third party LUT into your project, however, Apple has finally given users a way to colour grade and correct their projects.
They use a very user-friendly colour wheel interface that makes it fun and easy to toggle with different colours, saturation, brightness and contrasts. In addition, you can also create your own personal LUTs which is huge for users that want consistency amongst their projects.
Another new built-in accessory is the use of the "Logic pro" audio tools in the effects tab that allows users greater accessibility and freedom when working with an array of new plug-ins.
The audio on footage will also now allow you to automatically work with your audio to help cancel out static, humming, and noise peaks in your audio that you do not find desirable.
The now supported HEVC video format (H.265) has also been a huge plus for users such as vloggers, who push out loads of content every day with the use of their smartphones. This feature also lets users work with 4K footage that many video cameras and Apple's newest smartphones use.
What's also cool about this is that 10.4 is compatible with iMovie. If you are out shooting video using your iPhone and want to piece together a quick timeline, you can easily do that in iMovie and then later implement that timeline into FCPX to create more cinematic features. This is just one of the many ways Apple is making video editors' lives easier.
If you're into VR then FCPX is essential. Apple has implemented all new VR editing features that will blow you away. There are a number of 3D titles that look seamless inside the space of your VR sets. 360 video even has its own section in the video effects tag where you can add a number of features to your VR footage.
You are able to share 360 footage directly to platforms such as Facebook and YouTube directly from FCPX. Perhaps the best feature about the VR editing is that you are able to connect your HTC Vive headset and live-preview your project, giving you a greater user experience.
Apple has also kept the same easy to use interface that FCPX users have loved over the years. If we're talking strictly about user-friendly interfaces for pro editing software, FCPX has the competition beat hands down.
If we are also strictly judging rendering time FCPX again beats out the competition. FCPX has been known for its speed and interface but with the update, we ask the question, are the new features enough to finally put the software to the top of the list?
In my opinion, Apple took big steps towards allowing businesses/ freelance videographers to seriously consider the software for professional day-to-day use, and with the application's one-time purchase, it makes it a very attractive option.
While you make a single payment for the software you also will receive lifetime updates. That means Apple will continue to address problems and concerns within the application.
As an independent user of video software, FCPX should be a no-brainer, as there isn't really a learning curve, the community amongst amateur FCPX editors is very large and it's not difficult to find tutorials on many insider tips and tricks online.
My one drawback about 10.4 was the lack of new pre-set transitions, but to counter that concern FCPX has a large community of transition editors that make it very accessible to download free and purchasable transitions online. In addition, it is extremely easy to create your own transitions in the sister application "Apple Motion".