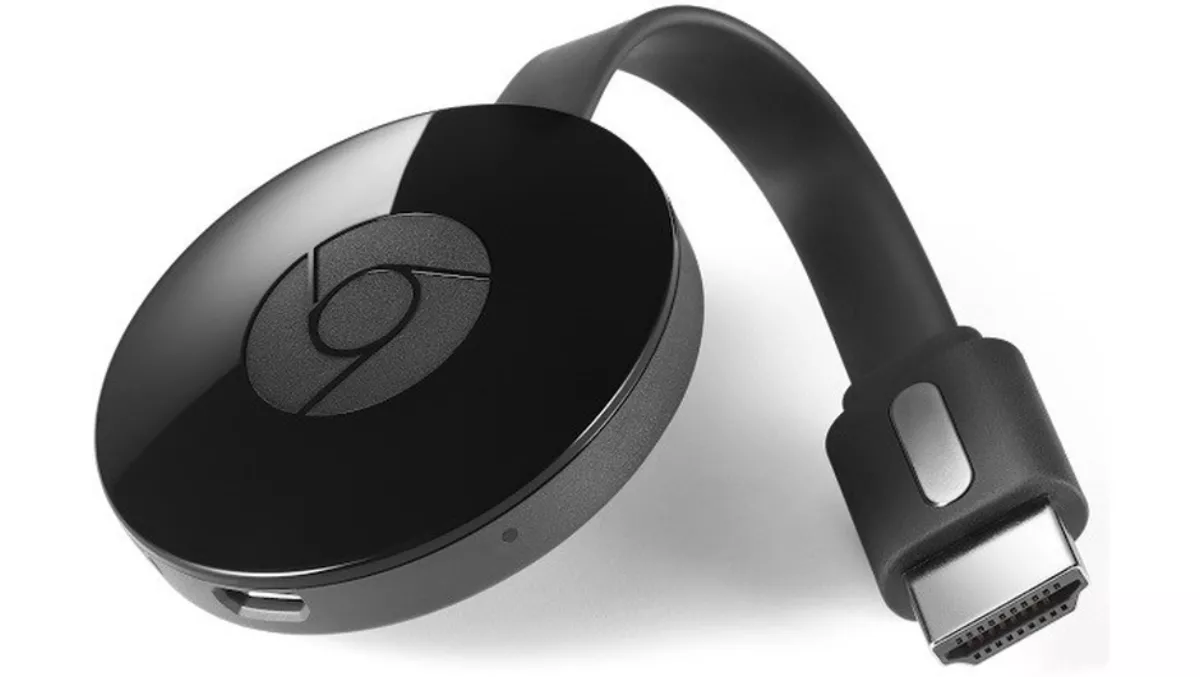 Hands-on review: The Google Chromecast
FYI, this story is more than a year old
Today's society is feeling the consequences of our wasteful habits when it comes to plastic. I couldn't help but notice that the Google Chromecast came boxed in moulded cardboard, rather than the ubiquitous plastic casing we've grown used to.
If you're like me, you may long for that ultimate of creature comforts, the smart television. Big ups to Google for thinking, er.. inside the box! For a fraction of the cost of one of those Smart TVs, you can simply use your mobile phone linked to the Google Chromecast. The instructions couldn't be simpler too. Connect the Chromecast to the power supply, plug it into an HDMI port on your television, and download the Google Home App.
Because it's a Google Chromecast, it will come as no surprise to find out that you will need a Google Account, complete with sign-on. You also need a mobile device. For the sake of the exercise I tried two, an iPhone and an Android. Sadly for me, my Android phone is only 3G, and wasn't therefore able to use some of Google's latest apps and features.
Google patiently takes you through the steps needed to get set up. It makes things as simple as possible. The only issue I ran into was when my fumble-fingers hit the wrong buttons when entering the confirmation code texted to me. My own fault for not investing in a larger phone to go with my oversized digits.
At this stage, I'll admit that the Google Chromecast does several things that our reasonably intelligent television can already do. I can access YouTube, Netflix and even my photos. However, the Chromecast gives you all this streaming material through one app, controlled from your mobile phone.
Yes; it's all very Google-centric, and yes, you can end up sharing a lot of personal information should you tick all the boxes. However, you have the power there, to customise your use and the kind of data you will share.
Also for the sake of this exercise, I linked my photos, which are already in Google Photos. The app kindly synced the remaining photos off my mobile phone. Guests will get to see me practicing my duck face and pukana expressions if they pop in for coffee. It even played some video clips had recorded for an earlier project. I reckon one or two of them would put me in the running for a Razzie or two.
Playback was pretty much instantaneous with no stuttering or lag that I could detect. Picture quality matched the outstanding quality of my original masterpieces. I played around with the timing of my photo slideshows and decided that five seconds matched my attention span.
I was impressed that I was able to talk to Hey Google without having to go through Siri. The experience was very easy, even if it encourages you to embrace the 'Google Way' more closely.
My only negative was the inability to connect my iTunes music. That's OK. I used Spotify instead. If you have Google Home already, you will doubtless be more aware than I am of the ways you can use Hey Google in the home, and adding Google Chromecast will be seamless for you.
If you have an older television with an HDMI connection, Google Chromecast enables you to use the smart features associated with the modern smart television, but this time courtesy of your mobile phone. At under $70, it's a tad cheaper than the several thousand a very smart television will cost you. For a very modest outlay, the Google Chromecast adds variety to the way you interact with your television.