Partner content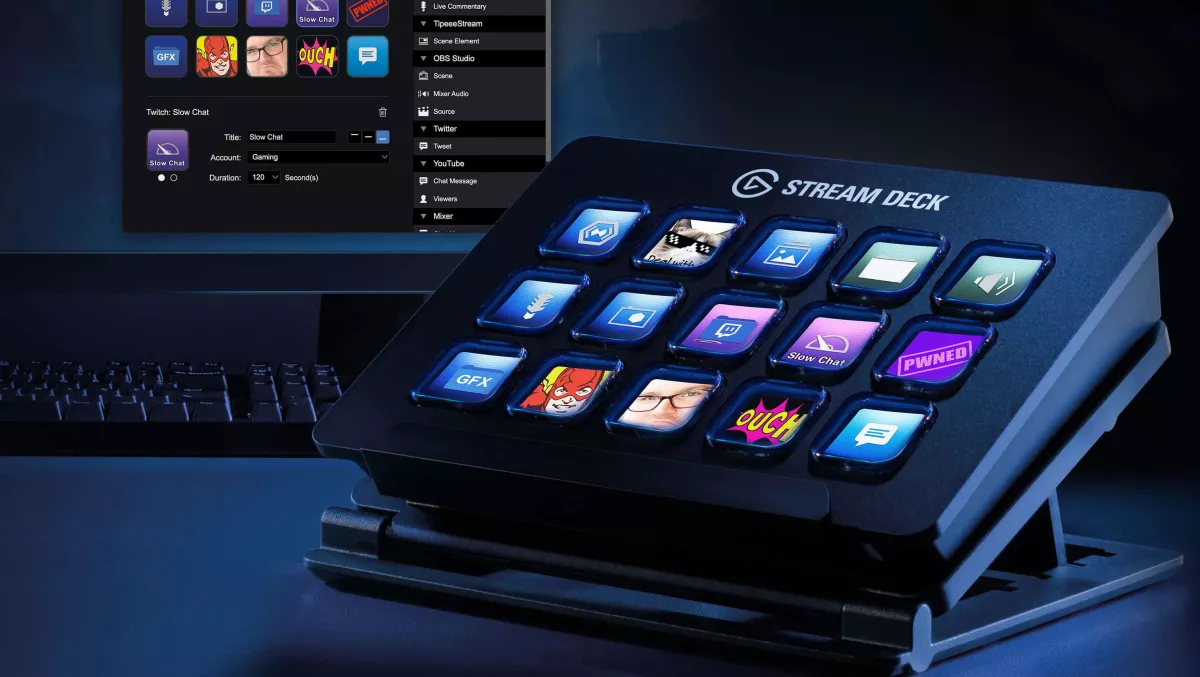 Hands-on review: The only streaming kit you'll ever need
FYI, this story is more than a year old
In an era when streamers are household names and seen as role models to the next generation, Elgato have earned themselves the invaluable reputation of being the go-to brand for both amateurs and professionals.
I recently reviewed Elgato's excellent Game Capture HD60 S, and wrote about how straightforward the device was to use - the Stream Deck is no different, although setting it up and customising it is time-consuming (mainly due to the endless amount of customisable options at your fingertips).
'But what exactly is it?' I hear you ask. In short, the Stream Deck is a neat piece of hardware which allows streamers to utilise the software they use by mapping a range of functions or actions to one of the 15 LCD keys.
Out of the box
Included in the box is the device itself, a plastic stand, and a Quick Start Guide. Although it's designed to sit at your desk, the Stream Deck can easily fit into the palm of your hand.
The Stream Deck feels nice and solid, and the 15 keys have an almost rubbery feel to them, which makes them almost satisfying to touch.
The overall design is impressive, although I would have personally liked to see a detachable USB to avoid any potential fraying a year or two down the line - but that's really one of the only downsides I could find.
Setup
It's pretty easy to get going - all you need to do is download Elgato's Stream Deck app, plug the Stream Deck in and you're ready to start customising your keys.
How does it work?
The Stream Deck was designed to tie in well with software programs popular with streamers, such as Twitch, Open Broadcast Software (OBS), and Twitter. Want to start streaming to your viewers at the touch of a button? Easy. Too lazy to tell your Twitter followers that you're online? No problem - just pre-populate a tweet, assign it to one of the 15 keys and you can send it whenever you like. If you're really lazy, you can even program a key to do both of these at the same time.
You're not only limited to those 15 keys, either. With the Stream Deck, you have the ability to create folders to open up a new screen of 15 buttons, and even create a folder within that folder and so on…
The customisation doesn't stop there, either. With Elgato's free Key Creator software, you can design your own 72 x 72 keys to really make the Stream Deck your own.
Verdict
Although this is by no means new technology, Elgato have streamlined their product to become a must-have for streamers or anyone looking at getting into the industry.
In fact, I can see a use for the Stream Deck for anyone who uses a multitude of programs on their computer on a daily basis, for example in graphic design. It just makes everything that little bit easier.
Ultimately, streamers are the target market and the Stream Deck opens up a world of possibilities for both hobbyist and full-time streamers to further engage with their audiences. It's a must-buy.
Related stories
Top stories