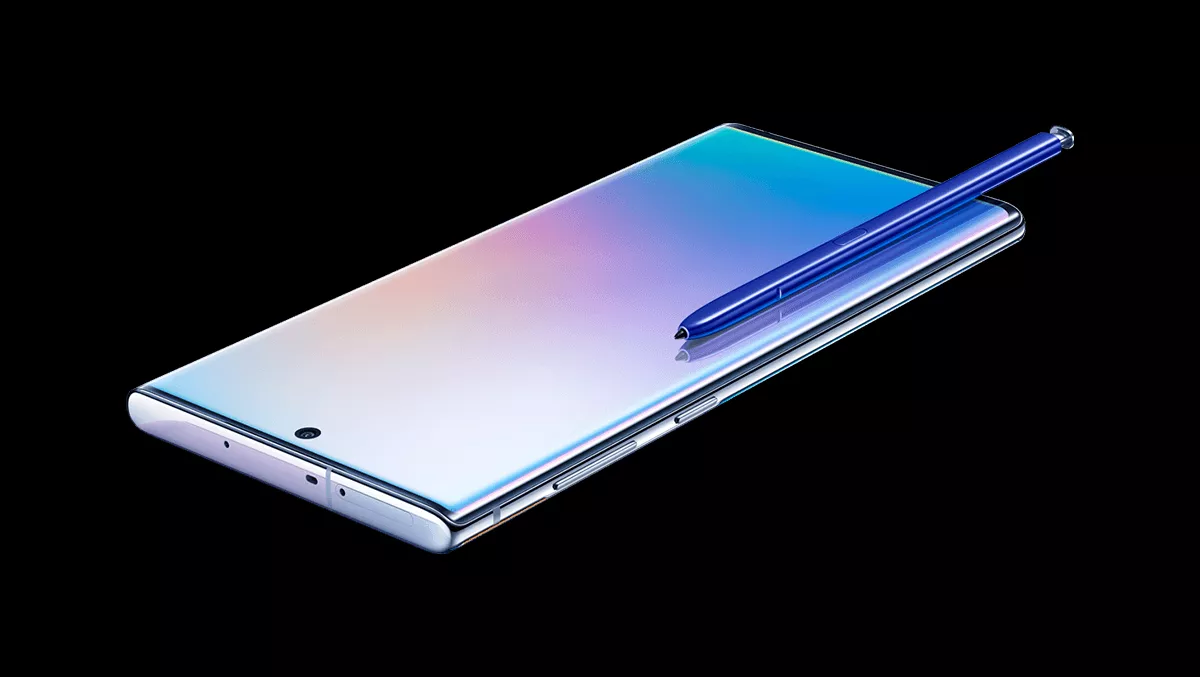 Hands-on review: The Samsung Galaxy Note 10+ is sleek and sexy
FYI, this story is more than a year old
The Samsung Galaxy Note 10+ has been quite a revelation. I've had to take some time out to think about what I'd expect to see in a high-end product, and what the average business user would want.
The more I thought about it, the more I realised that I need a phone like this in my life. While some things have annoyed me, it has made me think, "How will I cope when I have to send it back?
The stylus
If you like making quick notes on the fly, you will love the feature that allows you to make quick notes or sketches without even having to log in. Simply grab the built-in stylus, hold down the button, tap the screen and get going. I could write an entire article about the clever features of the stylus.
Screen
The 6.8-inch dynamic AMOLED display (there's also a 6.3" option) will enhance your experience, whether you're watching your favourite Netflix programme or reading the latest TechDay review. With sharp definition and an attractive bezel-less display, it will have you forgetting about your tablets, phablets and laptops.
For me, it has become my go-to device for checking the news. My latest app download is called New Zealand Newspapers and the clear, easy-to-read writing has made me forget I'm not on my laptop. Even my myopic vision has coped well with the crystal-clear display.
Sound quality
A great feature of the Note 10+ is the dual microphones. If you're conducting an interview for your next live feed or podcast, simply hold the phone in front of you and facing your subject. Both of you get to talk into your own microphone! Clever! The sound output is brilliant, sounding almost stereophonic in quality.
Camera
Samsung has a reputation for its camera quality, and I've been waiting for some fine clear days when I can venture outside and play with it. The array of three lenses are nicely arranged and the forward-facing lens has been busy catching me as I practice my duck faces and pukana. Sadly, I haven't had time to try a video chat, but I suspect that the Note Plus will cope admirably. Features like built in bokeh are sure to make your photos stand out just like mine!
The S Pen - more than a stylus
Samsung's Note 10+ S Pen also doubles as a mouse. This gives you control over music, video and photo presentations. The button can be used as the camera's shutter control when taking photos.
Ergonomics
When I took this model out of the box, I spent several minutes holding it in my hand, turning it over, allowing my fingers to run over its svelte, sleek, sexy surface. The tactile experience is rather sensuous. I'd advise a good, practical cover, or you'll never get any work done.
The silvery back is so reflective, I spent several hours admiring my reflection. Ever the admirer of great design, I like the uncluttered, yet sensible approach Samsung's engineers have taken. The stylus slides away into its slot and is easily retrieved by pressing it with your finger.
Laptop performance in a mobile?
The Note 10+ comes with 256GB of storage, but you can expand this up to 1TB, courtesy of the micro-SD card slot that's built into the dual SIM caddy.
Picture quality
I have just been enjoying the trailer for John Wick 3, which I can't wait to watch (as soon as I can save up the $6.99 rental). The movie quality is amazing, and Frank Sinatra sounds great as he croons, "The Impossible Dream.
For me, one of the biggest plusses has been the battery life. I'm used to charging my fruit-flavoured phone (Apple…) nightly, I've charged the Note 10+ twice in the last 10 days, and that includes out of the box charging. I love the fact that the display tells you how long you have to wait until fully charged.
The battery charging time depends on the remaining charge. I only had to wait an hour or so upon unboxing my review model. The USB C port is sure to please the modern user, and it's bound to add to the versatility of the Note 10+.
Final thoughts
I am sure I could discuss even more features if given more time and a larger word-limit. For the on-the-go person who is forever taking notes on the run, working on their Microsoft Office Documents, taking photos or collecting audio-visual data for live feeds, vod/pod casts, the Samsung Note 10Plus will be a handy addition to your device stable.
Priced around the $1800 mark, it's not inexpensive, but it manages to pack in features that out-perform many laptops. To quote my favourite Jedi master, while not yet complete is my journey to the Android side, much closer to turning I am. Want one I do.