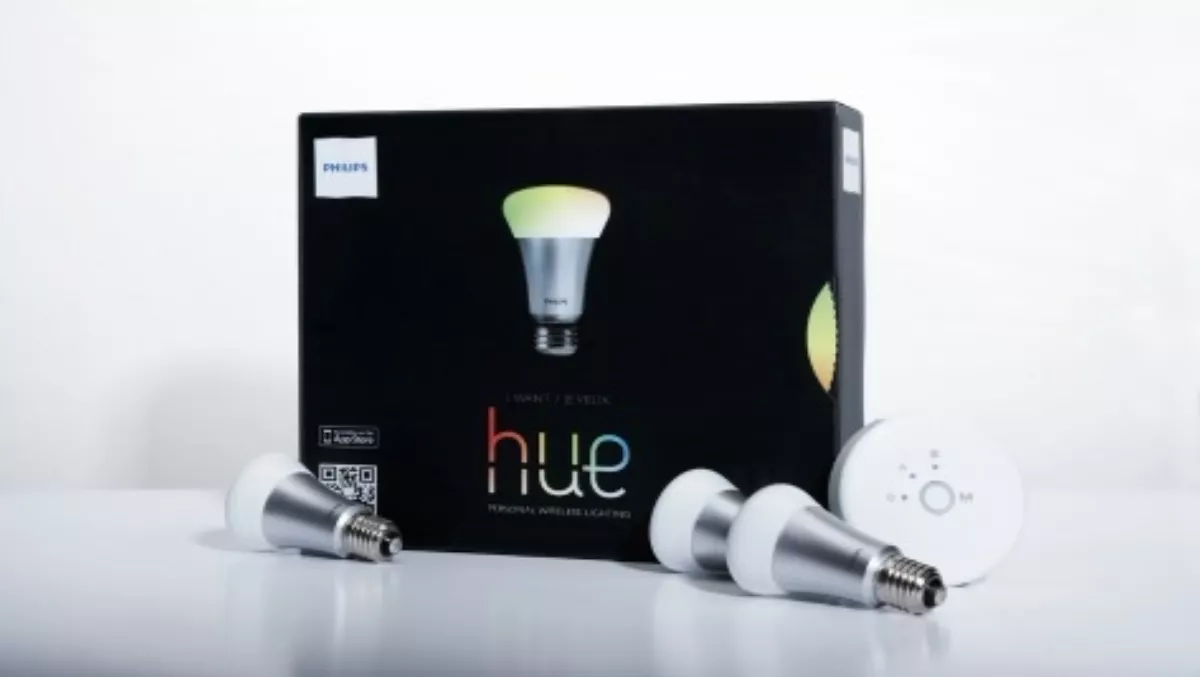 Hands-on review: Philips Hue
FYI, this story is more than a year old
Who'd have thought the humble light bulb could've got so smart? The boffins at Philips must've had their thinking caps on when they created the Hue lighting system, as Hue can do some pretty amazing things.
So what is the big deal with Hue? The Hue recipe is as elegant as it is clever. Philips have taken LED lights (which use a fraction of the energy of a traditional bulb and last thousands of times longer) and added wireless controllability. Each Hue bulb has red, blue and green LED whose brightness levels are adjustable. This means that Hue bulbs can create 16 million colours at varying brightness levels. Adjustments are made using an IOS or Android smartphone/tablet.
What's in the box?
The Philips Hue system consists of an expansive ecosystem of different LED controllable lights. The Hue starter pack comes with three Edison screw bulbs. Most homes in NZ use bayonet light sockets, so shopping around for screw to bayonet adaptors is a must. A wireless Zigbee hub also accompanies the bulbs.
The hub connects to a wireless router and is how a Wi-Fi connected smartphone or tablet can control Hue lights. With 16 million colour options to choose from within the app, Philips decided to offer presets. You can pick colours out of photos stored on your phone as well.
Bulbs are controllable in groups or can work independent of each other. The default Hue application can be a bit clunky, but there's dozens of third party apps also available.
Hue bulbs give are about as bright as a 50W incandescent bulb and should in theory last for around 10 years. Hue bulbs connect to each other and then back to the hub, and this helps extend wireless coverage.
Colours aside, Hue bulbs can also revert to normal light-bulb duties. Turn on the lights with at light switch on the wall and Hue bulbs will shine a warm white light at full brightness.
Friends of Hue
As well as smart light bulbs, Philips also has friends of Hue. This consists of the Living Colors Bloom - a small white curvaceous LED lamp that shines a colour wash over part of a wall. It sits on an angle and looks more like a prop out of a 70's sci-fi series than a lamp. It cranks out about 120 Lumens of light, which is about as much as an 8W incandescent bulb. It won't light up an entire room, but can add a hint of colour and create a mood to a room.
There's also Hue Light Strips. These are bendable adhesive strip of LED lights that you can use to add dramatic accent lighting. Like the Hue they can generate a lots of different colours at varying intensities. Light strips come in 2m, 1.6m, and 1m lengths and you can trim them to size. The strip consists of groups of LEDs every 10cm, after which there's a point where you can chop. The Light Strips also have a 3M adhesive backing so you can stick them in place.
Clever Stuff
Since Hue has been on the market, Philips has rolled out a pile updates and additions to the Hue system. If that were all, it'd be fine. But there's also a huge amount of support from developers who've embraced the Hue eco-system. They've crafting apps ranging from vaguely amusing through to being insanely useful.
Colourful lights are one thing but it's their added smarts that make Hue really shine. Philips has baked in If This Then That (IFTTT) support. IFTTT is a website that allows users to create rule based recipes that lead to actions based on external inputs. This lets Hue users do some pretty cool stuff.
Subtle IFTTT tricks such as tweaking the white colour temperature from cold on a sunny day, through to warm on an overcast or rainy day were neat. Turning on the lights an hour before sunset, and off at midnight also proved to be pretty handy.
There's also a heap of Hue apps on the IOS and Android app stores. Being able to convert the Hue bulbs into disco lights, synched to music using my phones mic was a lot of fun.
Even cooler still, Philips has teamed up with US sci-fi TV channel as part of the Sharknado 2 movie promotion. Using the app allows Hue lights to will change colour synched with what's happening in the movie. This translates into lighting effects when there's a storm, or vivid red when sharks start snacking. All told, it adds a fun immersive layer to viewing - here's hoping that SkyTV's The Zone picks up on it with the Syfy movies they're airing.
Verdict
Philips is definitely onto something with Hue. The big question I had in my mind after several weeks of having Hue in the house is this - Could I go back to standard light bulbs? Hue is such an addictive and fun option that the reality is that there's no going back once you've experienced it.
Even though there other players offer wireless controlled RGB LED bulbs, Philips is still light years ahead of the pack. Support for IFTTT and a huge third party application ecosystem make Hue just that much more compelling than anything else on offer.
RRP$ 279.95