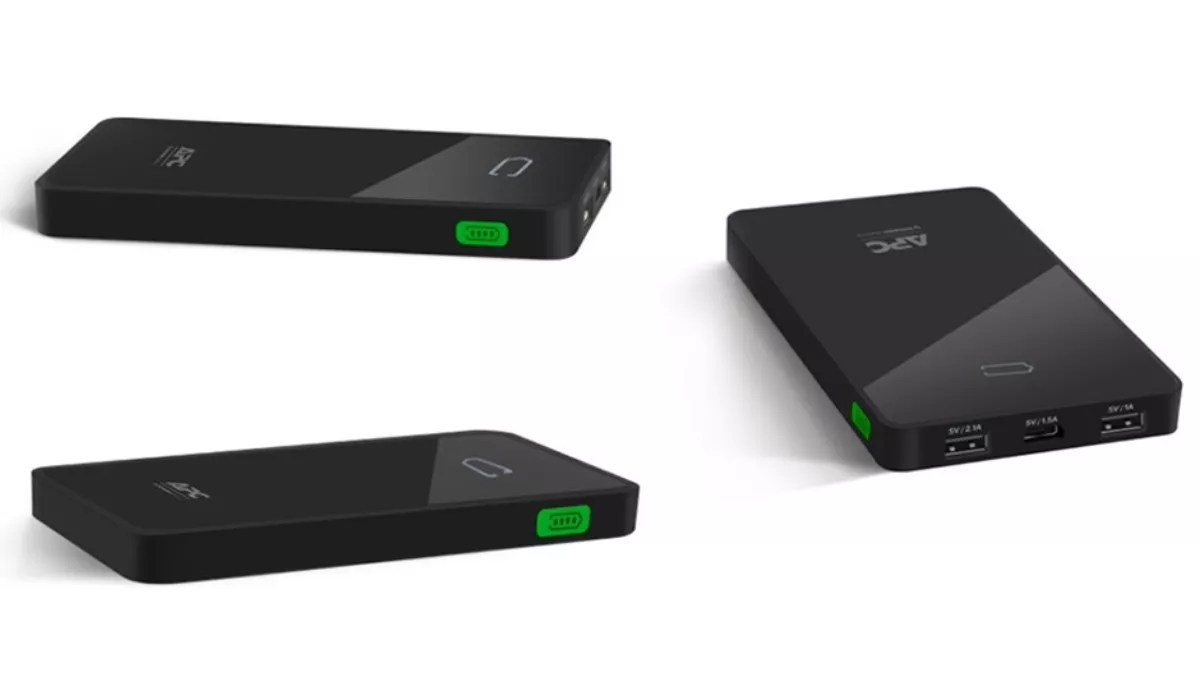 Hands-on review: APC M5 Mobile Power Pack - keep gadgets chugging
FYI, this story is more than a year old
Murphy's law of smartphones goes as thus: "Your phone will conk out just when you need it most."
It's one of the biggest annoyances of recent times. You may have several hundred times the computing power of an Apollo Lunar lander in pocket, yet it is instantly transformed into an expensive paperweight once its battery dies.
There is an answer for that. It comes in the form of APC's M5 5000mAh Mobile Power Pack. It is a slim pocketable portable battery pack that sits nicely in a pocket or purse. This is helped along by a very reasonable sticker price that won't put too big of a dent in your wallet.
Look and Feel
There really isn't much to APC's M5 Power Pack. At roughly the size of a pack of cards, it is designed to be easy to slip into a pocket for use on the go. Aside from its three ports (2x USB A charging ports, plus 1 micro USB port for charging the M5's battery), there is a green button mounted on the side of the M5 which powers up a small illuminated indicator which shows how much charge the M5's battery has.
In short, the M5 is a good looking power pack. Its available in either black or white and about the only cosmetic drawback is the glossy front and back are fingerprint magnets.
Bells and Whistles
Power Packs are nothing new and you'd be forgiven for thinking that there wasn't much that could be done to improve things. APC have upped the ante by adding dual-outputs to the M5. It comes with a fast-charging 2.4A (12W) port plus a 1A (5W) output.
While fast-charging is available, it only works with one device connected. The M5 has a maximum output of 2.4A which means two devices will charge at only 1.4A. Even still, simultaneously charging two devices can be pretty darned handy indeed. One gee-wiz feature missing is a white LED – the M5 does not act as an LED flashlight which is a real shame.
In light of the sheer amount of scrutiny heaped on Lithium Ion batteries following the Note 7 debacle, it is worth noting that APC have gone to considerable lengths to ensure that over-charging/discharging and temperature issues are covered by built in protection in the M5.
The big selling point however is capacity, in which the M5 doesn't disappoint. Packing a 5,000 mAh Li-polymer battery, the M5 has enough capacity to fully charge most smart phones at least twice before needing to be charged. Your mileage may vary however as different smartphones, tablets and other gear have different sized batteries. I managed two charges for my Huawei P9 Plus and Samsung S7 Edge.
About the only grizzle I had with the M5 involved its bundle being too short to be a useful type A to micro USB cable. At a mere 35cm in length, it is just too short. This minor gripe aside, the M5 represents excellent value for money. Depending on where you shop, it can be had for between $52.95 and $60.00. Not shabby at all for a 5,000mAh power pack.
Verdict
APC's M5 does one job and it does it brilliantly. It doesn't have much in the way of fancy-pants features but it is well designed, portable and reasonably priced. If you're looking to spend time away from the convenience of a wall socket, the M5 is definitely worth a look.
Click here to find out more.
Related stories
Top stories