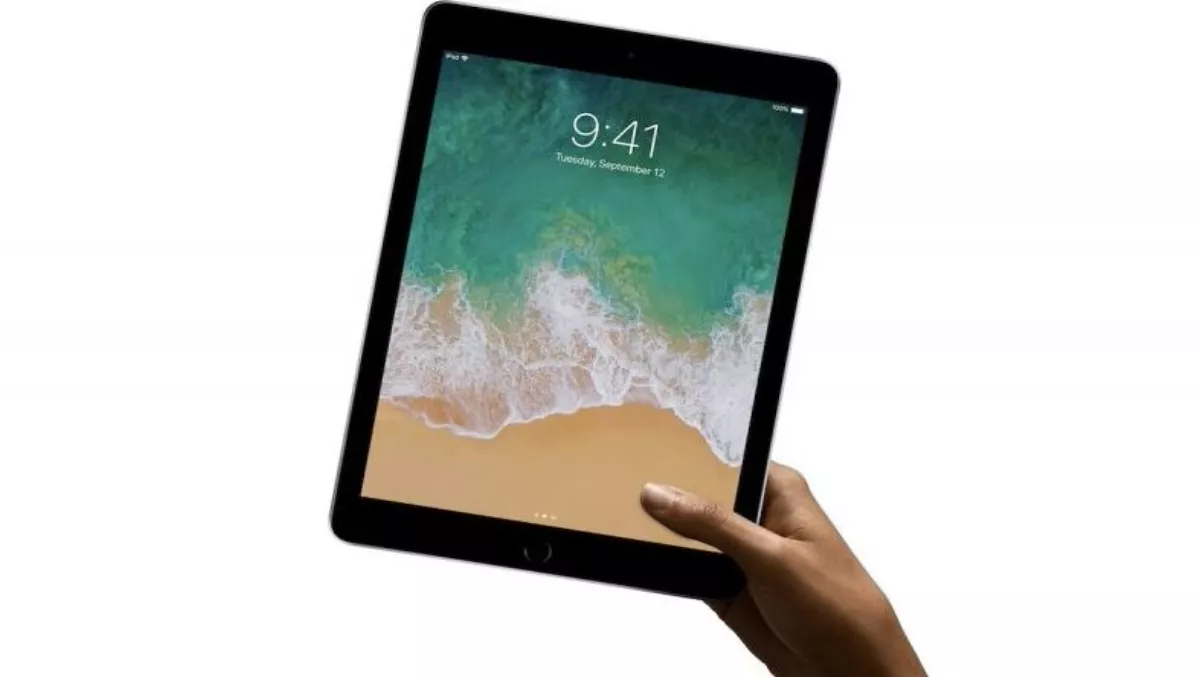 Hands-on review: Apple iPad 9.7", part one
FYI, this story is more than a year old
I love the feeling that comes with unpacking new kit, from the tactile feeling of removing those pesky seals to ripping away the airtight plastic wrap. This time, however, it was different. Starting up the iPad, I was prompted to place an existing item nearby. I opted for my iPhone, and seconds later, all my settings were, er… set up! What used to take hours took mere minutes. Most of my time was taken up synching photos and scanning my fingerprints. Everything else was virtually automatic.
A new iPad Model: Yes folks, the new iPad is for all intents and purposes a new model. After a few hours of playing, I can tell you that this new iPad is lightning fast and it has a display that is so clear that I haven't once pined for my 12.9" iPad Pro.
The action on the screen is nice and positive, with none of the lag I've noticed on other touch-screens I've tried in the past. I love being able to log in with my fingerprint, but would love facial recognition even more. However, the fingerprint reader appears improved, taking considerably less time to set up. So far it's proved more reliable than on my iPhone and other iPads. I'll talk tech specs later, but to me, the processor appears to be faster than what I've come to expect.
As I write, my IOS software update is almost complete, taking the time it took me to write this and the following paragraphs. For those of you with older generation iPads, get used to multitasking. My iPad is working happily away with me while 16 Apps complete their updates in the background. We'll discuss multitasking more in my next article.
Every touch screen has a certain feel. With this iPad, you feel in control, with no discernible lag or jerkiness. I realise that doesn't sound very technical but who hasn't wanted to scream in frustration as that danged cursor plays catchup with your finger on some other touch-screen devices. I've had so much fun with using my fingers, I almost forgot to charge up my Apple Pencil.
Over the years I've been impressed with the service I've received from the fine folks at Apple.
In 1998 I remember being quizzed as to why I'd invested in a Wall Street Powerbook with 2GB of Hard Drive space. How demanded my boss, did I ever think I'd fill all THAT amount of space? This 6th Generation iPad comes equipped with 128GB capacity. (That Powerbook still goes, by the way, and one day I'll talk more about my Mac Museum models.)
Apple Pencil: When I purchased my iPad Pro last year, the Apple Pencil was a chief factor in my decision. To give you an analogy, the Apple Pencil is to styli what the feather quill is to pens. With its pressure-sensitive stylus head, the Pencil will bring out the artist in you and give you unparalleled control. Coupled with some very clever apps, you will spend many happy hours discovering new ways of using the pencil.
I have been trying several apps and suggest you do your research before settling on the best fit for you. Notes is a good starting point, but it won't be long before you're hankering for more features. Paper, Nebo, Notepad + and LiquidText are all worth a look. Most of them give you a free option, so you can explore before deciding on investing in the full-featured version.
Notes come built in and will add a new dimension to your iPad experience. You'll love the synchronicity of several of the apps. I often find myself adding notations on my iPhone and then embellishing later on the iPad. As I type this article I'm constantly referring to my idea map sketched out quickly on Nebo. If you are like me and often getting ideas that you need to put down immediately, you will find the iPad indispensable.
I actually like the look and feel of my handwriting, but it's comforting to have the ability to convert my notes to text. My education background tells me that there are those of us who need to visualize our words, and the iPad coupled with the Pencil means that I can do this without worrying about losing bits of paper. For those of us who think in images, you will be just as attracted to the iPad coupled with the Apple Pencil.
All you budding Frida Kahlos or Picassos out there will love the Apple Pencil. Designers from a range of disciplines will love the versatility of this tool. I can see landscapers sketching their concepts out on photos as they plan their next masterpiece. The level of control the Pencil gives you will keep you happily progressing from early sketch to digital masterpiece.
Related stories
Top stories